DIY Pallet House Divided Sports Sign
This post may contain affiliate links that I receive commissions from purchases made. Click HERE for my disclosure statement. 
Is your house divided when it comes to sports? Here is a craft project to make to hand during your sports season.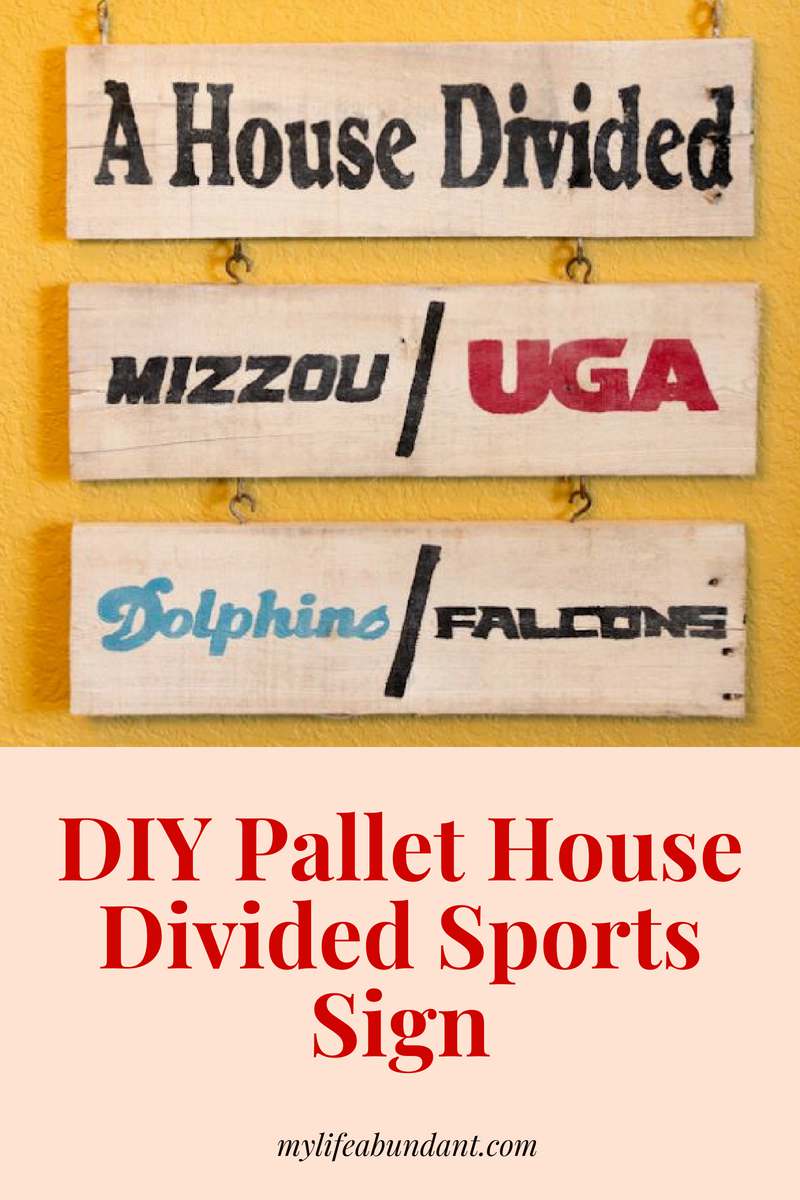 Yea!!!!!  Football season is almost here.  Hubby and I just love this time of the year.  And since we are from 2 different states, we both love different sports teams.  And when we play each other, it's serious!!  Serious fun that is.  We both talk a good game weeks before the game even starts.
So, what better way to show our love for all our teams?  Make a sign!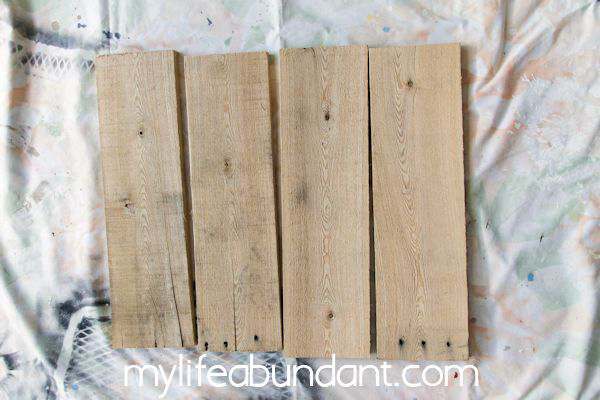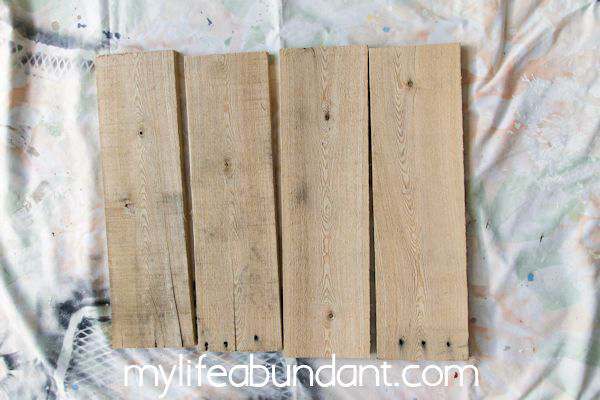 I have to admit, this was my very first project using pallet wood. Thank goodness hubby was around to help me with this project.  He took the pallet apart, sawed the boards to the length I needed and put the hardware on for me.  Whew!  I love that man.
Supplies you will need:
After the boards were cut to the desired length, I sanded down the cut edges and really bad areas where the wood was pulling off.  I wanted this sign to be rough, so I didn't do too much sanding.  We found some old rusty/painted eye screws which hubby put on each board to connect them together.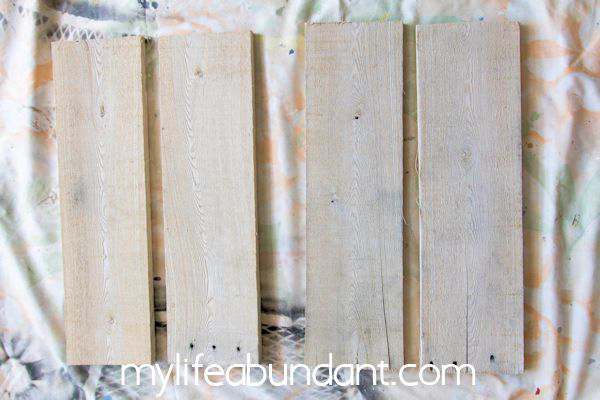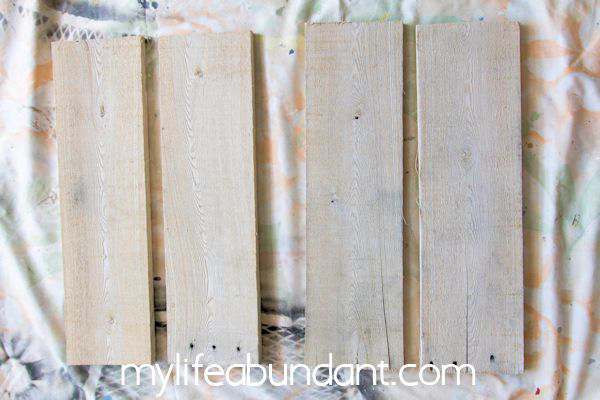 I had some white ceiling paint in the garage and poured a bit in a mason jar and added just enough water to make it very thin. It was about a 1:1 ratio.  I was wanting to "whitewash" the boards to give it an aged look. I painted a couple of coats and let dry overnight.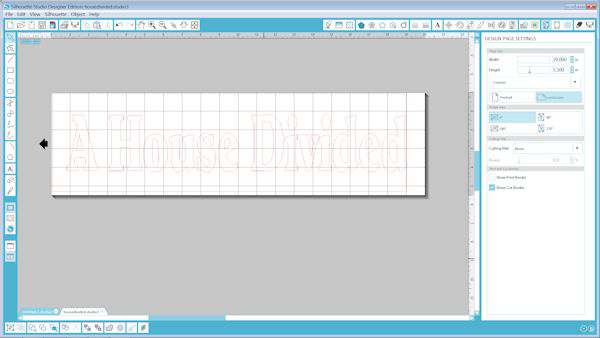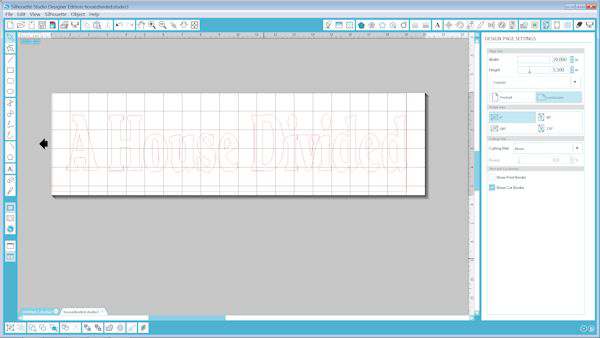 I next made a different stencil for each board using my Silhouette.  You can buy letter stencils, but a cutting machine really makes this job a breeze.  I used contact paper so the stencil would stick on the sign and I would end up with cleaner lines and less paint bleeding.  You can use card stock or scrapbook paper too, but then you have to tape it down in a lot of places.  Paper also doesn't hold its shape when it gets wet from the paint.  Contact paper just seemed like an easier solution.
I made each stencil the length and width of the board and then just typed out the words.  I also added cut lines so each stencil would cut the 5.5 x 20 inches I needed.  That way I don't have to guess on cutting with scissors and no worries about measuring.  The picture below shows 2 stencils on one sheet 12 inches by 20 inches.  The third stencil was cut by itself.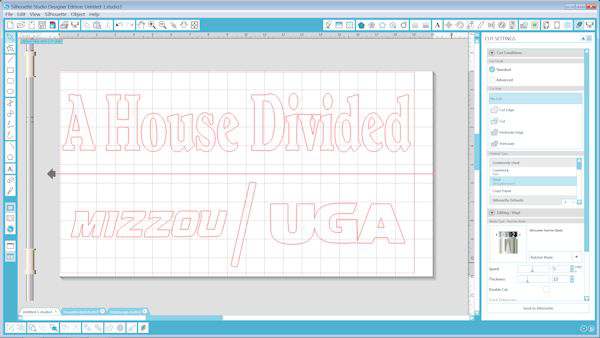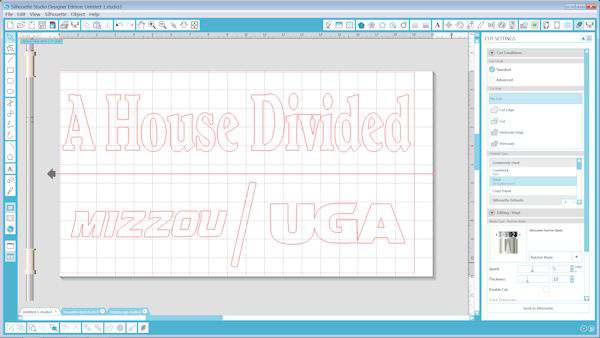 I was able to find free fonts for the teams lettering by doing a Google search for NCAA or NFL teams downloadable fonts.  Since my stencil is longer than the normal 12-inch cutting mat, you can read here on how to cut a longer piece of vinyl/contact paper without a cutting mat.  I used this tutorial for the settings since I hadn't used contact paper yet with my Silhouette.  I did change the blade level from 2 to 1.  That way only the contact paper was cut and let the backing alone.
HINT:  Cut your contact paper a few inches longer than your stencil size.  Since its thinner and you aren't using a mat, you will need the extra to push the contact paper up a bit in the cutting area of your machine so it won't curl under the blade.  Use the bar lever on the right on a Silhouette to raise the bar to push the contact paper toward the back.  Don't forget to put the lever back up before starting the cutting.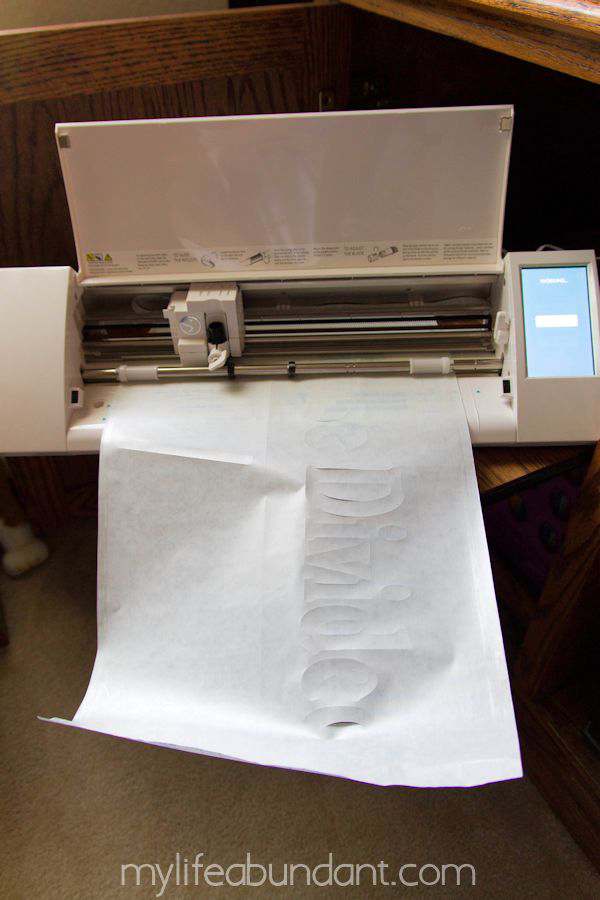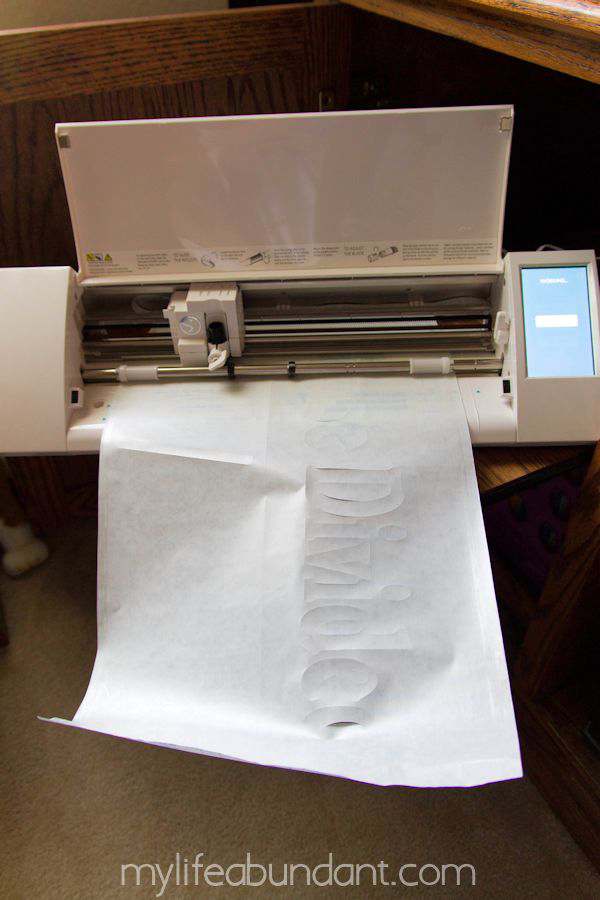 Next, you will pull each stencil apart from the backing and place on each board.  Don't forget the center parts of letters like A, B, etc.  Press around each letter to make sure its secure on the wood.  I also used a clean dauber and tapped up and down over the letter areas and it helped to secure it more to the wood.  Since my boards are not smooth, the contact doesn't stick well, so I took it slow for each letter.  But for this project, I wasn't really worried about the lines being perfect.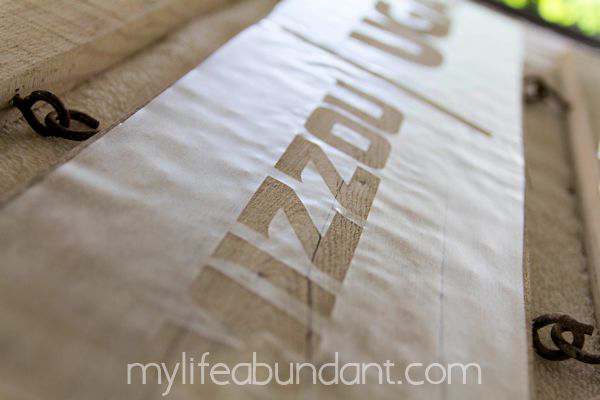 Now its time to stencil.
Using the sponge daubers, add a small amount of craft paint on a paper plate and then add a small amount of paint to the dauber. Using the dry stencil method, tap up and down with paint over the exposed wood areas.  Don't move your brush side to side or the paint will go under your stencil.  I wasn't worried about being perfect with the paint because I wanted the sign to look a little aged and rough.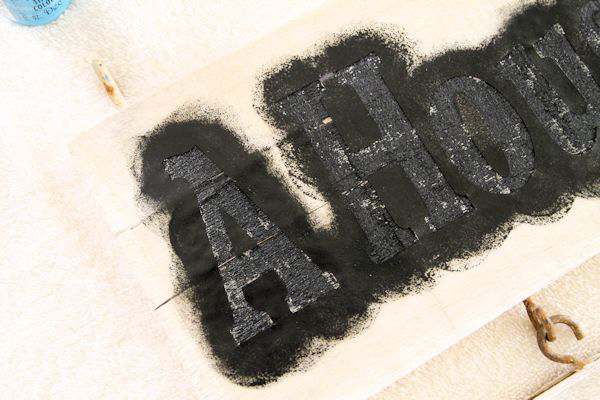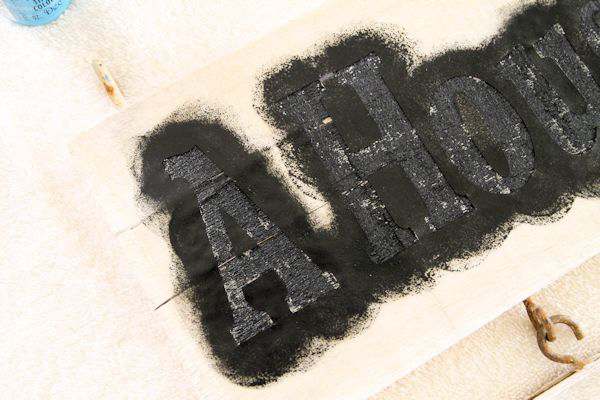 I let it dry for a little bit and then slowly pull off the stencil to reveal all the beauty. Don't forget the little areas in the middle of some of the letters.  Sometimes I have to use an old pair of tweezers to pull them off.  Let dry overnight.  The next day I painted a thin coat of the whitewash over all the letters and blotted off some of it with a cloth.  This made it look like some of the letters had faded.
I then added thick gauge wire we had in our stash in the garage as a hanger.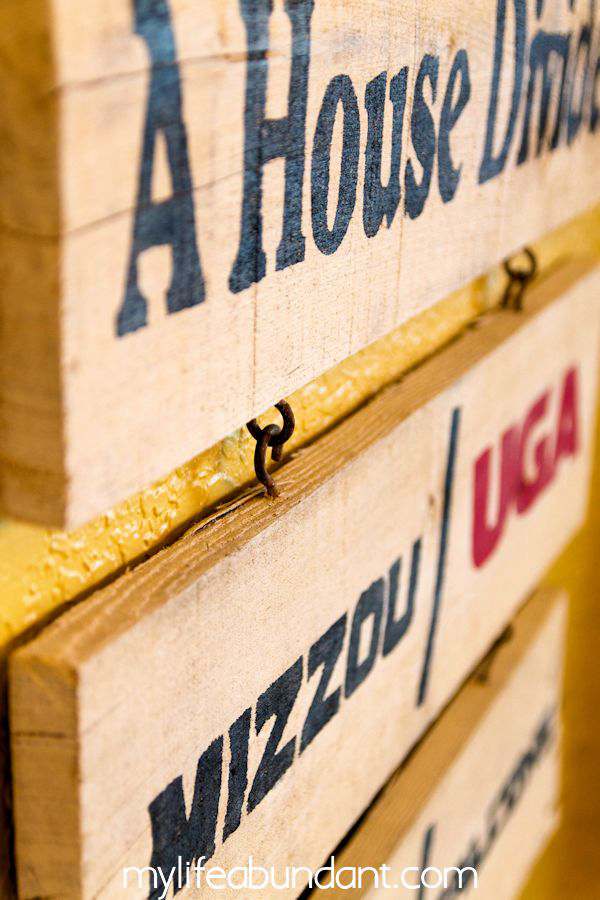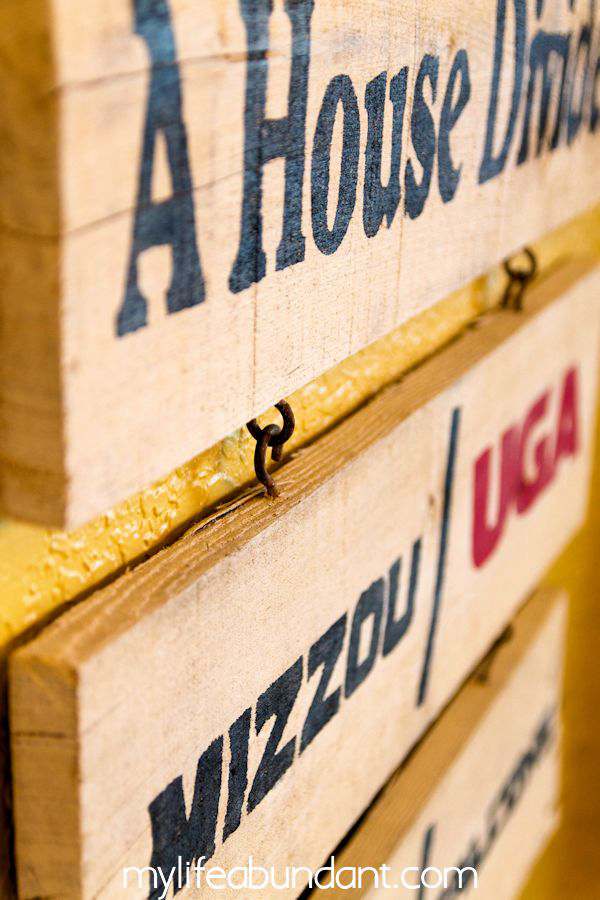 I really loved how this turned.  Hubby loved it too!  We will always enjoy it during football season.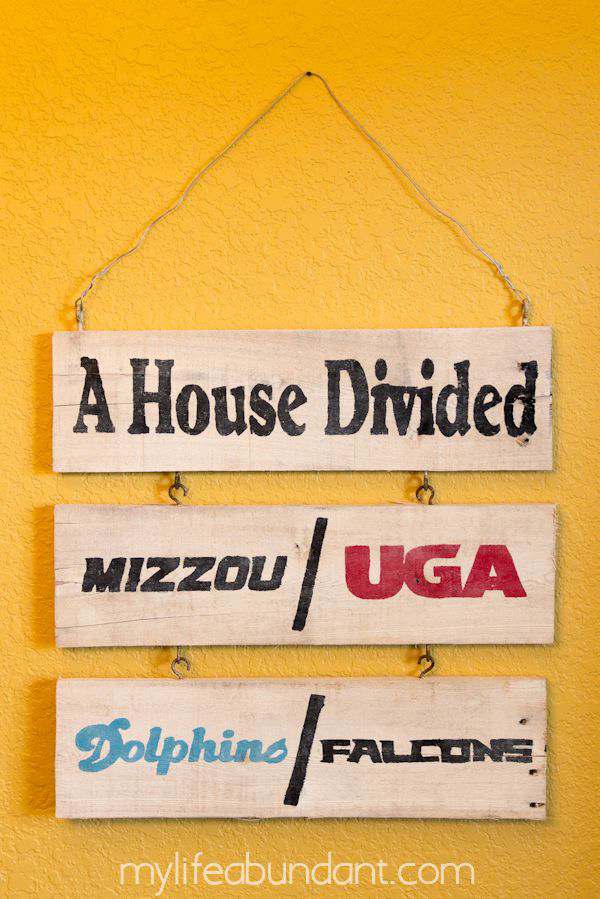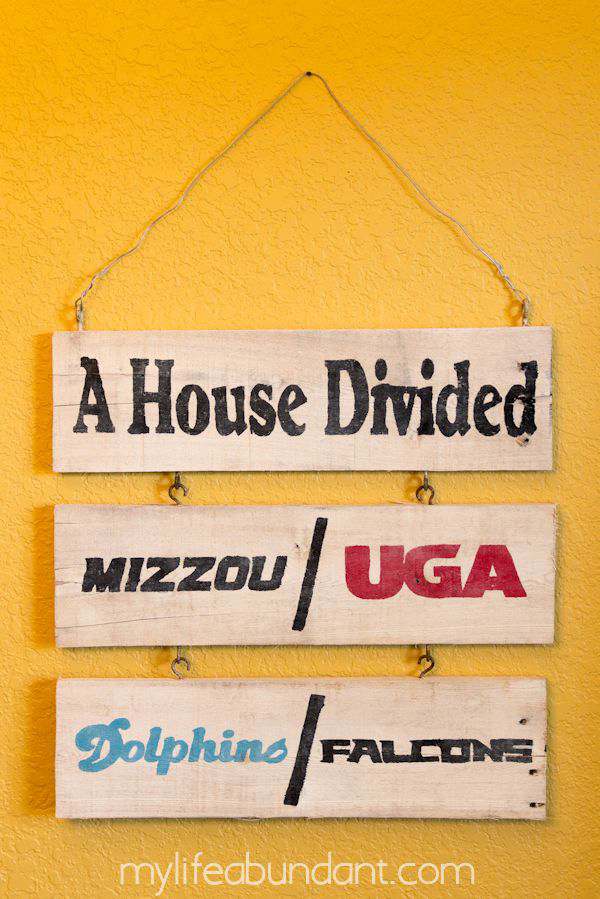 Even though we are a House Divided during football season, our hearts are always one.
Enjoy,
Tammy
*    *    *    *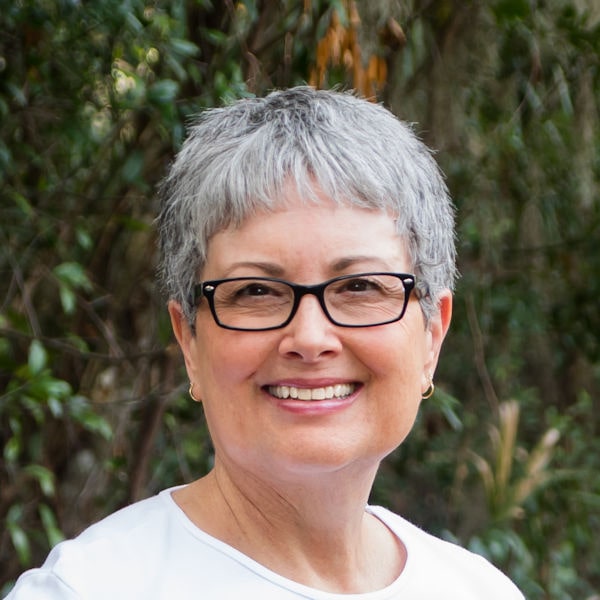 I'm just a country girl loving my geeky life with my wonderful husband, always taking pictures, getting my hands dirty in the garden, being crafty, exploring with travels and enjoying all this on a budget. But above all, living my faith as a child of God!
Read more about me and check out my media kit. Our Privacy Policy