Saving A Family Treasure Radio/Record Player
This post may contain affiliate links that I receive commissions from purchases made. Click HERE for my disclosure statement. 
Ever wonder if your family has treasures you can save? We inherited this beautiful radio/record player which turned out beautiful.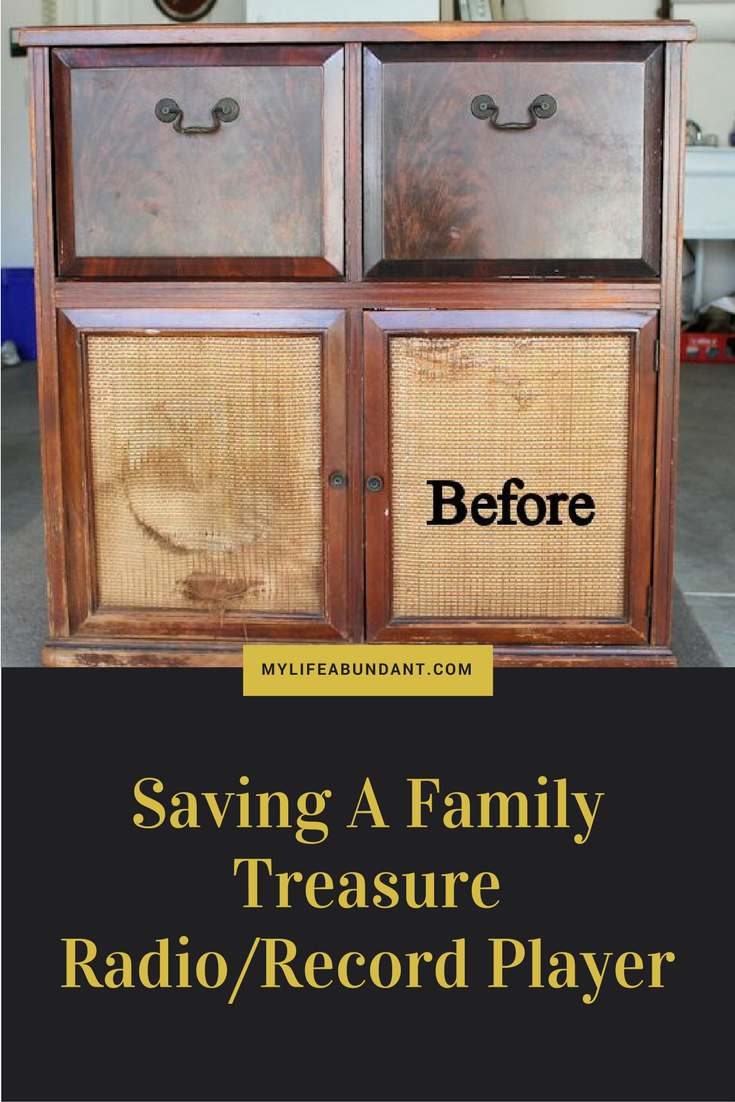 Mr. G recently inherited his grandparent's treasured family radio/record player and he was so happy to bring it home.  It wasn't taken care of for so many years, but he saw only beauty in that old battered and chewed up electronic piece.
The piece is an Admiral 1949 radio/record player with a solid wooden case.  Mr. G has a pretty extensive record collection and he couldn't wait to get it working again.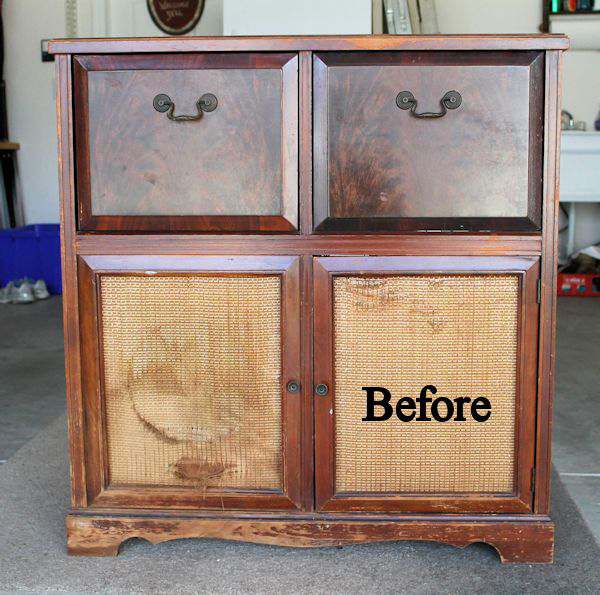 As you can see from the picture above, it was in really bad shape.  A dog had chewed on one side of it with many gouges and scratches.  I just wondered how he would ever get this back to its original beauty.  One of the traits I admire about Mr. G is he is very patient and will work as long as it takes to get a project finished.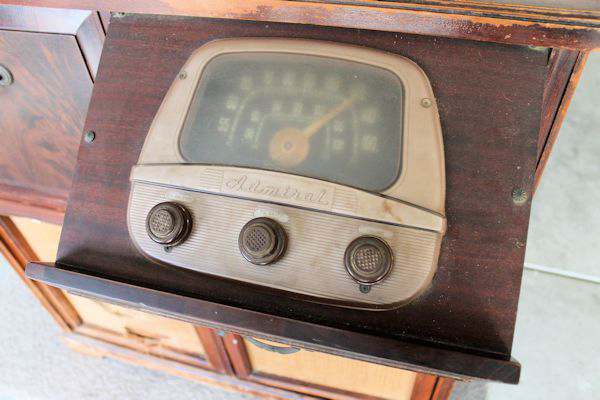 One problem of having something from the 1940s is there aren't very many pictures of it or instructions.  So the tube radio and record player were going to be a struggle to fix. As you can see, its a turn-style radio with amazingly, AM and FM stations.  The other knobs were to turn it on with volume control and to change if from radio to record player.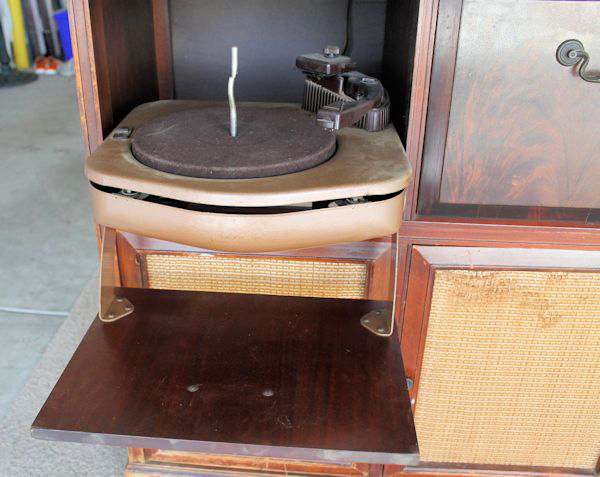 The record player wasn't in bad shape at all. Needed a lot of cleaning, but the needle area was missing and we struggled to find that part. Parts of that era just aren't made in the US anymore and thank goodness for collectors.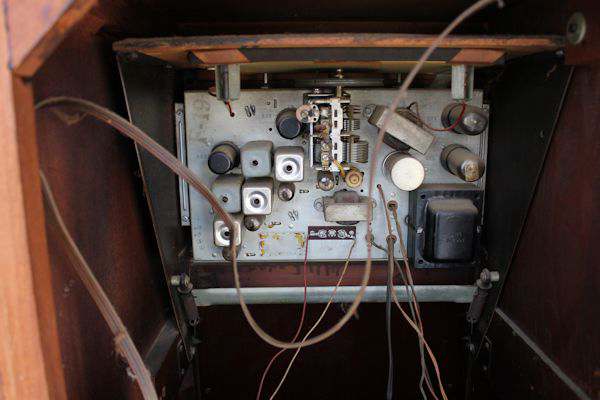 The backside of the radio player had all the parts connected and even antenna wire, but over time paper capacitors will rot.  After much research, we realized we would have to take the radio and record player to professionals to repair.  Another problem.  Not too many people do this kind of work anymore, but thankfully we found a couple of great guys in the area.  And before too long, both the radio and record player were playing fine.  Amazingly, the speaker was in perfect shape.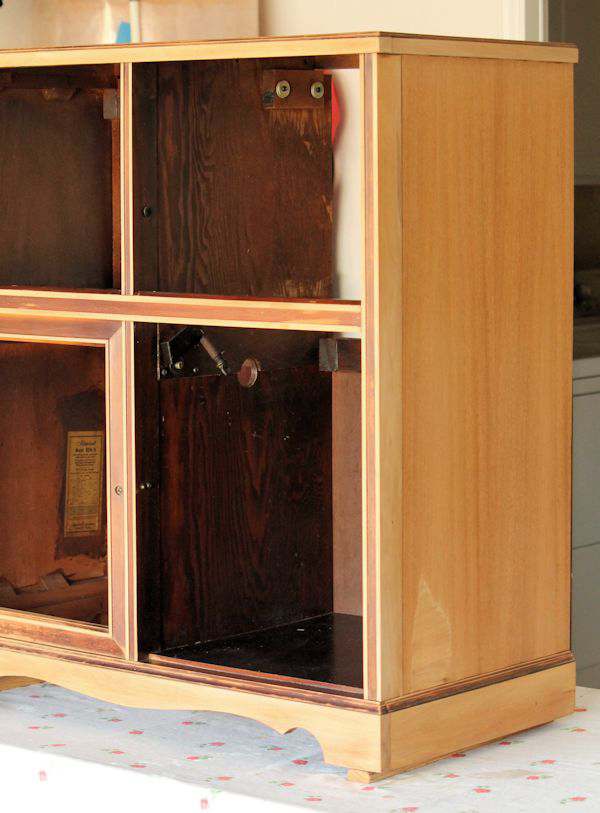 Mr. G worked many hours on sanding, cleaning, adding coats of stain, and sanding more. That process took many days.  But after months of hard work, tons of research, watching many hours of YouTube videos on how to repair an older radio/record player, and driving around to dealers, the job was finished.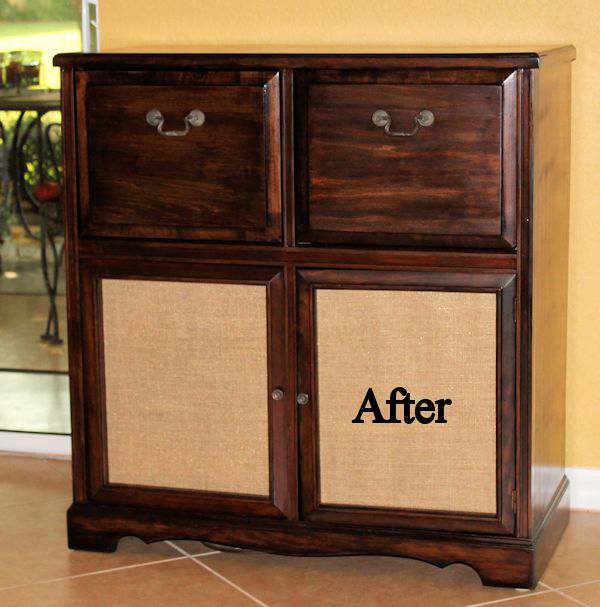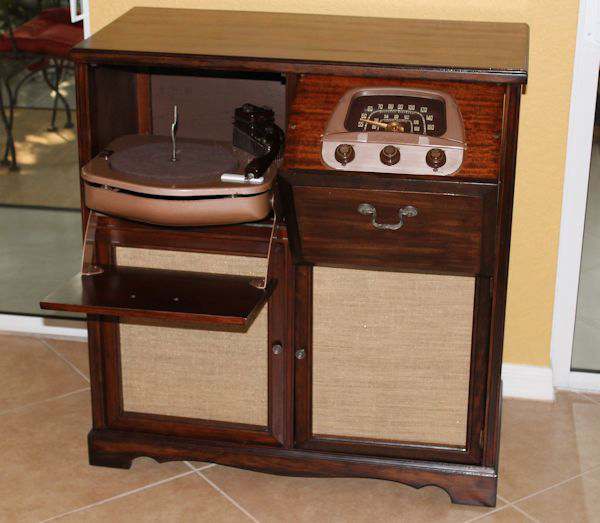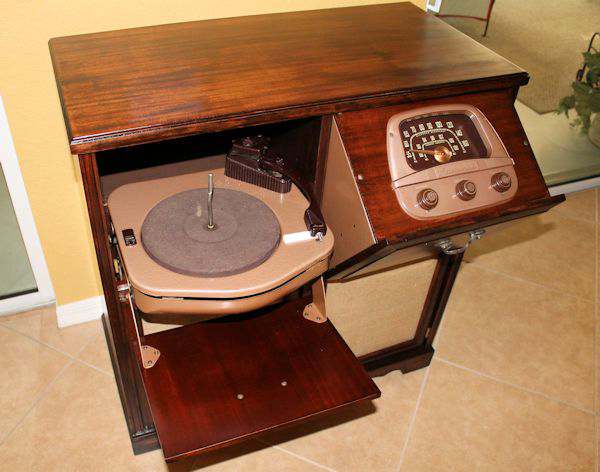 My hubby was so proud of this piece and he just beamed when we put it in its spot in the house. I love how the doors pull down to expose the radio and record player. One of the doors below is empty space to store your records.
It was July 4th and he pulled out his patriotic records and we danced and sang throughout the house.  I have to confess, the radio sounds better than the newer century radio we had in the house.  The dealer told us after we listened to a tube radio, we wouldn't want to listen to modern-day radios.  He was right.
A couple of things we learned while restoring this piece is to take A LOT of pictures of every nook and cranny.  There were many times we looked at the pictures I took to see where parts went back.  It's so easy to blow them up on a computer.  Also, bag and tag every single piece whether you will use it or not.  There were so many small screws that we wouldn't have been able to replace.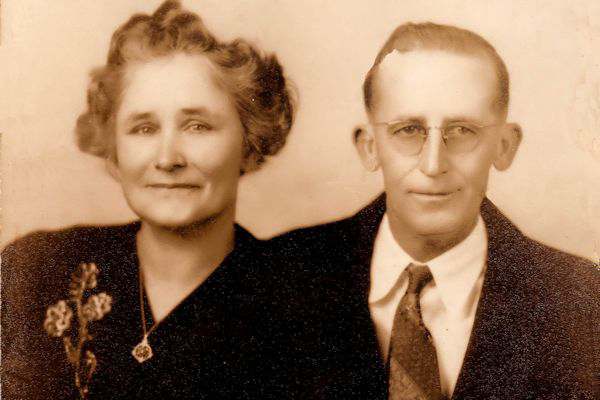 I think it's so important to keep family heirlooms to pass down to family members to enjoy.  Our family's past is important to us both. Hubby's grandparents have been gone for many years now.  His grandmother passed away at the age of 102 right after we married and I only met her one time.  But what a hoot she was!  I restored the picture above, framed it, and now it sits proudly on top of the cabinet.
I wish they were still around to see the radio/record player today.
Enjoy,
Tammy
* * * *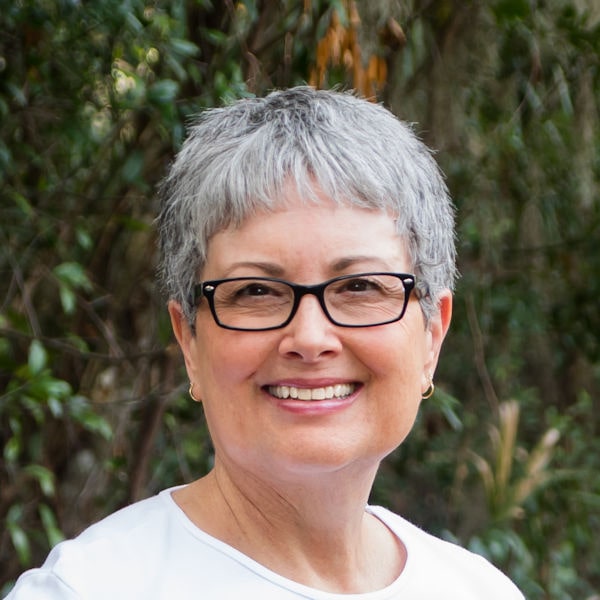 I'm just a country girl loving my geeky life with my wonderful husband, always taking pictures, getting my hands dirty in the garden, being crafty, exploring with travels and enjoying all this on a budget. But above all, living my faith as a child of God!
Read more about me and check out my media kit. Our Privacy Policy