This post may contain affiliate links.
Summer gardens are in full swing with loads of produce being harvested.  One item I can't wait to harvest is bell peppers.  I plant a couple of varieties for different shapes and flavor.  I use them fresh in salads and put up many in the freezer to use in future recipes.
One way I love to use up some of the bell peppers is to make some form of stuffed peppers.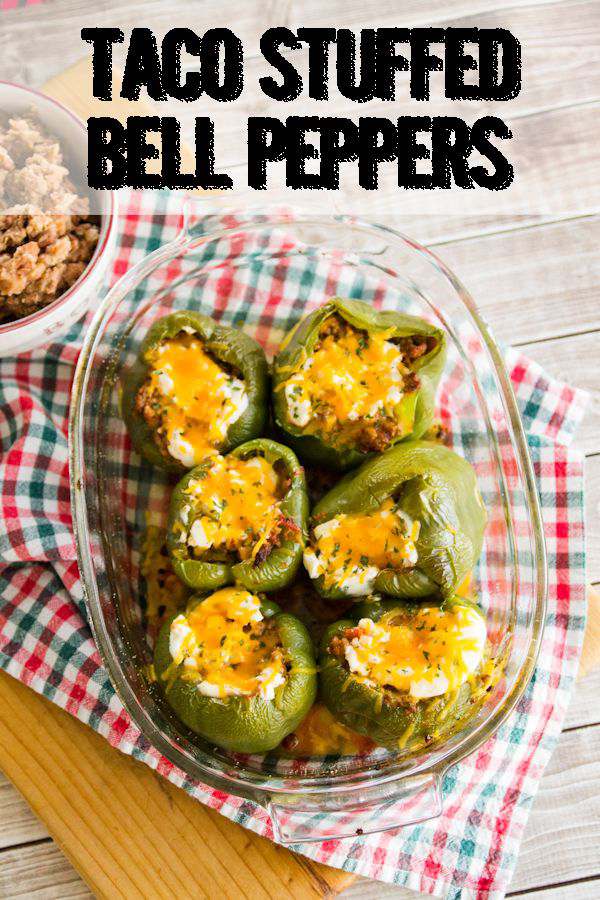 There are several different recipes for making stuffed peppers with the traditional stuffing main ingredient being rice.  But hubby and I aren't big fans of the rice stuffing, but we do love Mexican flavors.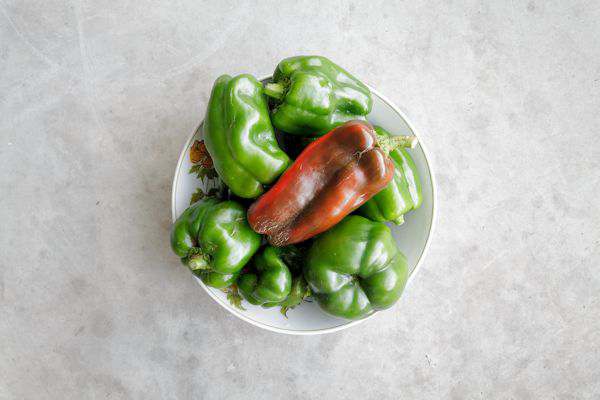 When choosing peppers to stuff, make sure they are the round version so they will stand up.  As you can see in my picture above, I have both the long peppers and bell peppers growing in my garden.  I use the long peppers to stuff when making Grilled Stuffed Green Peppers.  Those are so good made on the grill and great for parties.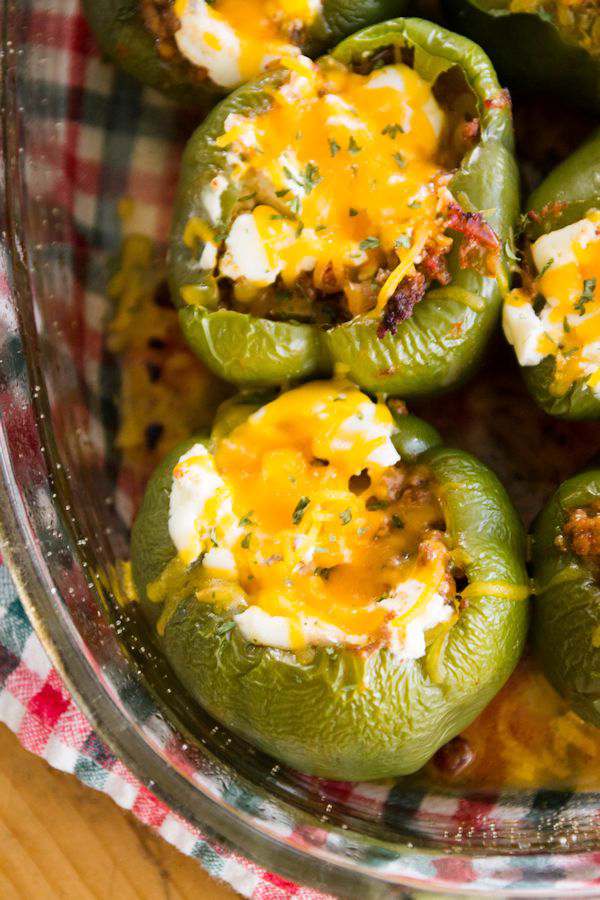 Sadly, even though my garden hasn't produced the bell peppers this year, as in the past, our local farmers market had so many to choose from.

Taco Stuffed Bell Peppers
Ingredients
6 large bell peppers, any color
1 lb. ground beef
1 pkg of taco seasoning or Homemade Taco Seasoning
1 cup of taco sauce
1 (16ox) can diced tomatoes
½ cup onion, chopped
salt and pepper to taste
1 cup shredded cheddar cheese, divided
Sliced avocado and sour cream for garnish
Instructions
Preheat oven 350 degrees.
Bring a large pot of water to boil. Cut off tops of green peppers and discard seeds and membranes.
Cut as much of the pepper tops up to make ¼ cup and set aside.
Cook the whole bell peppers in the boiling water four about 5 minutes. Invert and let dry.
In a large saute pan, brown ground beef with chopped onion and bell pepper. Drain off any excess fat, if any. Stir in tomatoes, taco seasoning mix and taco sauce. Add salt and pepper to taste. Mix well and simmer for about 5 minutes. Then stir in ½ cup of cheese until blended well and remove from heat.
Sprinkle a little salt inside the bell peppers. Stuff each pepper with meat mixture. Place stuffed peppers in a baking dish lines with parchment paper or fail. Bake for 30 minutes.
When peppers are done, sprinkle with rest of cheese. Top with sour cream and avocado slices, if desired.
I always have a jar of my own version of taco seasoning in my pantry to use with all my Mexican dishes.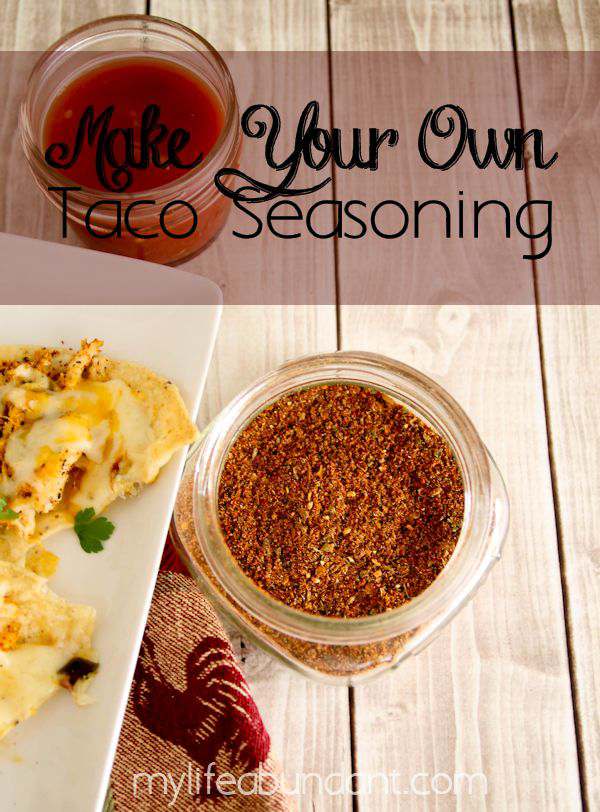 Homemade Taco Seasoning
1 tbsp chili powder
1/4 tsp garlic powder
1/4 tsp onion powder
1/4 txp crushed red pepper flakes
1/4 tsp dried oregano
1/2 tsp paprika
1 tsp ground cumin
1  tsp salt and pepper
Combine all ingredients together in a small bowl and store in airtight container. It will last for quite sometime in the pantry. I usually quadruple this recipe.
A great side dish to serve with this meal is Refried Beans.  I like making this in my slow cooker and freeze what I don't use for later.  Making your own tastes so much better than the can version.  Much less salt and fat too.
Homemade Refried Beans
2 cups of cooked pinto beans
1 tbsp coconut oil
1/2 cup chopped onion
2 cloves minced garlic
1 tsp cumin
1 tsp paprika
1 tsp salt
1/4 tsp chili powder
1/4 tsp black pepper
Prepare the beans by soaking them over night in water.  The next morning, rinse off beans and place in slow cooker with enough water to generously cover them.  Sometimes I will use chicken broth instead of water.  Let cook on high for about 8 hours.
1 cup of dry beans equal 3 cups of cooked beans
In a large pot, saute the onions in oil and then add garlic and saute for a few minutes.  Add beans and other spices.  I do put some water in the pot to make them a little juicy.
Once the beans have cooked down for awhile, I will mash them with a potato masher until desired consistency.  I like them a little lumpy.
You can double or triple this recipe if you want to serve for a large crowd or for later use.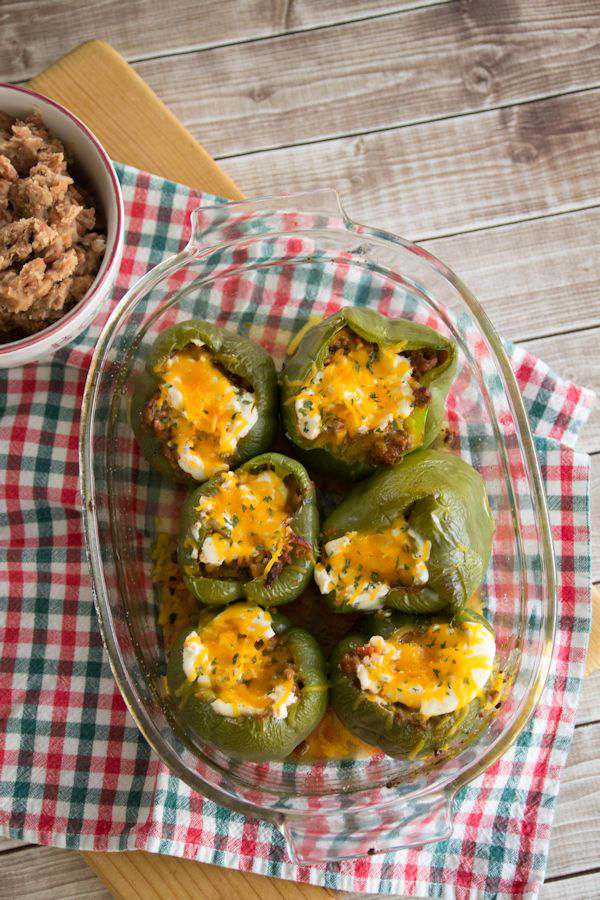 Do you have a yummy recipe for stuffing bell peppers?
Enjoy,
Tammy
* * * *
Other Posts You May Enjoy: