This post may contain affiliate links that I receive commissions from purchases made. Click HERE for my disclosure statement. 
When its time to harvest green peppers and you have so many, you wonder what to do with them? Easy, put them in the freezer. Let me show you how.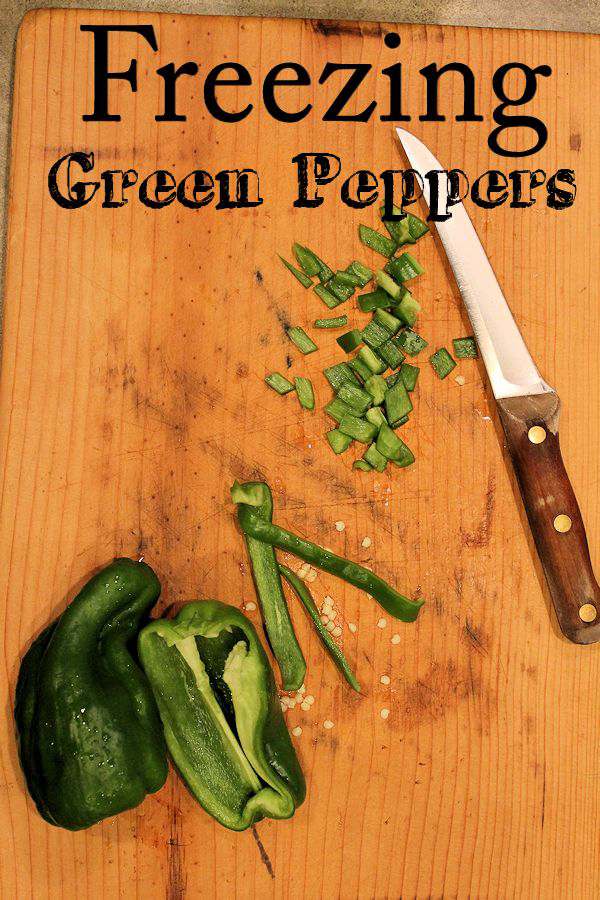 Does anyone need any green peppers? I was afraid after losing all my squash and cucumbers and just getting a few tomatoes out of my garden this year, that nothing else would produce.
I was wrong.
I love being wrong in cases like this.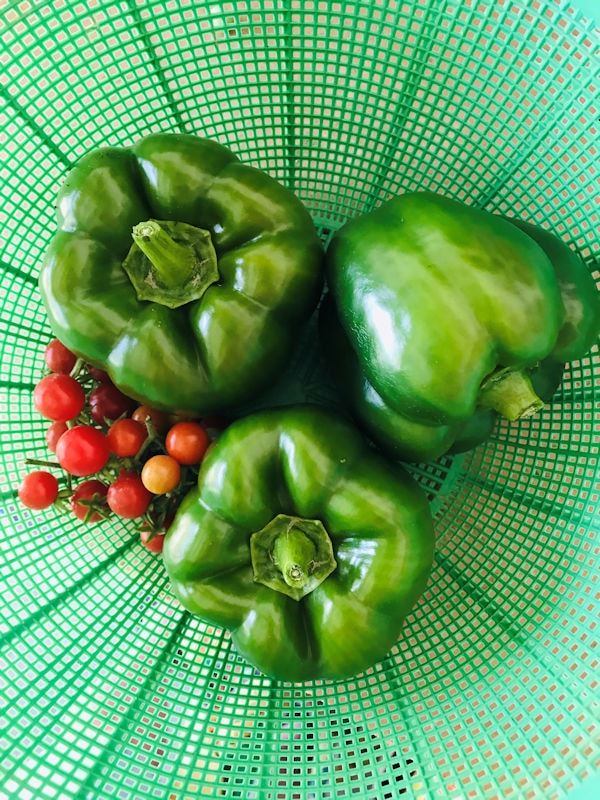 I planted 3 versions of Italian peppers, which means these grow long and skinny in April. And I also grew 6 plants of regular round green peppers a neighbor gave me in May. These plants have been just booming with produce. And still are. I had to put tomato cages around them to keep them up off the ground. I have been letting some of them ripen and turn red. But I had to watch them carefully because, since its rather wet in Central Florida in the summer, it will cause them to turn to mush.
So what does one do with all those beautiful green peppers? Freeze them and I use 2 different methods of the 3 – 3 process. Blanching or straight to the freezer.
I always have loved putting up veggies and fruit. I learned how from my mom, her mom, and her mom. It was always a day with the women in the kitchen during the summer putting up all kinds of goodies. And freezing green peppers is so easy to do too. If you are a beginner at this, you find this process one of the easiest.
Blanching Method
After you have gathered, washed, cleaned out the seeds from the green peppers, begin by chopping in small pieces.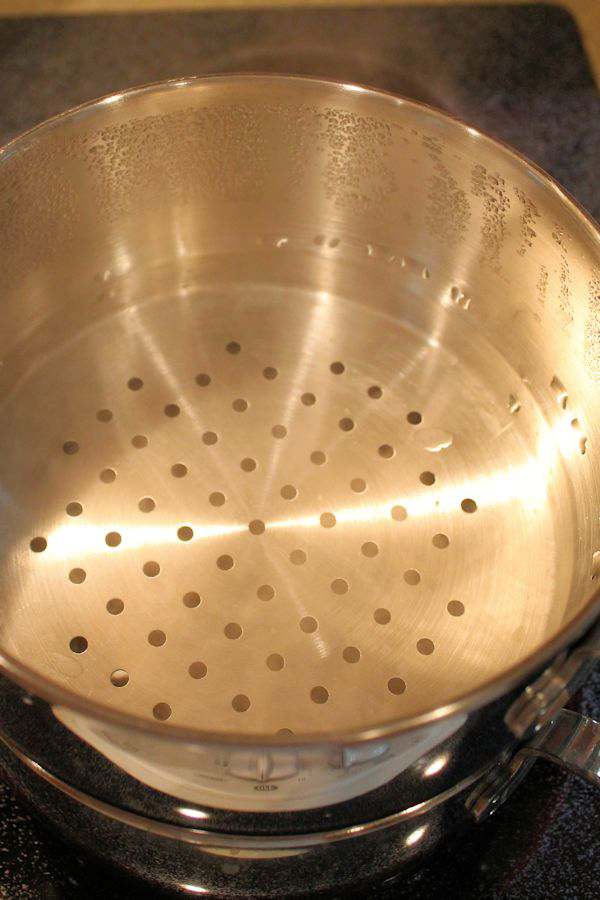 Using a double boiler, get the water boiling and the steam is really coming up through the holes. Hard to see in the picture above.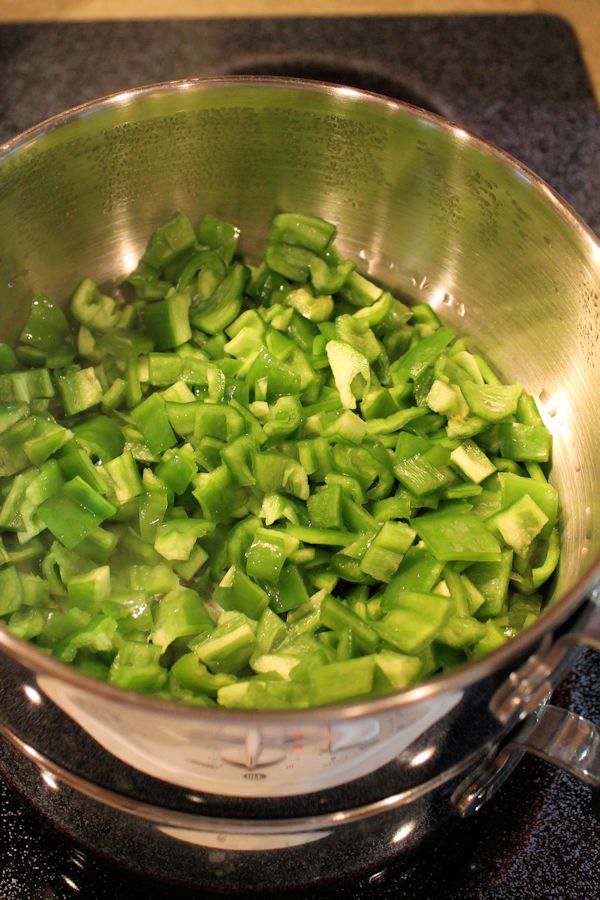 Add the chopped up peppers, put the lid on the pot, and cook for only 3 minutes.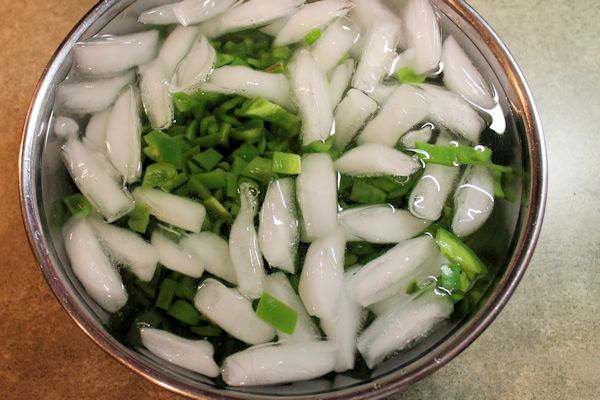 Set in ice water for only 3 minutes.
Have you figured out why this is called the 3 – 3 process? Pretty easy to remember.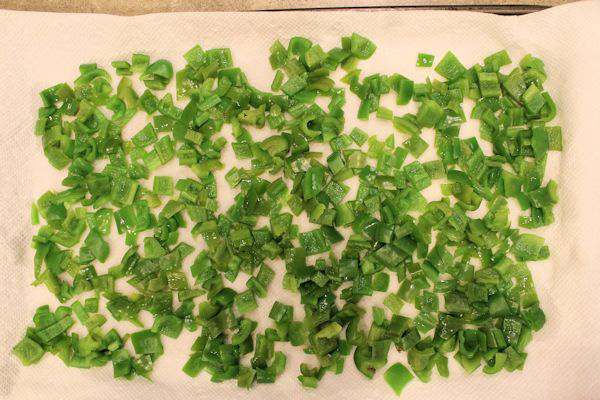 Drain and lay on dishtowels or paper towels to dry on a sheet pan and set to completely dry. I usually let them sit overnight. Remove the towel and sit in the freezer to flash free. (Flash freezing means to put the cooked item in the freezer for a few hours, as in the picture above, and let freeze.) You don't want any moisture on them when you put them in baggies or freezer containers.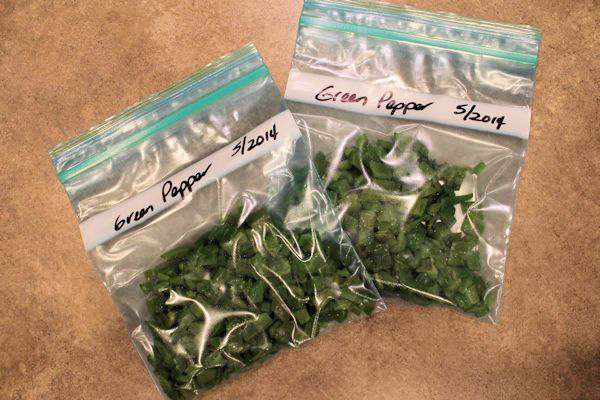 I usually put a number of peppers in each baggie that I would use in soups, spaghetti, chili, etc. Label and they should last in the freezer for up to 10 – 12 months!! When you are ready to use a bag full, just unthaw and add to your recipe. Remember, these won't be crispy at all and is only good for recipes where green peppers are cooked.
Freezing Method
Going straight to the freezer is a quicker method to freezing green peppers. They will last all year until next season. Letting them completely dry before freezing is the key.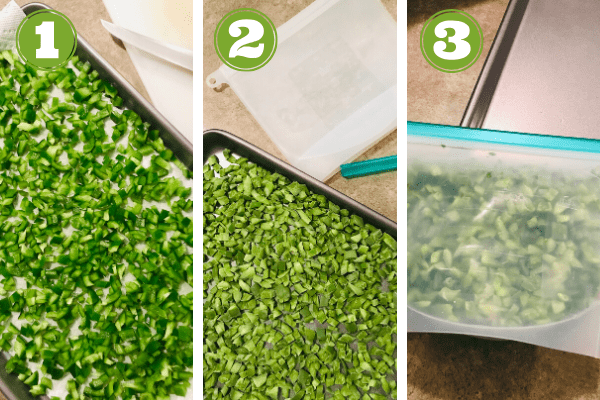 HERE ARE MY 3 EASY STEPS:
Wash, chop up the peppers in the size you prefer and then lay on a paper towel-lined sheet pan. Let dry completely. I usually let set out overnight.
Remove the paper towel and set in the freezer for several hours.
I will store in reusable silicone zip lock bags.
The advantage I have seen doing the second method is, the peppers dry much faster and the moisture content is really low. 
For an afternoon of putting up some peppers, you will have that flavor for a year to come.
Enjoy,
Tammy
* * * *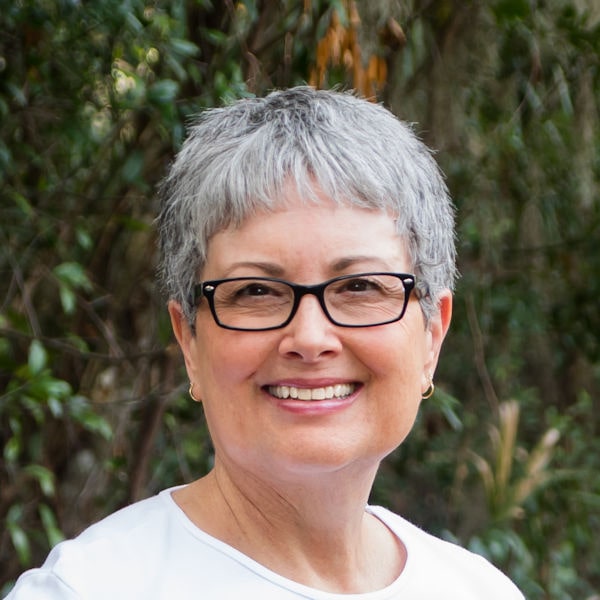 I'm just a country girl loving my geeky life with my wonderful husband, always taking pictures, getting my hands dirty in the garden, being crafty, exploring with travels and enjoying all this on a budget. But above all, living my faith as a child of God!
Read more about me and check out my media kit. Our Privacy Policy