This post may contain affiliate links.
I love making soup this time of the year. I just makes me so warm and yummy but the best part is its so easy to make in the slow cooker. I found this recipe on Facebook one day from Cinnamon Spice and Everything Nice and it has quickly become one of my hubby's favorites. Anytime I get thumbs up approval from Grandpa, then I know its good.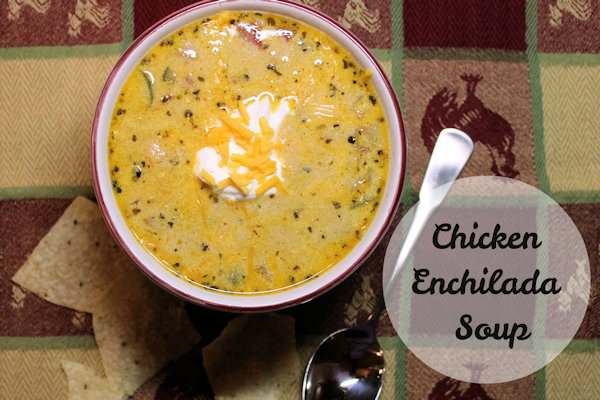 With this recipe, you can change up the toppings to what ever you love (cheddar cheese, sour cream, tortilla chips) and by using your slow cooker, it does all the work for you.  If you love the flavors of enchiladas and fork tender chicken and cheesy goodness, then you will adore this recipe as much as we do.
Slow Cooker Chicken Enchilada Soup
Ingredients
2 tablespoons olive oil
1 large yellow onion, diced
1 small green or red bell pepper, diced
3 cloves garlic, minced
coarse salt and fresh black pepper
1 can (11 ounce) Ro-tel diced tomatoes & green chiles
4 cups low-sodium chicken broth
1 + ¼ pounds boneless chicken breasts
2 cups corn
1 can black beans, optional
1 tablespoon chili powder like McCormick
1 teaspoon ground cumin
½ teaspoon oregano (preferably Mexican), crushed between fingertips
1 + ½ cups shredded sharp cheddar cheese or monterey jack, plus more for serving
1 cup sour cream, plus more for serving
tortilla chips, for serving
Instructions
In a medium skillet heat the oil over medium heat. Add the onions, peppers and garlic. Season with salt and pepper. Cook until softened, stirring often, about 10 minutes.
Meanwhile to your crock-pot add the Ro-tel, chicken broth, chicken, corn, black beans (if using), chile powder, cumin, oregano and 1 teaspoon coarse salt or ½ teaspoon fine and about ¼ teaspoon black pepper. Mix in the cooked onions, peppers and garlic.
Cook on high 3 - 4 hour or low 5 - 6. Remove the chicken breasts to a cutting board. Stir the cheese and sour cream into the soup. Shred the chicken or cut into bite-sized pieces and add back to the pot. Taste and season as needed. Cook 1 more hour on low heat.
Serve garnished with more cheese, sour cream or tortilla chips.
Enjoy,
Tammy
*    *    *    *