This post may contain affiliate links.
We love to eat beans in our family.  A bowl of hot and wonderfully seasoned cooked beans with cornbread is pure heaven for a winter comfort food dinner. Dried beans and peas are full of wonderful vitamins and fiber and makes a really filling meal. I recently made a Black Eyed Pea & Sausage Soup to see what hubby thought of a new spin on a classic southern meal.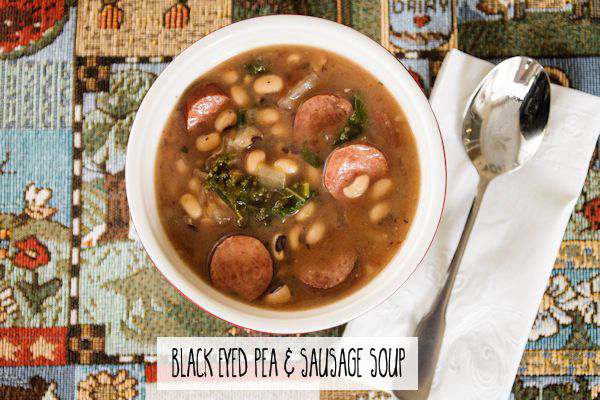 I made this in my crock pot since I was going to be so busy most of the day.  There are a couple other steps you will have to do before you can start cooking the soup, if you use dry beans.  You can also use canned black eye peas in this recipe.  You just won't have to cook as long.
I know there are many out there, my mom for one, who really don't believe in soaking dried beans or peas before cooking.  I mainly do this process because I cook them in my slow cooker and it will help release a lot of the starch and "gas" enzymes to rinse away.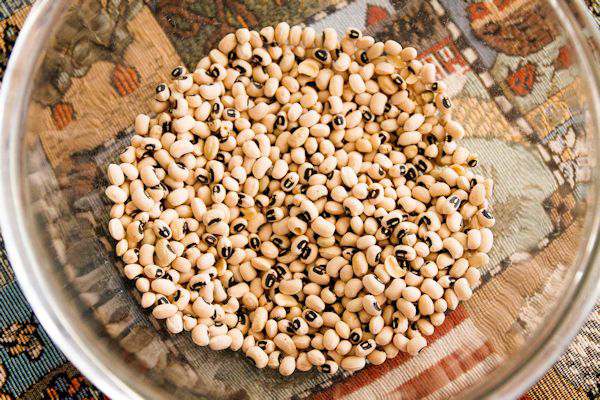 The day before you cook your beans, put them in a bowl and add water a couple of inches above them.  Let them sit over night.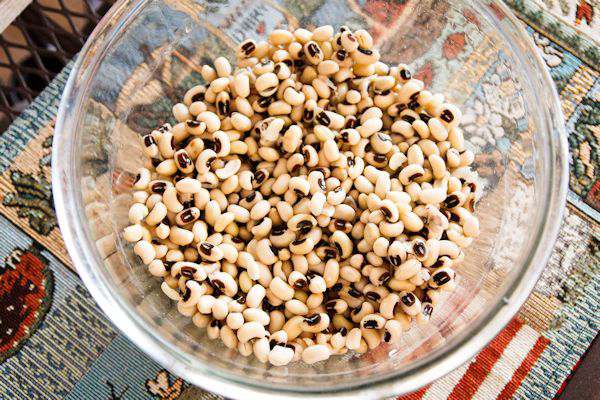 The next day, just pour off the water and rinse well before adding them to your pot or slow cooker.  Your beans or peas will come out so tender after cooking them.  See how they have swelled nicely.
My garden is full of kale right now and with that green being a cool weather plant its a perfect time to use it in so many recipes.  Its really good in this one.  I am growing a dwarf version of kale and its not bitter at all.
I did use Turkey Link Sausage, which you can find in any grocery store, in this recipe to keep down the fat.  The turkey sausage is already cooked and only needs to be reheated. But if you love the full flavor of link sausage, then that will just add more flavor to the soup.
If the soup is too soupy for your taste, I mixed a small slurry of water and flour and added it to the mixture close to serving time to thicken it up a bit.
I serve this soup with cornbread.  Yum
Black Eyed Pea & Sausage Soup
Ingredients
1 cup of chopped onion
1 tbsp minced fresh garlic
1 pound of link sausage
1 quart of chicken broth
1 15oz can of diced tomatoes
3 cups of turnip or kale greens, chopped
1 tbsp of apple cider vinegar
1 tsp salt
½ tsp coriander
½ tsp oregano
½ tsp cumin
½ tsp black pepper
15 oz black eyed peas, drained and rinsed
Instructions
If you cook this on the stove, use a little bit of olive oil to cook the onions and sausage before you add the other ingredients, except greens. Let cook on low for a few hours and add the greens about a ½ hour before serving.
If you use a slow cooker, just put all the ingredients in, except greens and cook on HIGH for about 8 hours to make sure the peas are cooked. If you use canned black eyed peas, cook for a few hours on LOW. About and hour before serving, add greens.
The turkey link sausage is already cooked, so you are just heating it up.
Enjoy,
Tammy
* * * *
Other Posts You May Enjoy: