Gatorland + Gator Mini Golf
This post may contain affiliate links that I receive commissions from purchases made. Click HERE for my disclosure statement. 
Looking for a day in Orlando that won't break the bank. Visit Gatorland and Congo River Mini Gator Golf in Orlando. A family fun day!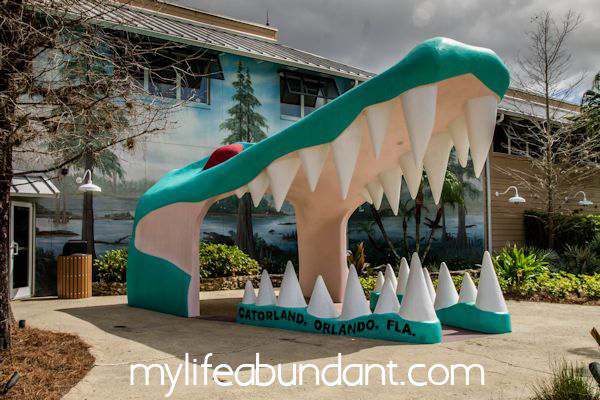 I love living in Central Florida. There is so much to do all year long, so many things to visit and so many ways to have fun. I know Mickey is the high lite of any trip to Florida, but how about a few other places not so well known.
Before there was the mouse, there was Gatorland. I had always heard of this place where gators reside but never went. I have lived here for 12 years and hadn't seen a gator yet. It was time to see them up close and maybe throw in a bit of mini-golf too.
But first, a little history about Gatorland and the star of the show, gators.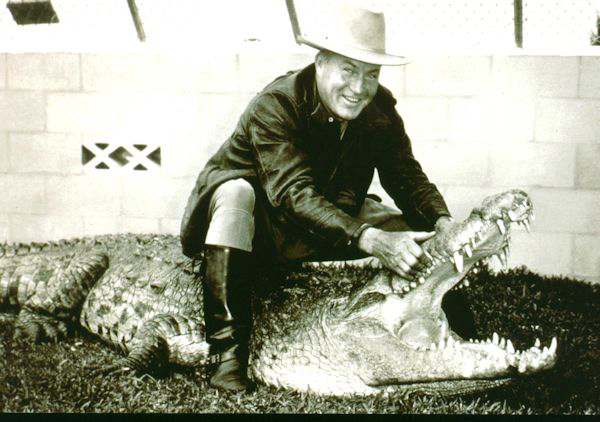 Gatorland is one of the oldest attractions in the Orlando area. Founded in 1949 by Owen Godwin, Gatorland has grown from a simple roadside stand to a 110-acre park. The park is known for rescuing nuisance alligators from trappers that would otherwise be killed for their meat and skin.
In 1962, Godwin's youngest son, Frank designed the now-famous gator mouth entrance that would be featured in movies like Indiana Jones, in the coming years. But, in 2006 the gator mouth, along with most of the gift shop connected to it burned. In 2008, the gift shop and historic concrete alligator's mouth was back in service.
Now Let's Meet Some Gators: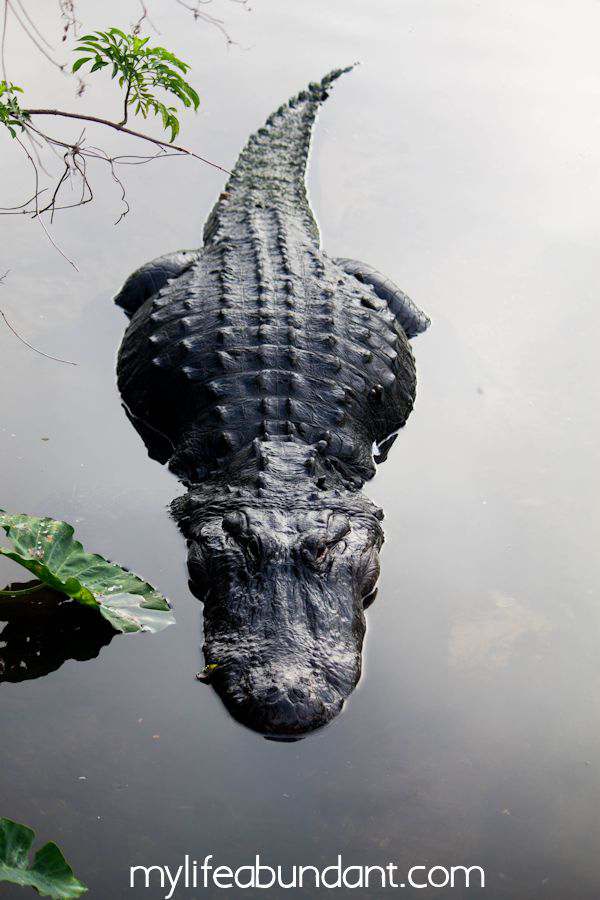 The average American Alligator can reach up to 14 feet long and weigh up to 1000 pounds. Females tend to be smaller than males. The lifespan of an alligator has been recorded at over 80 years old. They are found in the Southeast regions of the US with an average of over 1 million gators in Louisiana and Florida each. They can stay underwater for up to 2 hours, which makes them so dangerous in local waters.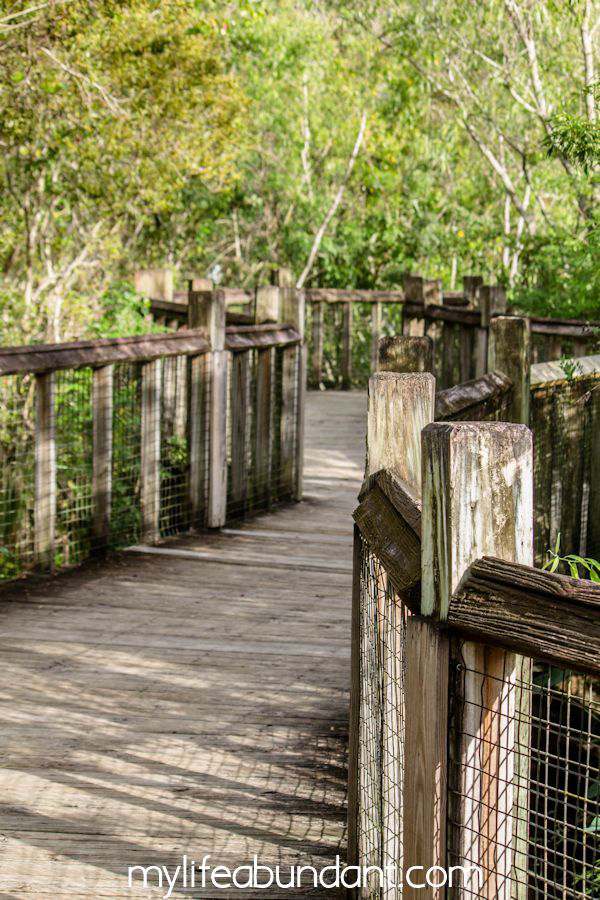 There are several areas you can enjoy in the park. We first wanted to see where all the alligators lived and followed the wooden walkway to the Breeding Marsh.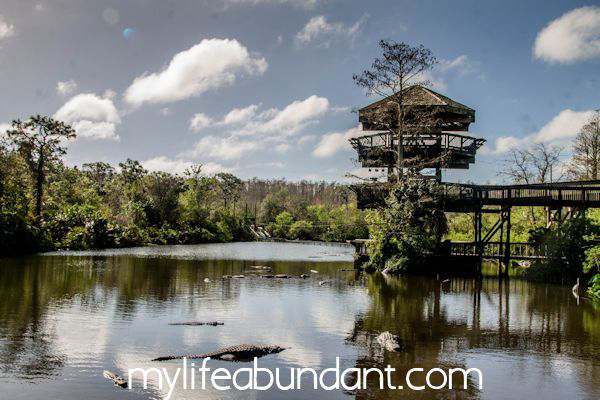 When we first got there, we only saw the eyes of the alligators peering out of the water. As time went along, you would see them start to reveal more and more of their bodies floating in the water. Hundreds of bodies. At any given time, there are about 1900 alligators at the park. Be sure to venture up to the top of the tower to have a much better view of the breeding marsh.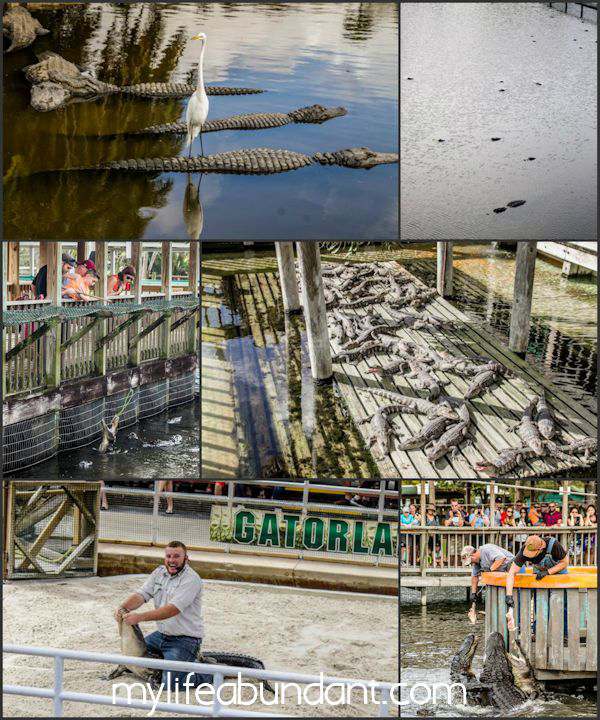 You can feed the gators, which is a training effort to teach them to jump to learn to retrieve food above the water. Be sure to stop by Bubba and Cooter's show with the gators. The birds and gators seem to live very well together, which I found fascinating. I know we all have seen how gators are portrayed in the media, but they all seemed very calm and enjoying their day. There is gator wrestling, which was so entertaining and the kids loved it. Gator wrestling has been a roadside attraction in Florida since the late 1800s.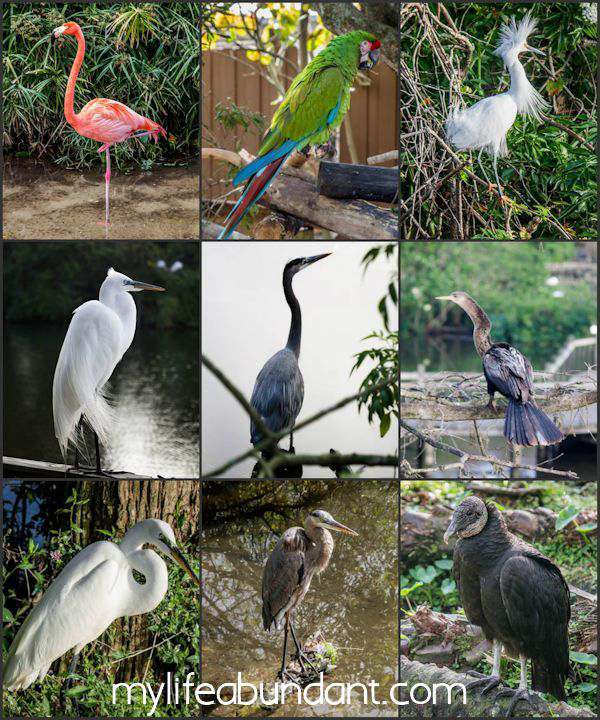 Speaking of the birds, there are so many to enjoy and a photographer's dream. The bird in the top right-hand corner of the picture above was trying to find a date. I watched for a long while as he strutted around in all his finest, but the girls would just fuss at him and fly away. All along the walkway are plaques that tell you about the birds in the area. There is also a bird aviary where you can feed the Lorikeets.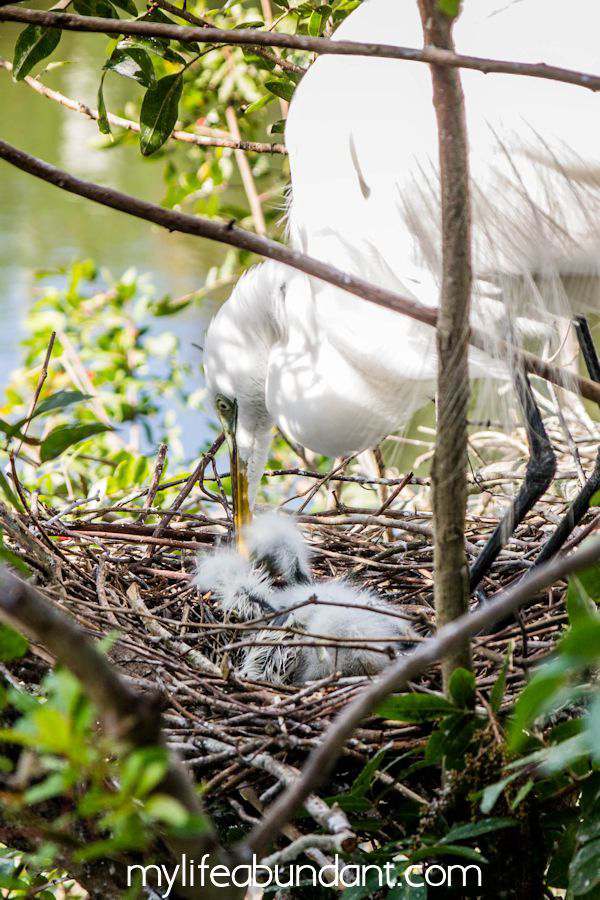 Spring is breeding time for the Snowy Egrets and we were able to see the nests and babies up close. They didn't mind at all the humans who were all awwing over all the babies. All of these nests were just a few feet above the water where the gators are. They stop in this area to raise their little ones and will then migrate north.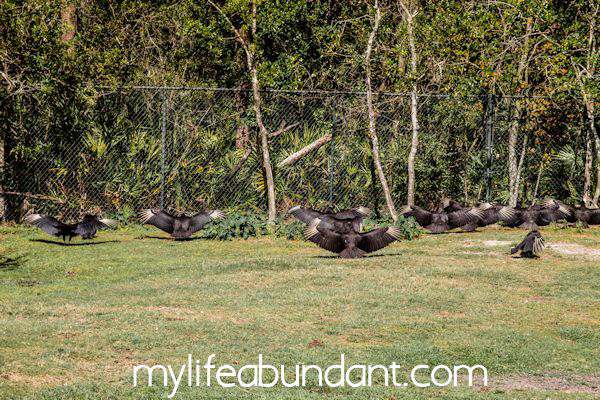 Just to show you how nature works. Because of all the meat served to the gators, there are going to be some scraps laying around. Hence the reason for the many Black Vultures that hang around. As we rode around the park on the open train amongst all the creatures, these vultures were all standing in a line with their wings out. Come to find out, since they are usually around old dead meat which is crawling with parasites, which end up on the vultures. One way to stay clean is to go in the water to wash and then stand with their wings out. The sun will kill off the parasites that weren't washed off when they bathe. Evidently gators don't like vultures as food. Gators have been seen trying to eat the vultures but will quickly spit them out. Vultures must taste as bad as they look.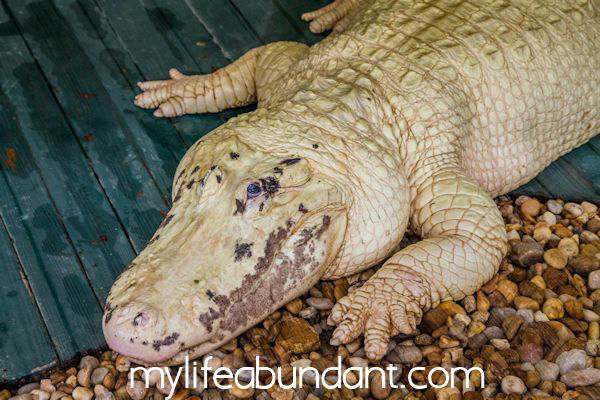 One of the newer attractions is the White Gators. these aren't albino gators since they have skin color. When I walked up to this giant creature, he slowly opened his eyes to reveal those dark blue cold eyes. They live in their own covered area called White Gator Swamp since long sunlight exposure will damage their skin. Too spooky for me.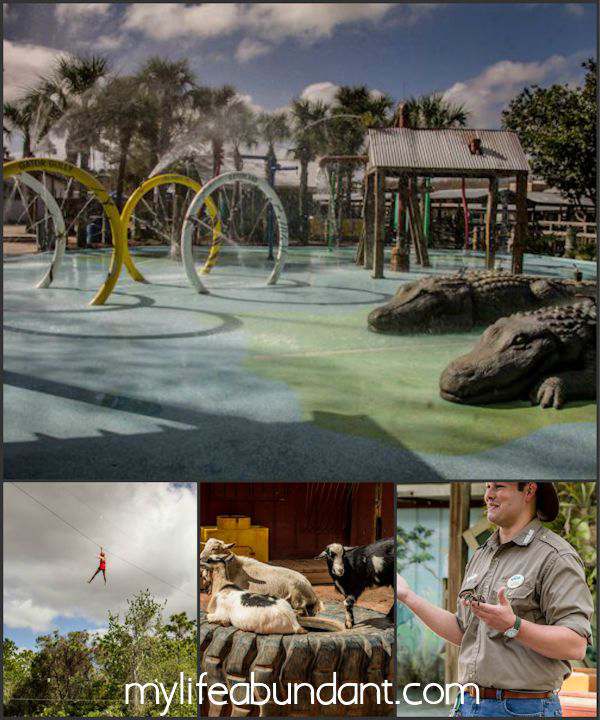 Other attractions are a petting zoo, Gator Gully Splash water park area for the kids to cool off in with picnic tables and plenty of chairs for mom and dads to relax on, a few creatures you can pet and see up close and personal and if you have a strong heart, you can go on the Screamin' Gator Zip Line over the breeding marsh. There are so many activities for the kids to enjoy.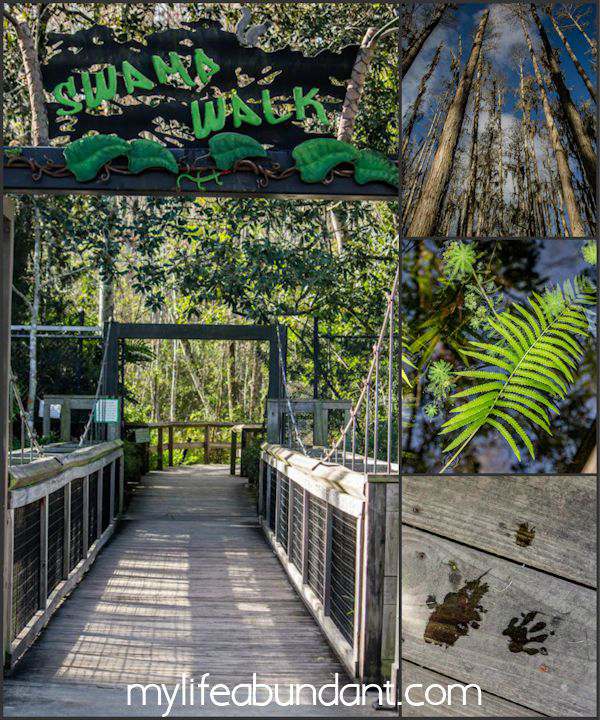 The Swamp Walk is the beginning of the Everglades where you can see what a true swamp looks like.  Nature at its finest.
One more thing. If you are adventurous and want to try something different to eat, you must try the Gator Ribs and Gator Nuggets.  I've had Fried Gator Tail several times and it's really good. If you aren't into gator meat, no worries, hamburgers, hot dogs and other quick foods are also served.
There are several package "Experiences" to enjoy. You can get up close and personal with the alligators in a variety of different events. These adventure tours include simple events as learning how to alligator wrestle to walking through the alligator breeding grounds in a behind the scenes fashion.
Gatorland is known as Florida's half-day attraction, but there is so much to do you could spend a whole day. It's a nature friendly and family-friendly park for all and is open daily.  Tickets won't cost you an arm or a leg either!! Its located at 14501 S. Orange Blossom Trail in Orlando, FL 32837.
Oh, and I must not forget the part that really drew us to this attraction. Call 800-393-5297 to Gatorland's answering service and listen to the whole thing. Its a hoot!!
Mini Golf Anyone?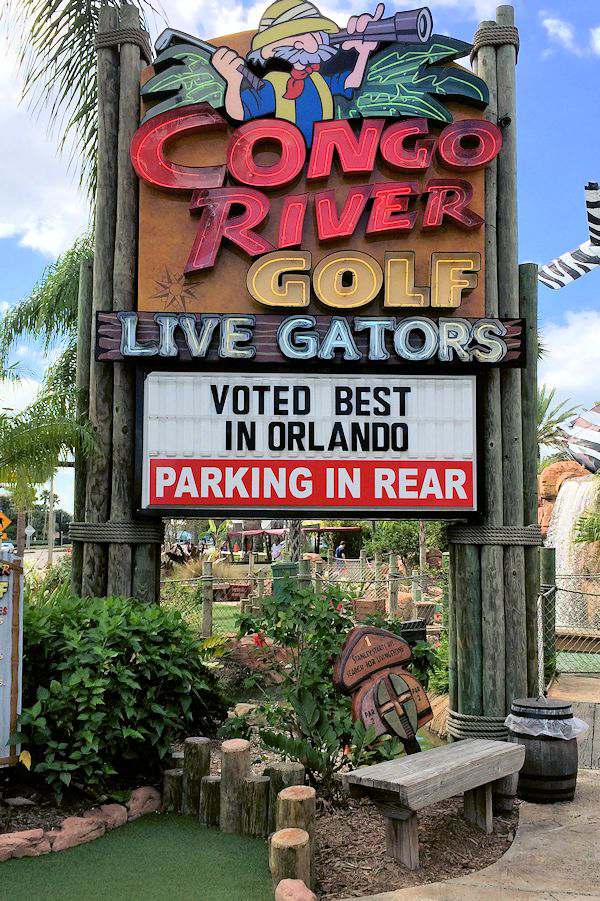 But, our day wasn't over yet.  We had to check out Congo River Golf where you can golf with gators. Hubby and I love to play mini-golf and this one was one of the best we have encountered so far.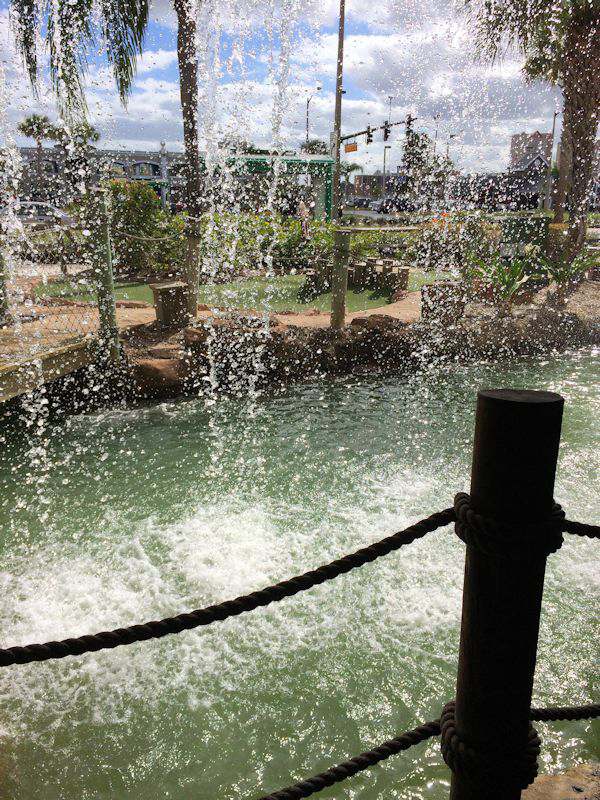 We golfed in caves where you can watch the waterfalls.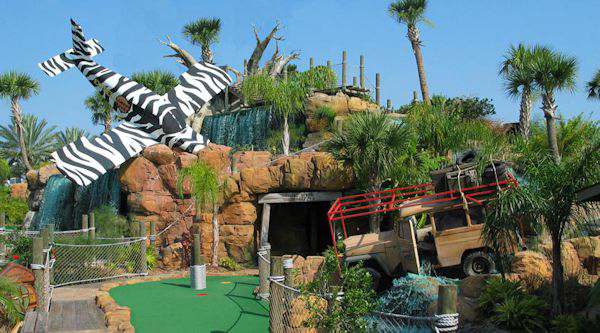 We loved the different levels of this mini-course. There were flat and high areas you needed to climb to. And when you are done playing the 18 hole course, you can feed the gators. There are several of these Congo River Mini Golfs in the area to enjoy.
We both had a great time and would recommend these two attractions to anyone visiting in the Orlando area. I just knew I was finally going to win a round of mini-golf with hubby, but once again, I lost another close one.

If you are planning a trip to the deep south anytime soon, it would be a good idea to find out if gators are in waters close to where you may be staying or visiting. There are several books about reptile and Florida Alligators HERE.

Here is a really cute book for the kids with gators playing the mom and child called Hello, Florida.

There are several other children's books to choose from HERE.
Don't Forget to Pin Me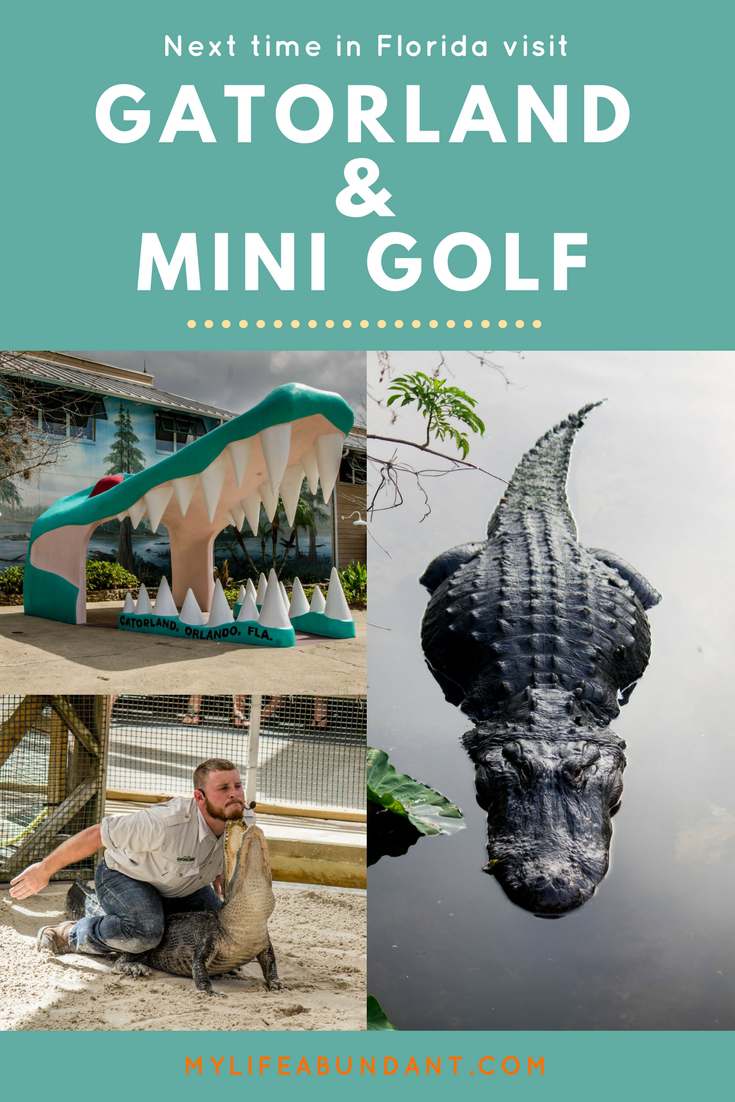 Enjoy,
Tammy
* * * *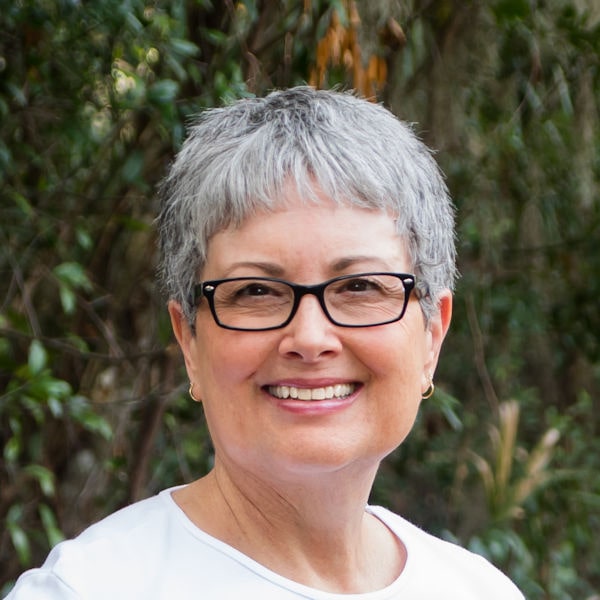 I'm just a country girl loving my geeky life with my wonderful husband, always taking pictures, getting my hands dirty in the garden, being crafty, exploring with travels and enjoying all this on a budget. But above all, living my faith as a child of God!
Read more about me and check out my media kit. Our Privacy Policy