Restore a Mahogany Leather Top Table with Sheet Music
This post may contain affiliate links that I receive commissions from purchases made. Click HERE for my disclosure statement. 
Learn how we restored an old worn-out mahogany leather top table when we decoupaged it with sheet music. What a beauty it is now!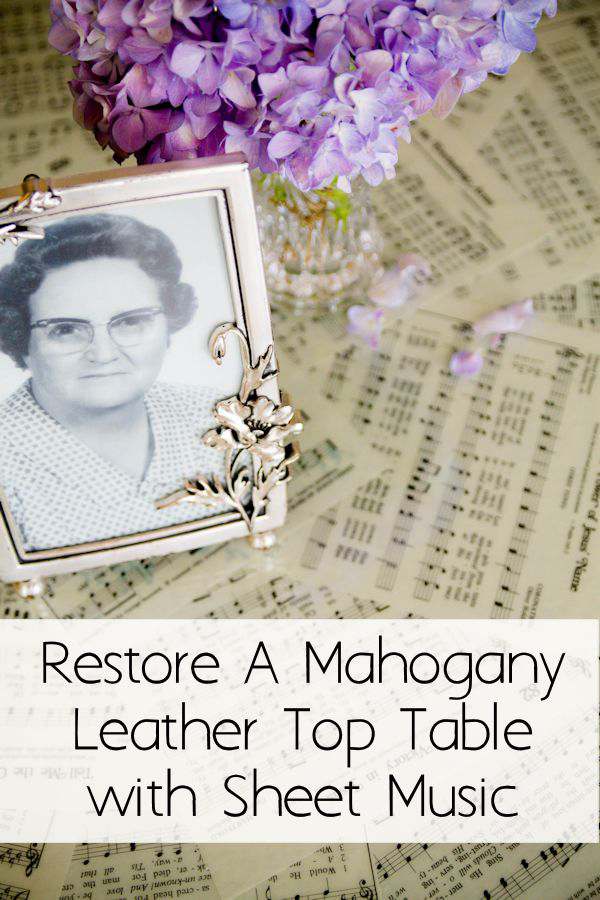 I've had in my possession for several years, a beautiful mahogany leather top table, which belonged to my great grandmother. Her name was Ruby.  The grandmother who could cook and let me play in her purse.  The grandmother who always had something sitting on the stove for my brother and me to grab after lunch for a snack.  My favorite was her homemade biscuits and a piece of bacon.
The table was given to me mainly because it was in bad shape and no one liked it.  But, it was beautiful in my eyes and I knew someday I would restore it somehow and make it beautiful again.
Hubby and I talked about what we were going to do with that table for years.  I mean years!
Then, one day as I was looking online and came upon a box that had been decoupaged with maps.  Ding, ding, ding!!  I knew what I wanted to do with that leather top on that round table.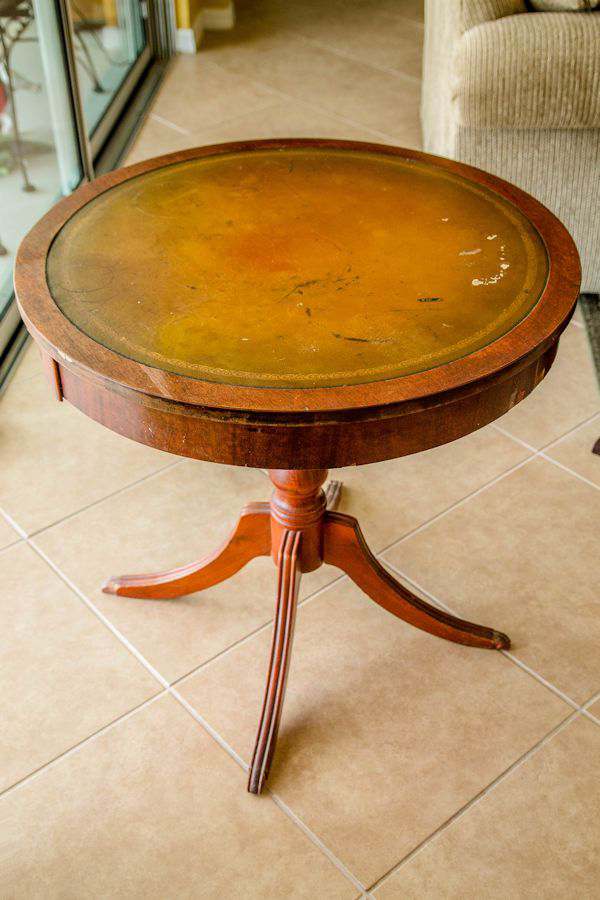 As you can see, the leather top had stains, burns, and tears in it.  It was going to cost hundreds of dollars to replace the leather top.  But, to decoupage the tabletop, it would cost virtually nothing.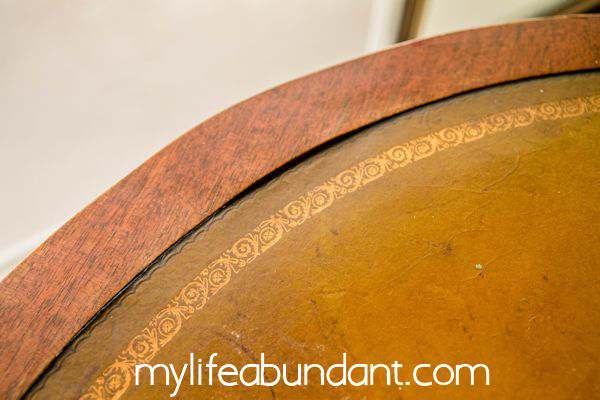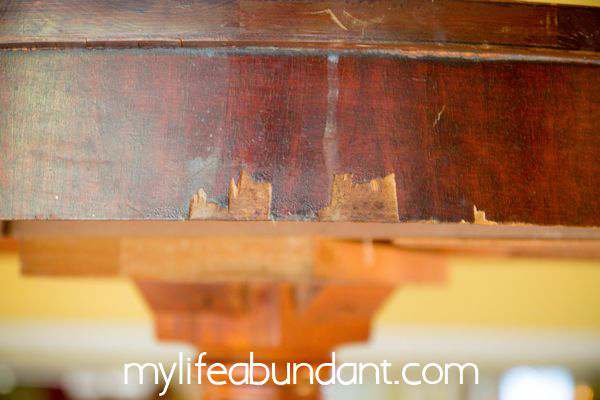 Not only was the leather in bad shape, but some of the veneer was also in bad shape and pulling from the table.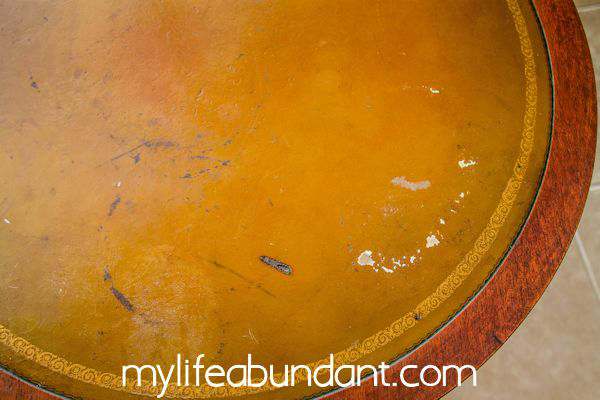 I can only imagine how beautiful this table was so many years ago and how many stories it has heard from my great grandparents and other family members.  I remember this table as long as I can remember in my grandmother's home.  I had to make it beautiful again for her.
So Mr. G started his work.
What we used to restore this table:
Old sheet music
Steel Wool – Very fine or 0000 grade
Screwdriver
Hammer
Glass top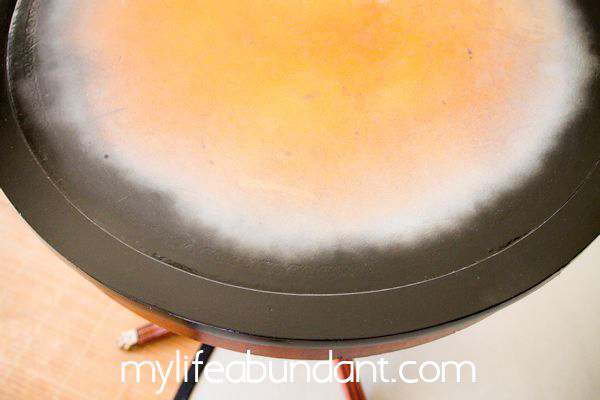 First, he removed all the brass feet and hardware and cleaned them with the brass polish. You can also use ketchup to clean brass if you don't have brass polish. He repaired all the veneer with wood glue which was coming off of the tabletop and on a couple of other areas where the wood had split.  He sanded down the really rough spots with sandpaper and then used the steel wool to make it smooth.  Next, he took a damp cloth of water and vinegar to clean the whole table of any residue left behind.
Once it was clean, it was time to spray paint just around the edge of the table with black where it meets the leather.  He taped a drape all around the table under the edge of the top before he began to spray.
He also made a template for the area where we were going to cover with sheet music.  The sheet music we chose came from an old Baptist hymnal.  We chose some of our favorite songs to use on the tabletop.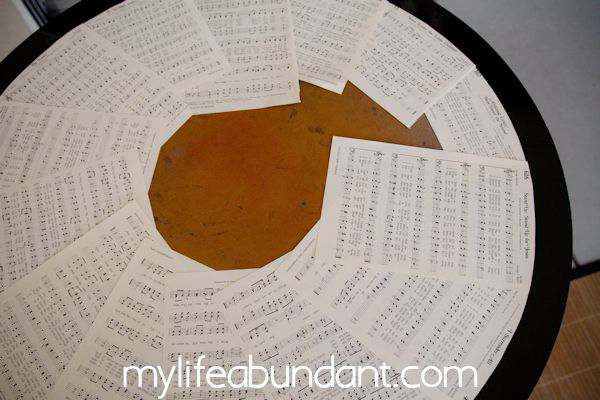 Now I stepped in to start the craft end of our project.  I took one sheet at a time and used the Mod Podge on it with a sponge brush and followed the pattern all the way around the table until the edge was covered.  I would paint Mod Podge on the table, lay the sheet music on that, and paint more Mod Podge on top.  I repeated this process all the way around the edge of the leather top.  It was nice to have a raised edge where the leather and the wood met to make a nice clean edge.  Once the edge was done, I just added other sheets of music until the whole thing was covered.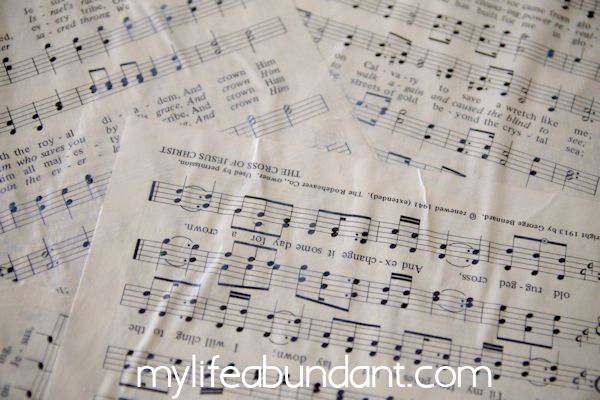 As you can see the sheet music bubbled quite a bit during the process.  I did make sure there was a couple of coats on the whole top.  I was a bit nervous about how it was going to look after it dried.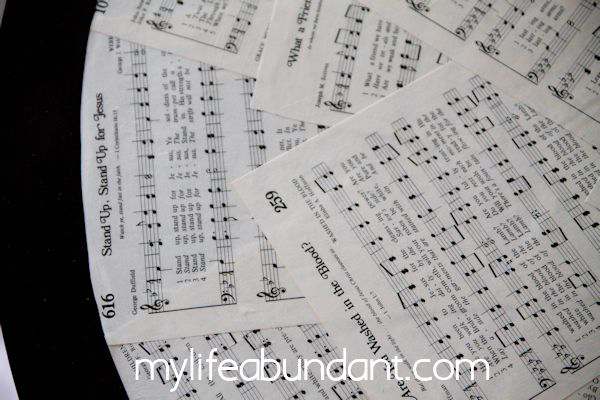 But after the Mod Podge completely dried overnight, all the sheet music was laying flat and looking perfect.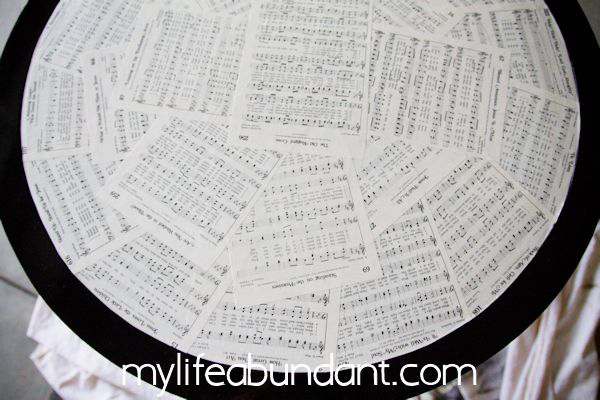 It was such a beautiful site to see.  We both were so happy the way it turned out.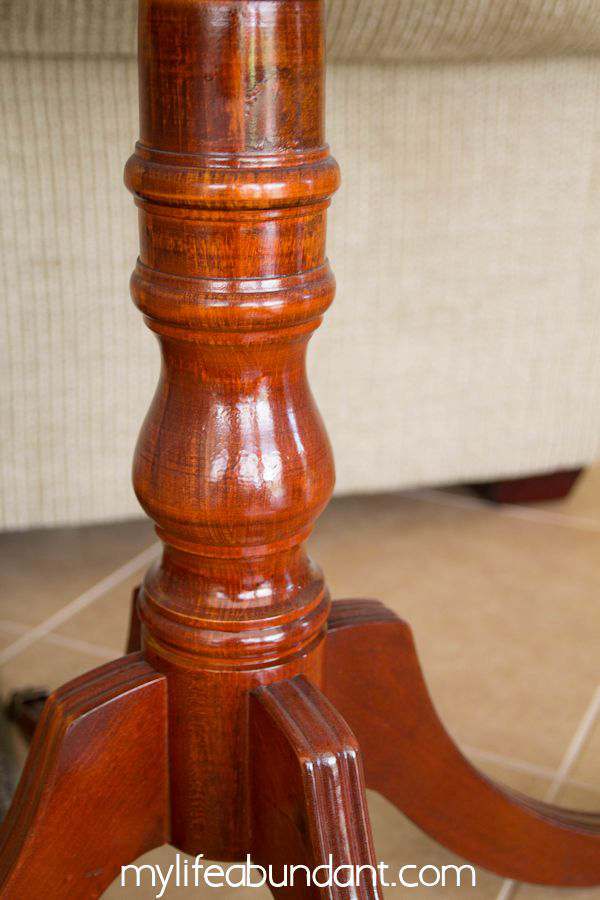 After hubby was sure the top was completely dry, he sprayed the whole table with a couple of coats of lacquer for a beautiful shine.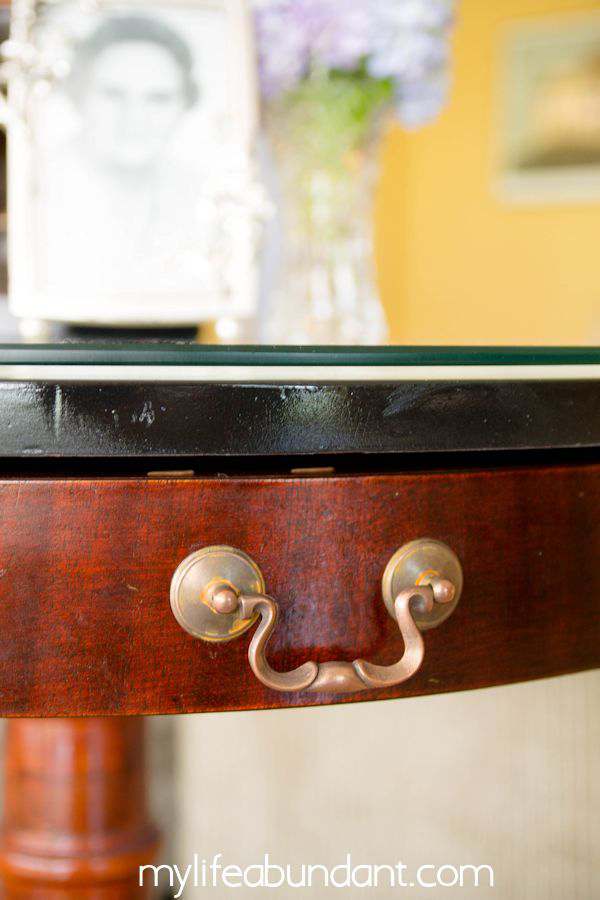 All the hardware was put back in place and a piece of glass was laid on the top of the table to protect it.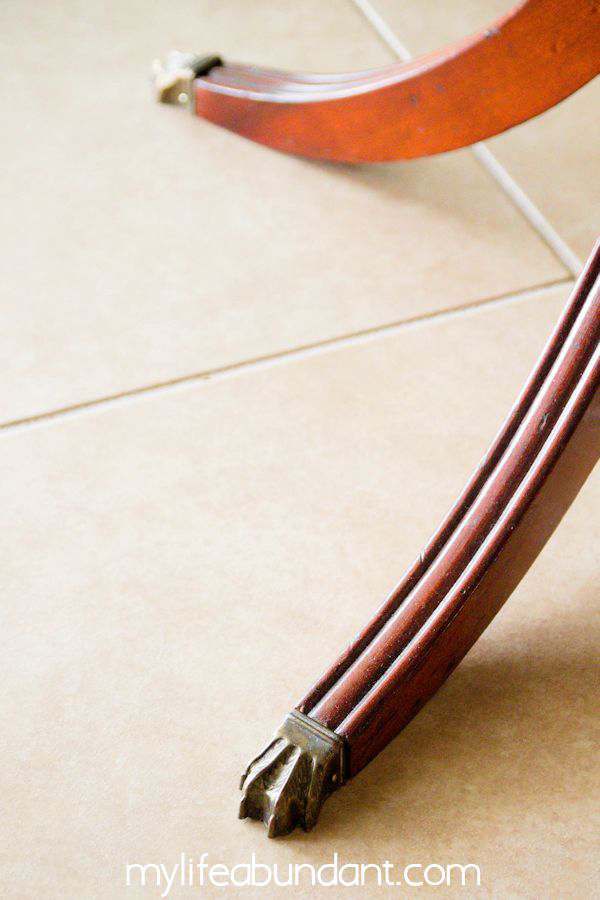 I just love the claw feet on this old table.  Just a little elbow grease goes a long way.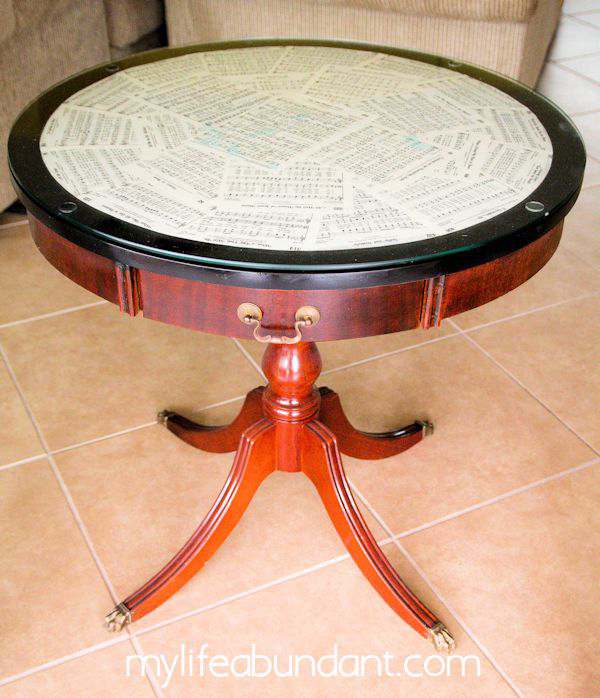 I know my grandmother would be so proud of how this table came out.  We both just loved how the music and the black edge works so well on the table.

When my mother came over to look at it, she asked me, "Why did you choose The Old Rugged Cross as the song you put on top?"  I told her that was just the way the sheet music ended up laying out at the end.  Then she said, "You know that was your grandma's favorite song." Tears came to my eyes.  I knew then.  Grandma loved it!
Enjoy,
Tammy
* * * *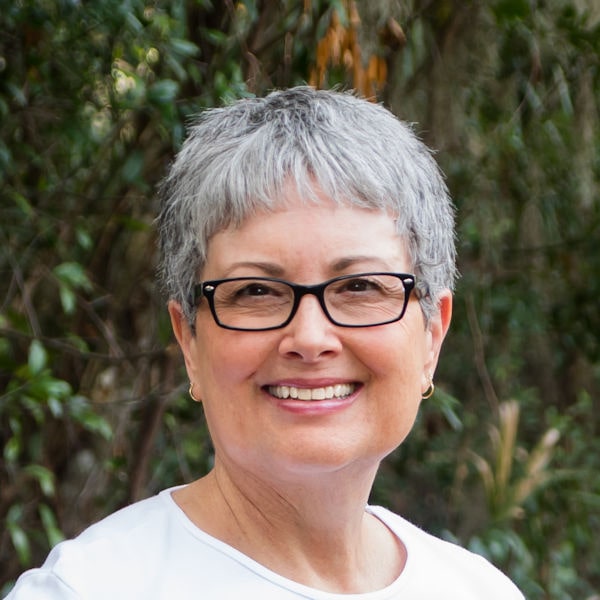 I'm just a country girl loving my geeky life with my wonderful husband, always taking pictures, getting my hands dirty in the garden, being crafty, exploring with travels and enjoying all this on a budget. But above all, living my faith as a child of God!
Read more about me and check out my media kit. Our Privacy Policy