This post may contain affiliate links that I receive commissions from purchases made. Click HERE for my disclosure statement. 
Love tea as much as I do? Learn how easy it is to organize a really cute tea station for your kitchen.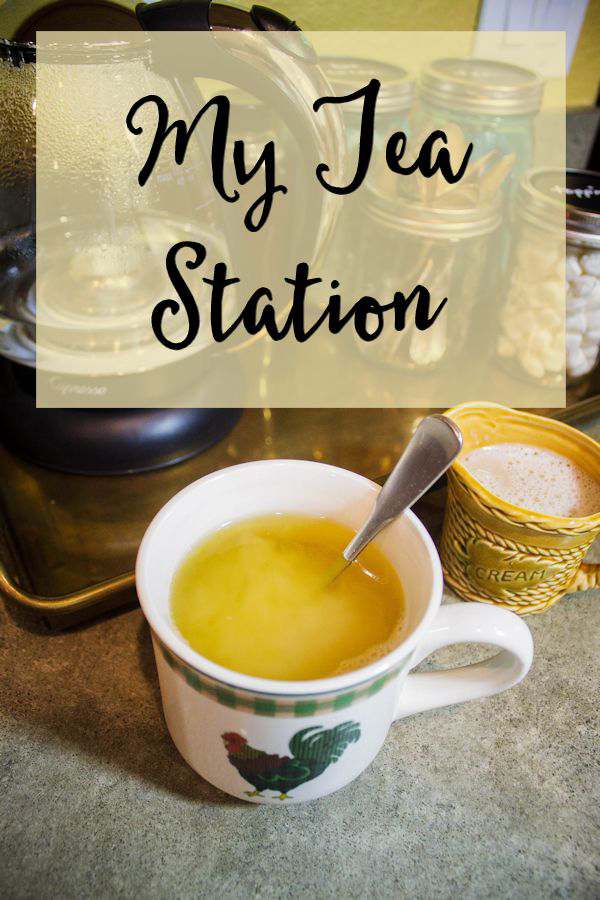 Several years ago, I had to give up coffee, tea, and sodas. My body just couldn't handle all the caffeine and acid I was drinking all day long. I stopped cold turkey and lived on nothing but water for several months. I was surprised at how easy it was. Later, when I thought my stomach was healed, I tried cold brew coffee. No luck. All the symptoms came back.
I so missed that warm mug in my hands in the morning. But, I knew I couldn't go back to my old friend.
My doctor suggested that I try an herbal tea such as chamomile tea. I admit I was afraid to. I tried one cup in the morning for several days. No symptoms. I was ecstatic!!! I was so glad to make friends with my warm mug in the morning again.
I have to admit, it was hard smelling my husband's coffee brewing and watching him enjoy his coffee so much in the mornings.  He had his area for his coffee maker and mugs.  And I……well………had my old pal the mug, which sat in the cabinet.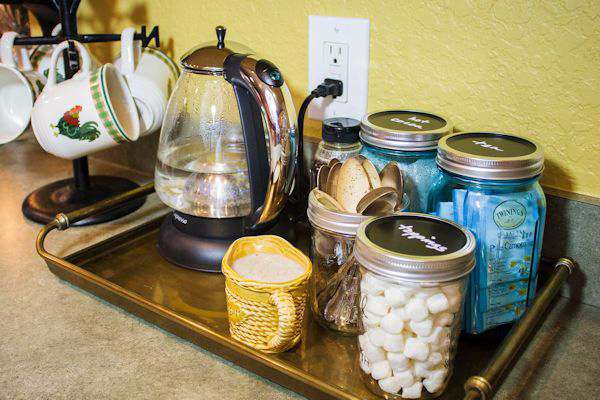 I decided to make myself my very own Tea Station. Nothing fancy. Just a place for all the items to make my mug of tea and I had the perfect place for it in the kitchen.
I didn't want to go buy anything special for my tea station. So, I checked out all my cabinets where I stash all my dishes and items given to me over the years. I found an old copper tray I had put away several years ago. It was the size I needed and a beauty. The perfect start.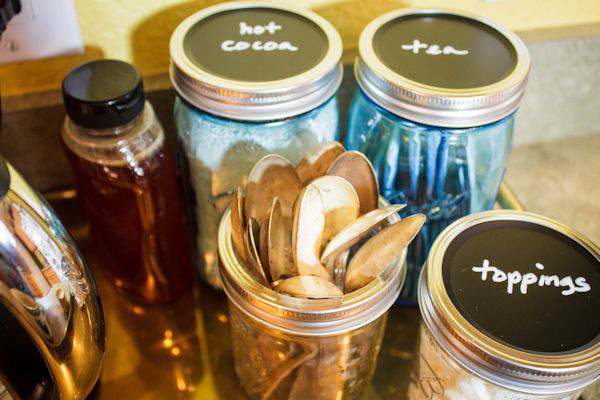 I grabbed several blue Mason Jars and chalk tops (one of my favorite kitchen items) to label what was in the jars.  One jar for my chamomile tea, one jar for my homemade hot cocoa mix, one jar for spoons, and one jar for marshmallows. The grandkids love a cup of hot cocoa when they visit.  I love that they can help themselves now and I'm not searching everywhere for all the items.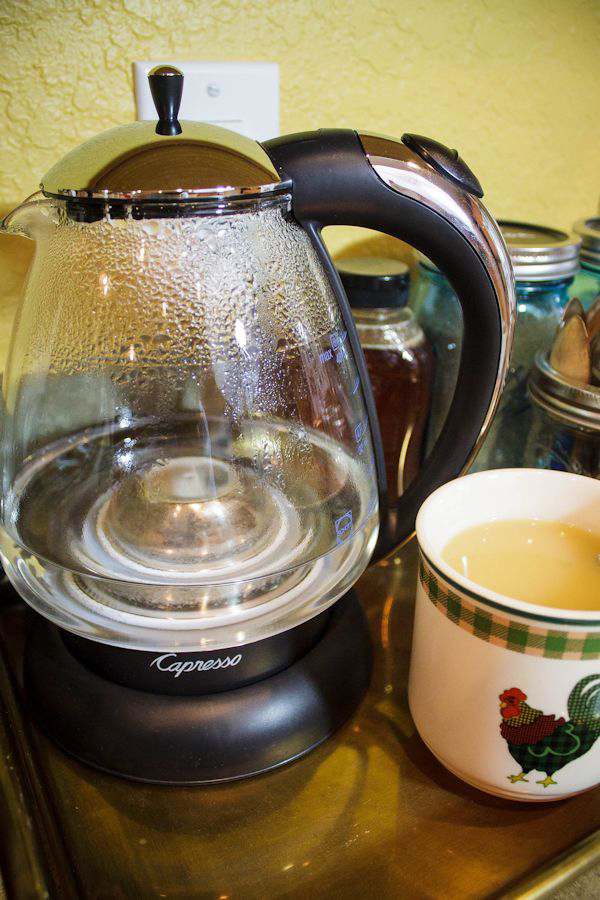 I also added my Capresso Electric Water Kettle which I love!! It heats up the water fast, holds 1.5 quarts of water, on/off switch on the handle and the kettle is cordless. One tip I have is to keep your water below the top measurement line. If you put too much water, it will come out of the spout area when it starts boiling.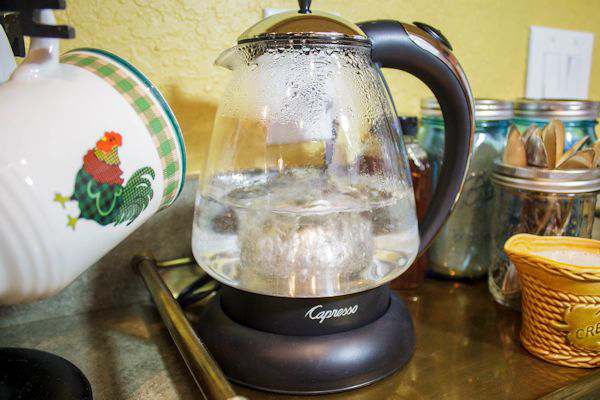 I love the look of this kettle with its glass body and stainless steel accents.  Not too tall or wide and fits on my tray just perfectly.  When it's time to make some tea, just slide the on/off switch on the handle and wait for the concealed heating element to heat up the water. When the water is ready, it shuts itself off.  The kettle also uses less energy than using a kettle on the stove. The grandkids don't have any problems working this kettle.
Capresso also carries several other electric water kettles to choose from. If you prefer different temperatures for your teas, check out all the other water kettles.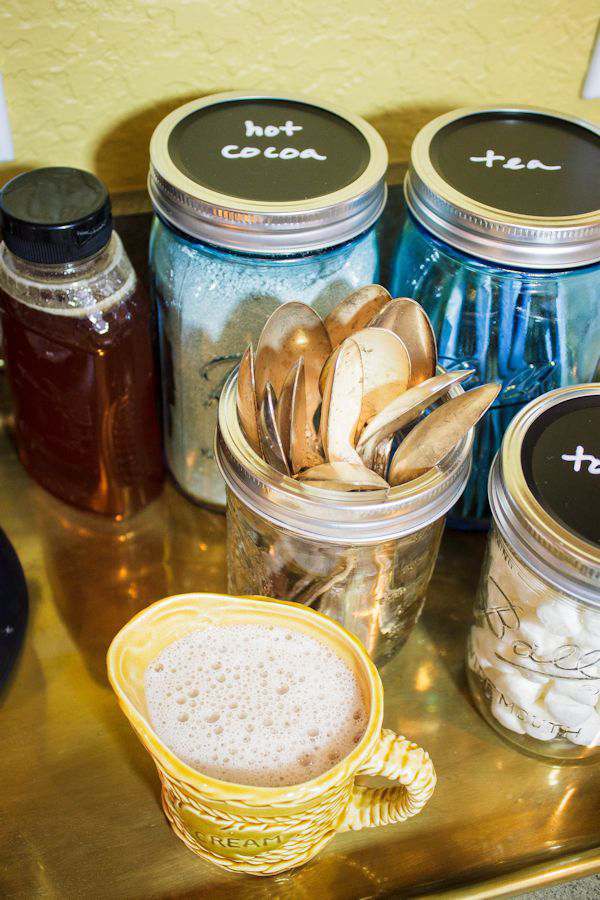 I'm so happy with my new tea station and love how it turned out.  I've even caught hubby checking it out a couple of times. He loves hot cocoa too.  I also have a cute little country creamer I use to put out for the company.  Silk Almond Vanilla Creamer is my choice for a creamer now. Love the taste and I'm not adding heavy fat to my cup of tea.  I also now only use raw area honey as my sweetener.
I do feel so much better without putting all those chemicals in my body. I'm sleeping better, lost 45 pounds with the help from not drinking all those empty calories, the extreme anxiety I was having is all gone, blood pressure is lower, my overall health is so much better and I was surprised I didn't have the terrible headaches I had heard about.
I am wanting to try different herbal teas now, but not sure which one to try.
What is your favorite flavor of tea?
Related Posts:
Enjoy,
Tammy
* * * *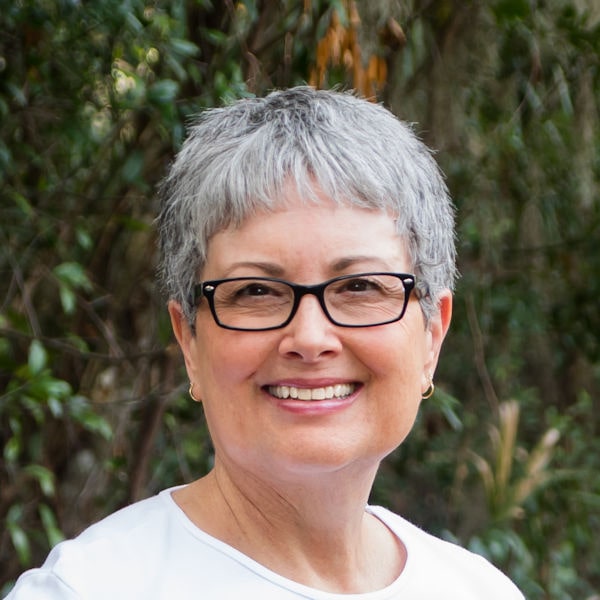 I'm just a country girl loving my geeky life with my wonderful husband, always taking pictures, getting my hands dirty in the garden, being crafty, exploring with travels and enjoying all this on a budget. But above all, living my faith as a child of God!
Read more about me and check out my media kit. Our Privacy Policy