Make mouthwatering meatballs from scratch and then sit back while they cook in their sauce in the slow cooker.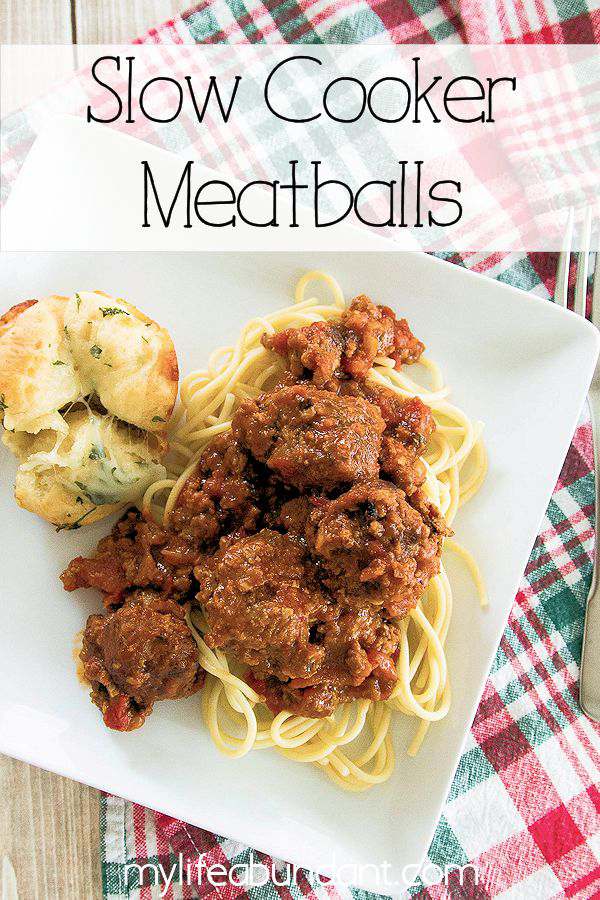 I have to admit that I love pasta.  All kinds of pasta.  All shapes of pasta.  I like it hot or cold.  I really love pasta.  And I love a good sauce to go on it too.  Especially if its made from scratch.  Cooked slow and long with some yummy meatballs.
I love making some recipes from scratch.  My hubby loves the taste more and I really know what is going in my meals that way.  This recipe is super easy to make and its so worth the time of making them.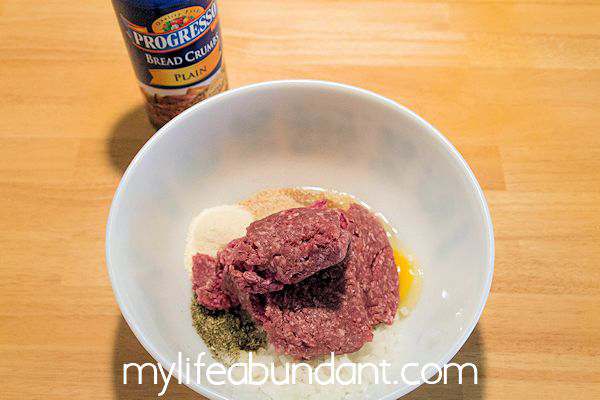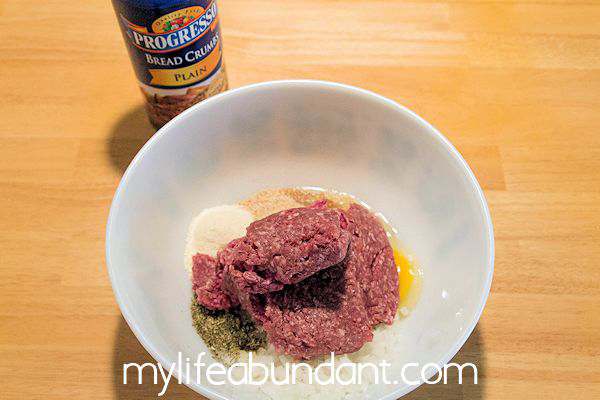 Meatball mix consists of lean ground hamburger or turkey meat, Progresso bread crumbs, egg, cheese, onions, and spices.  When it comes to mixing these ingredients all together, its best to just dig in with your hands.  Not my favorite thing to do, but it gets the job done and you know its really mixed up well.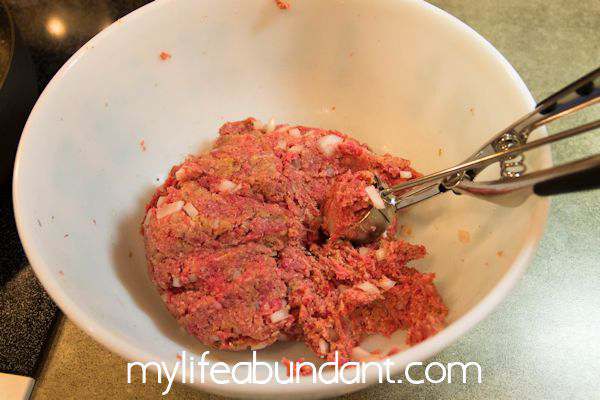 When it comes to making nice round meatballs, just get the scoop out.  I usually use the smaller one but the large cookie scoop does well too.  These meatballs could also be made ahead.  Make the meatballs from the mixture, put on a sheet cake pan and freeze.  After they are frozen, place in a freezer bag until needed.  Let them thaw and cook as usual.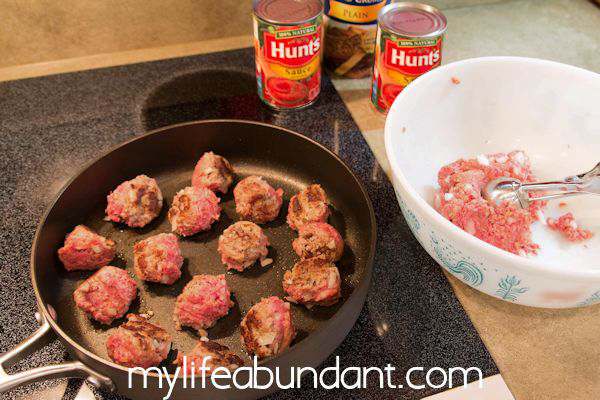 I cook the meatballs on medium heat on all sides until you can't see any pink.  It's really hard to keep them perfectly round.  But I just keep them moving around in the pan and that helps them keep their shape. A nice crust on them will help them to stay together in the slow cooker.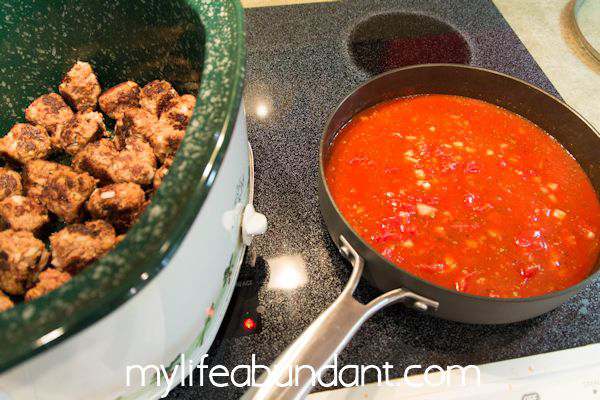 After all the meatballs are cooked, I place them in the slow cooker and heat up the sauce mixture which consists of Hunt's tomato sauce and chopped tomatoes, onion, garlic, sugar and spices. Let the sauce simmer for a few minutes just to get all the ingredients to join hands.  I do taste to see if its just a bit sweet.  If not I will add a bit more sugar.  Tomatoes can be a bit tart without a bit of sweetness to them.  Especially in a sauce.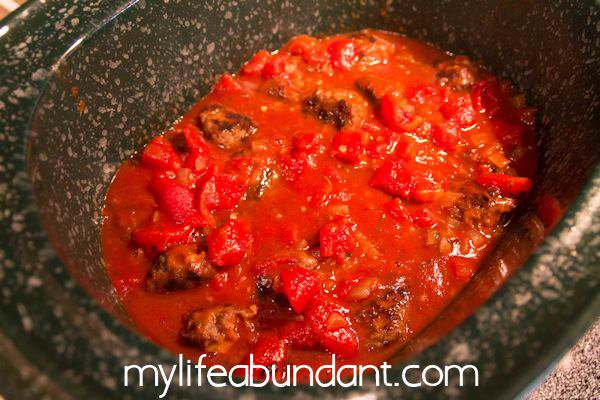 Pour the warm sauce over the meatballs in your slow cooker and you are ready to turn it on for 4 hours on high or 8 hours on low.  My recipe is really for about 4 servings so you might have to double or triple the recipe below for more people.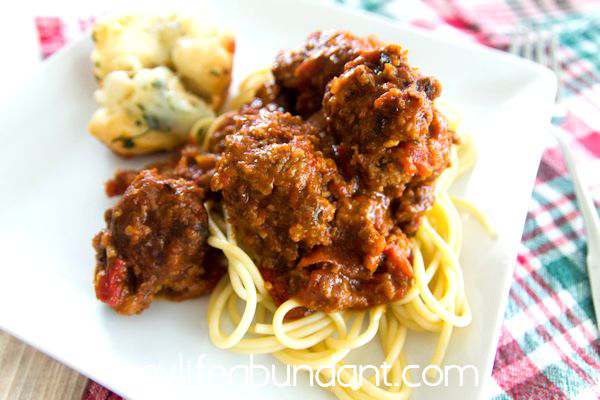 Some of the meat will fall off of your meatballs and your sauce with being thick and meaty. Just serve over pasta with your favorite bread and enjoy.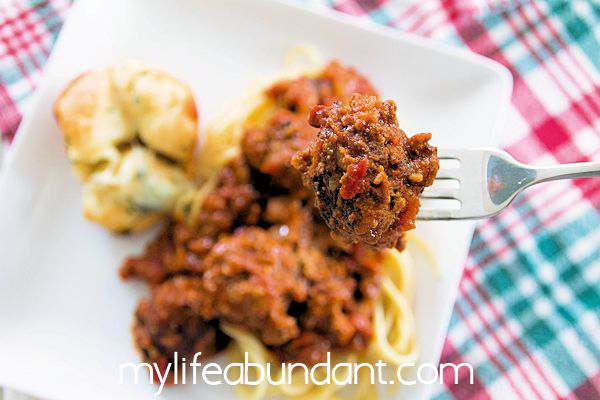 The sauce is just out of this world rich and good. Not many ingredients but cooking it slow really makes all the flavors of Hunt's tomato sauce and diced tomatoes come out.
Enjoy,
Tammy
* * * *