A Step Back in Time with Marjorie Rawlings
This post may contain affiliate links that I receive commissions from purchases made. Click HERE for my disclosure statement. 
Take a step back in time and learn the history of Marjorie Rawlings and enjoy a historical tour of her home in Florida.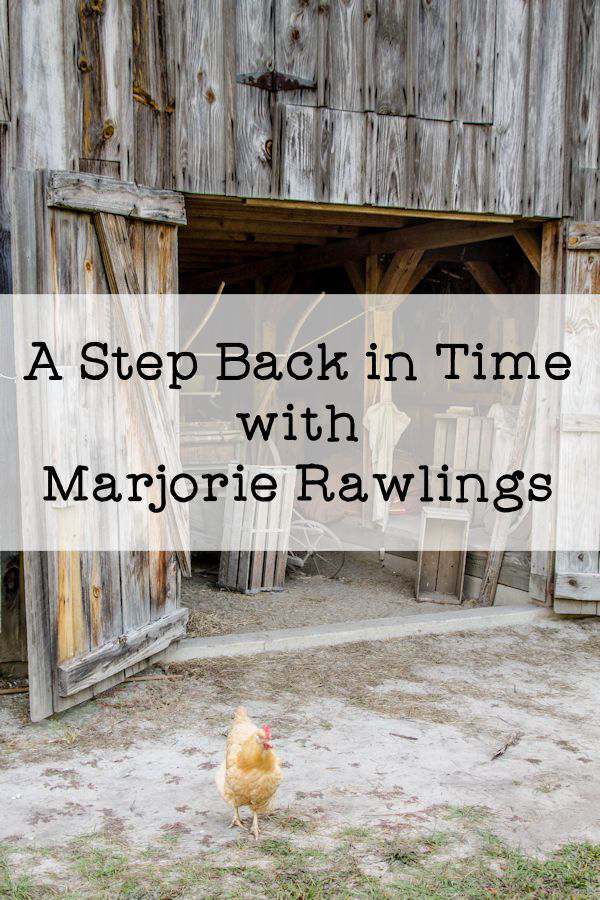 I think I was born with an old soul. I love seeing time as it was. A more simple life. When I was younger or before I was born. Recently, I was able to step back in that era when hubby and I had the great pleasure of touring the Marjorie Kinnan Rawlings home in Cross Creek, FL.
All I knew about Marjorie Rawlings was that she wrote the Pulitzer Prize-winning book called The Yearling and Cross Creek. Both books are classics and the movies are family favorites. I also had no idea that she lived and wrote the book so close to us.
I just had to go and see her home in Cross Creek. A very small and secluded community a few miles south of Gainsville, FL.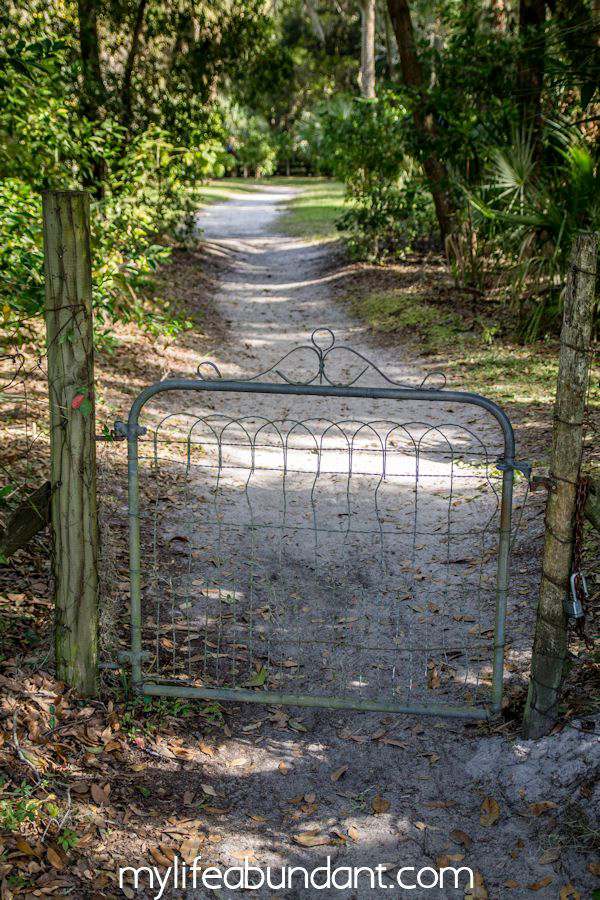 When we walked through that gate, it was like we walked back in time. Her working farm is still maintained by the State of Florida as it was when she lived there. The barn, house, tenant house, small orange grove, garden, chickens, and geese look just the same as they did when she lived there.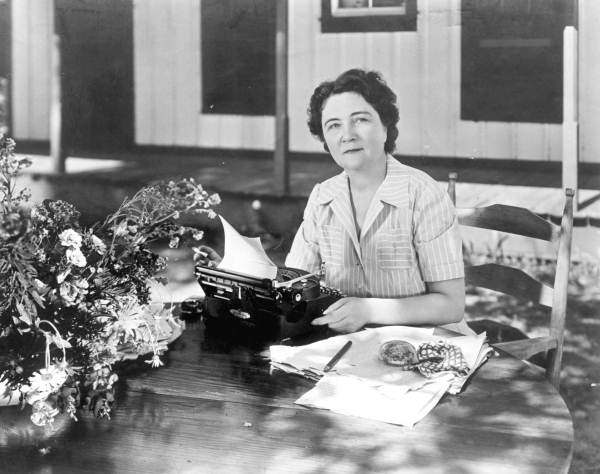 A bit about Marjorie before I go on.
Born in 1896 in Washington DC, she knew she wanted to be a writer by the age of 6. She came to Florida for a visit and loved the area so much, she decided to move there. With a small inheritance she received from her mother, in 1928, she bought a 72-acre orange grove "sight unseen" in an area where it was mostly swamped land. Her husband helped her for 2 years with the homestead and realized Florida swamp life and farming was not for him. He packed up and went back north to leave Marjorie there to fend for herself. But as luck would have it, when her lawyer came from the Tampa area with her divorce papers, he stopped by a friend's home, Martin Baskin, to see if he would like to join him on his journey. Several years later, Mr. Baskin, would marry that feisty woman who would later die at the age of 57.
Our tour guide told us so many great stories about Marjorie and how she was able to live in that desolate area, keep the homestead going, and the orchards alive. She later wrote in her journals that the orchards broke even and never made money all those years. She did hire help to help with chores around the home and became very close to her maid, GeeChee. The movie Cross Creek is a biography of her life when she first came to the area and her struggles to publish her novels. It's worth watching.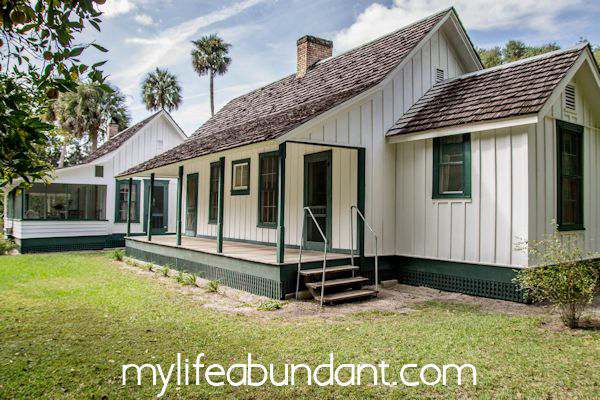 When she first came to Cross Creek, the house was just the one building shown on the far left of the picture above. Later she would add a 2 bedroom and 2 bath extension. One room for guests and one master bedroom for herself. In 2007, her home was designated as a National Historic Landmark.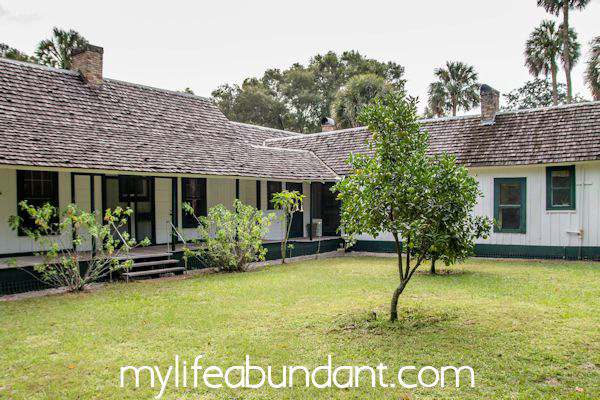 A view of the back of the home with the kitchen and dining area on the right of the picture above.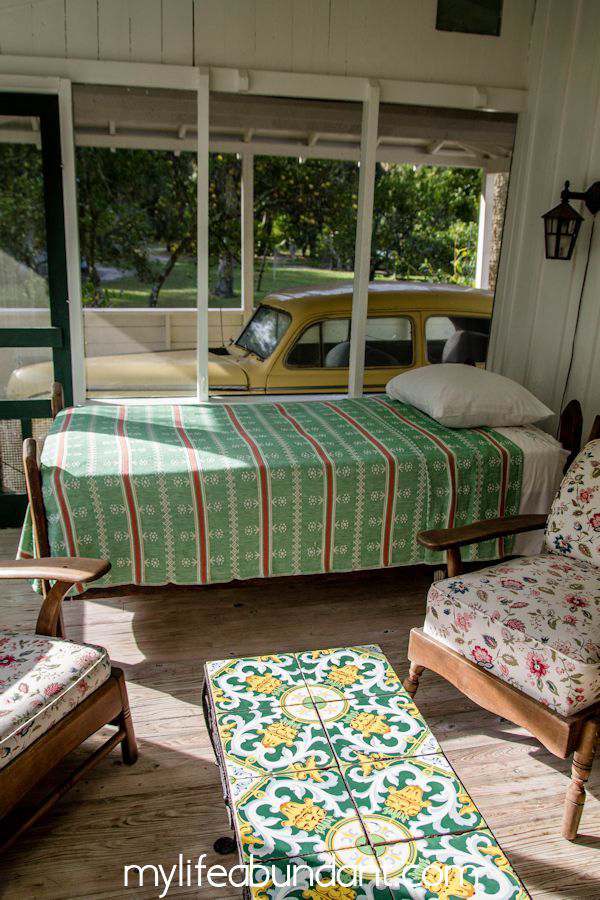 When you first walk into the front porch of the home, you will notice a bed. Very normal for southern homes to have a "sleeping porch" for those hot summer nights.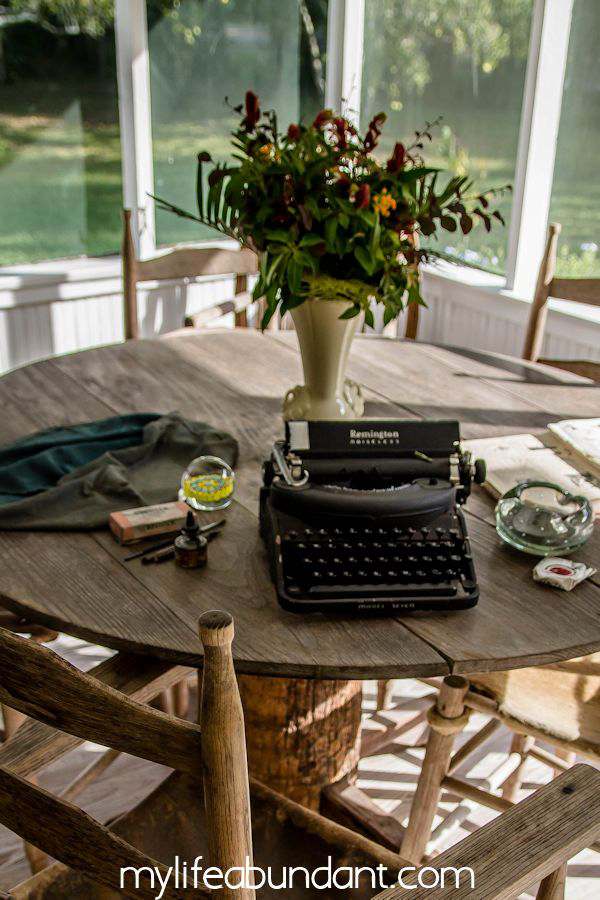 The porch is where she also did a lot of her writing from the typewriter above.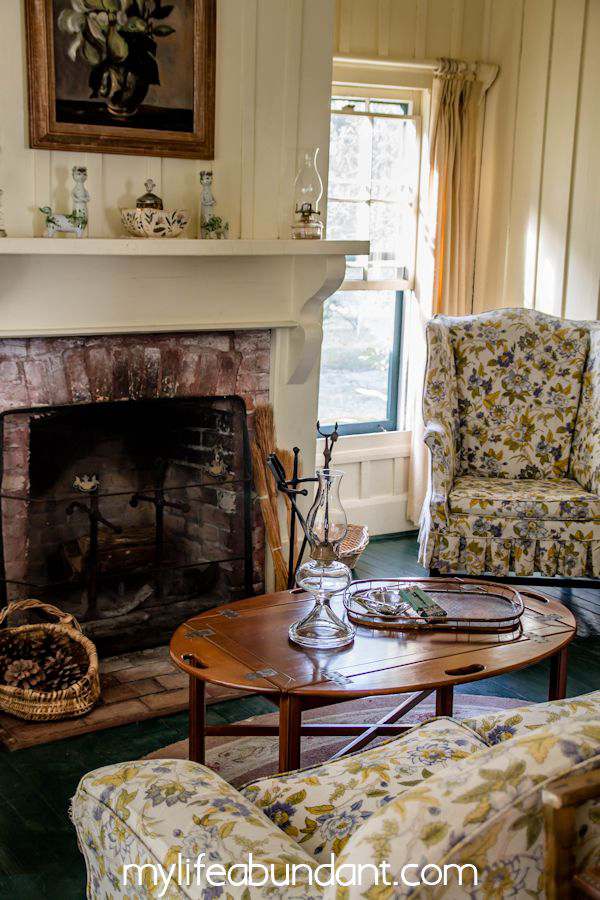 Lovely living room area with fireplace and so typical for smaller southern homes. Windows and doors were strategically placed to always have cross ventilation when it was hot outside.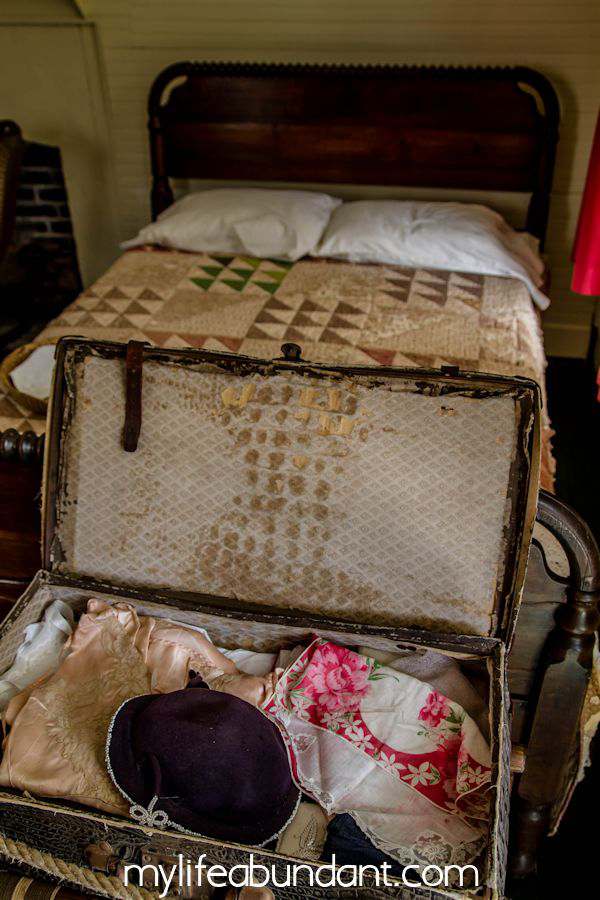 Each room has a fireplace and simple furniture for the time period. That bed was brought to her as a welcoming gift to the neighborhood, so to speak, by her neighbor on the back of a mule.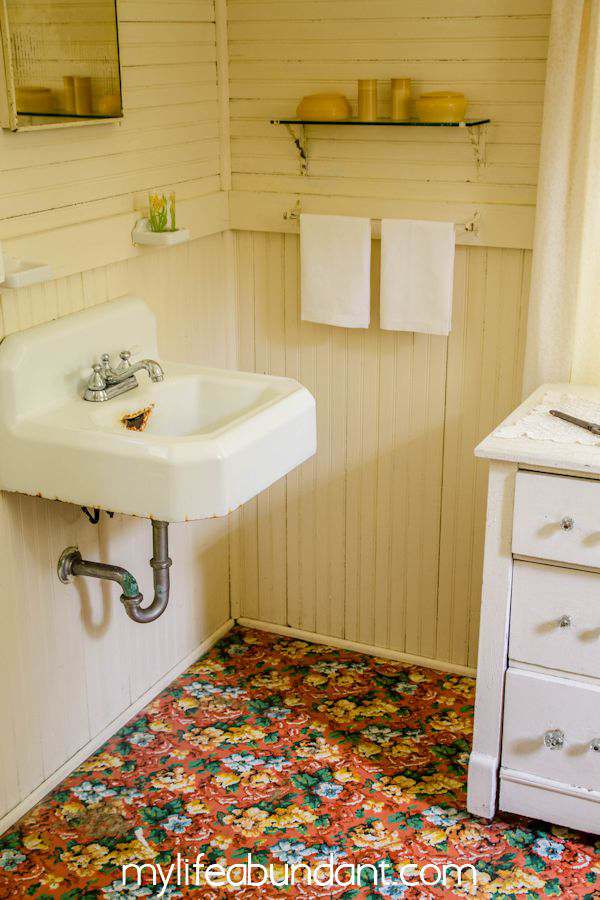 After living there for a while, she had running water and electricity run through the home. I love the linoleum she has in the two bathrooms. Still just as beautiful as the day she had it put in.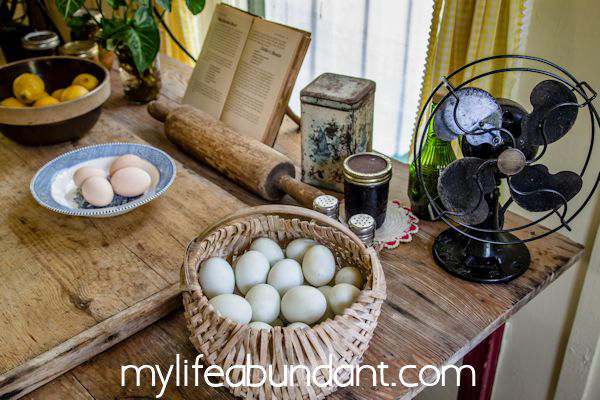 As in most older southern homes, the kitchen is separate from the living area of the home to keep the heat down. If you can't stand the heat, get out of the kitchen, so they say! Her garden and chickens supplied her with what she needed right out the back door. One of Marjorie's passions was cooking. She was quoted to say –
"I get as much satisfaction from preparing a perfect dinner for a few good friends as from turning out a perfect paragraph in my writing."
It's been 75 years since she wrote the book Cross Creek and this year will be a year-long celebration at her homestead where cooking classes will be held once a month. I'm hoping I will be able to join in on that fun.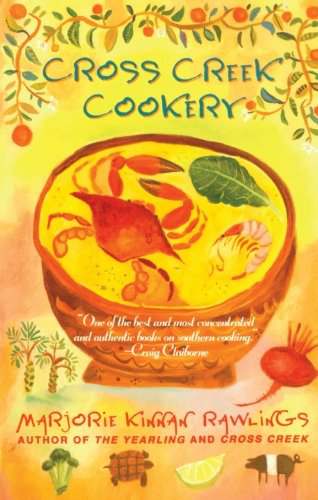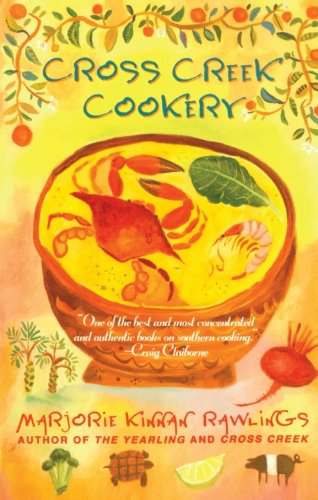 Her cookbook was published in 1942 and if you love old-fashioned down-home cooking, then this book is for you. And for me too!! It's full of tidal deep south recipes and also some delightful anecdotes and lore.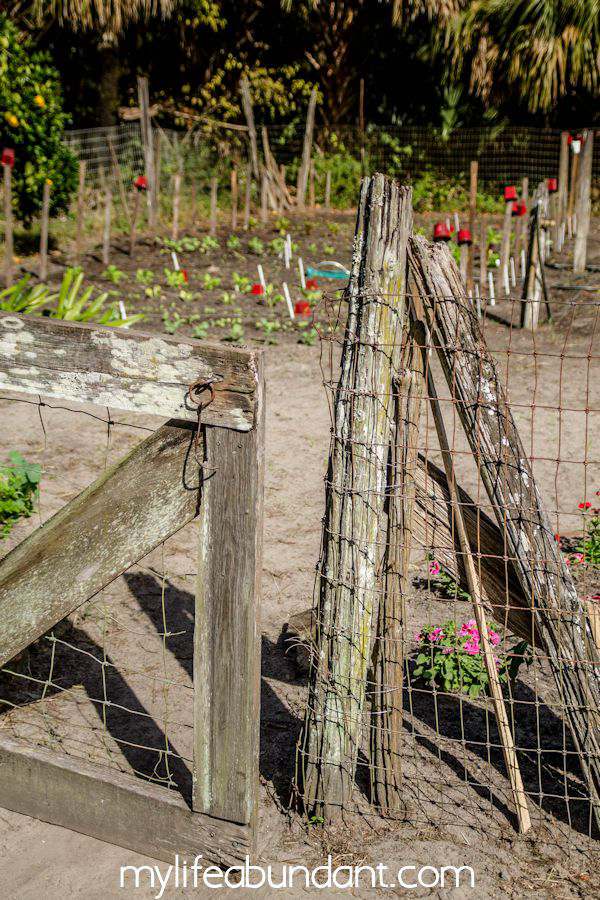 Being a gardener, I fell in love with this simple country garden with the chicken coupe sitting close by. I could spend many hours there just digging in the dirt. The garden is still planted with seasonal veggies and flowers all year long to use in their demonstrations of cooking classes.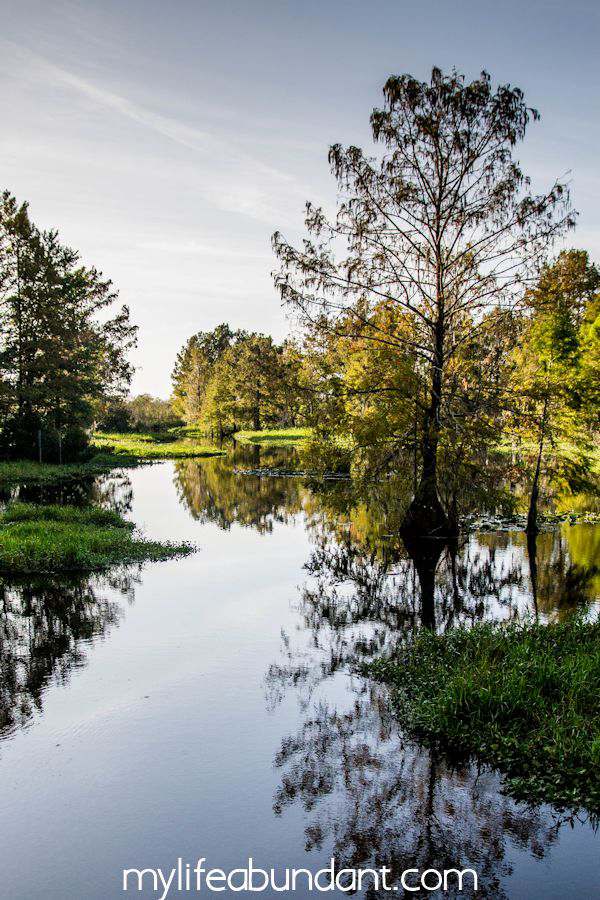 If you find yourself close to Gainsville, FL, and want to slow it down a bit and see how it used to be. Take the side road and head to Cross Creek and spend some time at Marjorie's farm. You will surely love the tour as much as we did.
Related Posts:
Enjoy,
Tammy
* * * *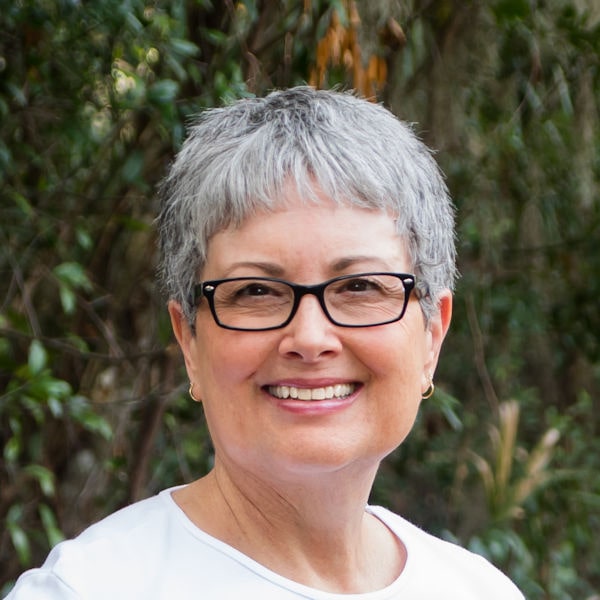 I'm just a country girl loving my geeky life with my wonderful husband, always taking pictures, getting my hands dirty in the garden, being crafty, exploring with travels and enjoying all this on a budget. But above all, living my faith as a child of God!
Read more about me and check out my media kit. Our Privacy Policy