16 Plants That Don't Need Much Water
This post may contain affiliate links that I receive commissions from purchases made. Click HERE for my disclosure statement. 
Love to see beautiful flowers in your yard but you don't have the time? Here is a list of plants that don't need much care or water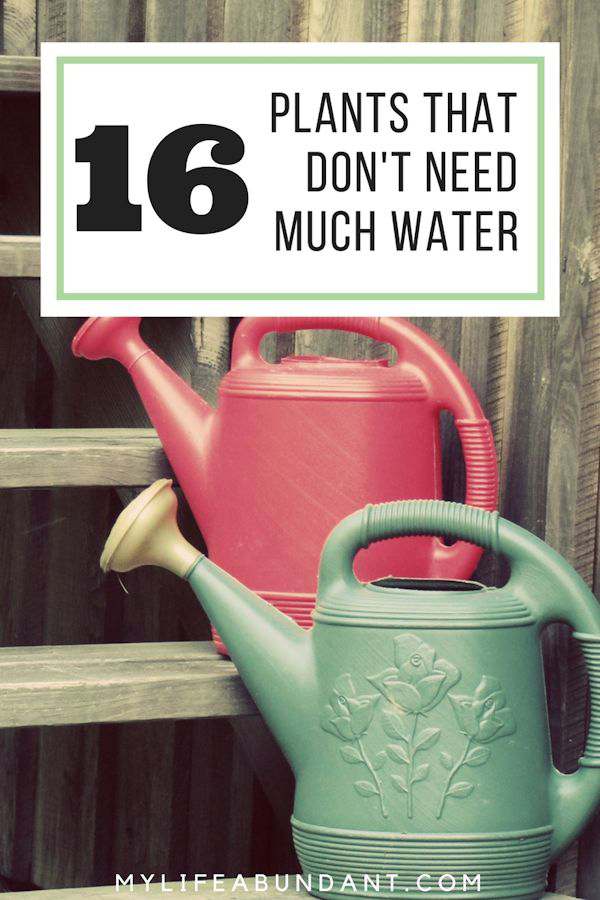 Now that the weather has warmed up and we can enjoy going outside more often, I love seeing all the beautiful flowers around the area. I have flowering pots in a few areas around the house, bushes that bloom at different times of the year, and some annuals in the landscaping. But, we all know, that keeping a beautiful yard beautiful, takes a lot of work. Most of us don't have the time. But, there are ways to have all that colorful beauty in the yard by having plants that don't need much water or care.
Depending on your planting zone and with a little research, there are really a lot of blooming plants out there that are low maintenance and don't need much water after they are established. I want to save as much water as I can and wasting it isn't an option. I will look for plants that don't require much water and I use rain barrels and misters in the garden and landscaping to help conserve water and save me on our water bill.
Below is a list of some of my favorite water-wise plants you can grow. All these are low maintenance and don't need much water at all. Many are very hardy and will come back year after year, depending on your planting zone. Most of these are also big pollinators for butterflies and bees.
A couple of these varieties below I have tried in my yard, but when the summertime heavy rains come around they didn't survive. Something to consider if you live where it gets a bit tropical with humidity and rain.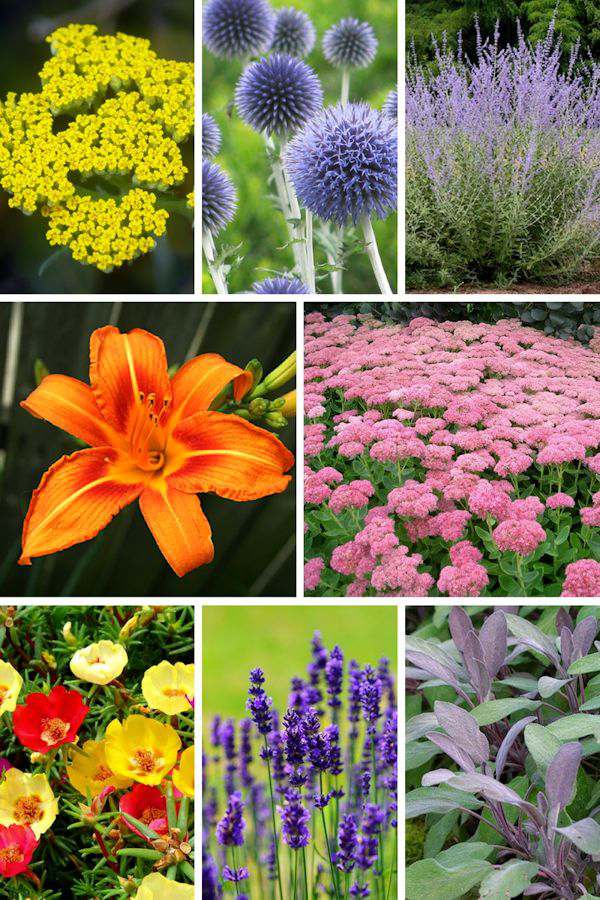 All the flowers below, I have in my yard or my neighbors have them. These are colorful and blooming flowers you will see throughout the summer season until the first frost. Here in Zone 9 if we have a good frost, the plant will burn down to the ground. But, in the spring just cut off all the dead areas above the ground and wait for the new plants to come up on their own.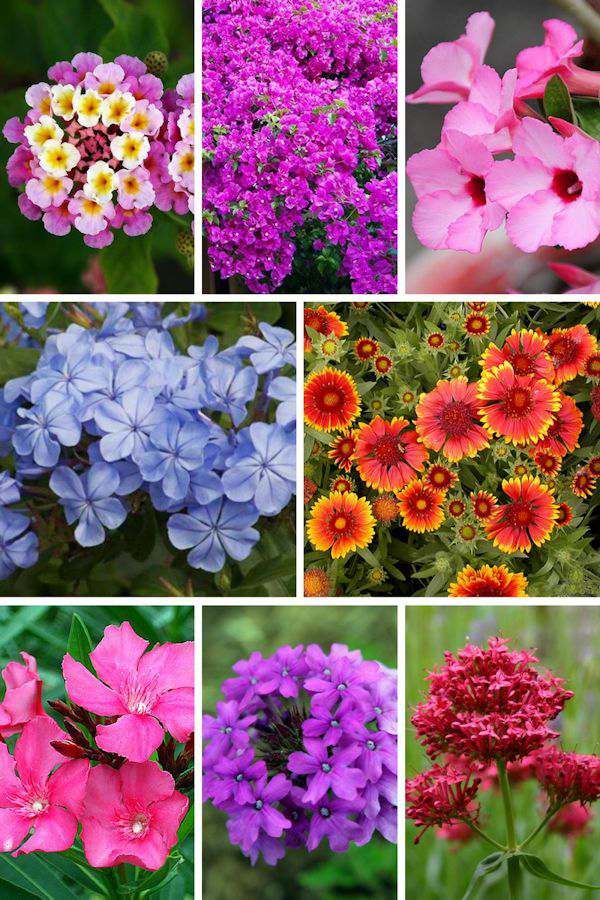 Lantana – There are so many different colors of lantana to choose from. You can trim and trim and the plant never cares. Really, really hardy and a constant bloomer. One suggestion from experience, don't leave this plant in a pot for too many years. Its root system is huge!
Bougainvillea – This plant is at its showiest when it doesn't have a lot of water or fertilizer.  It grows well in the ground or in pots and is a great choice if you live near the ocean. It only smiles at the salty air.
Adenium – The common name for this plant is Desert Rose. A neighbor gave me two of these plants and his suggestion was….Don't water it. Just give it a bit of fertilizer a couple of times a year and watch it bloom. He was right! These really look nice in pots.
Plumbago – One of my favorite bushes in the yard. It blooms true blue flowers from spring until a frost. Butterflies love the flowers and I can trim this one down to the ground and it only comes up better than before. I let nature water this bush.
Blanket Flower – I started my bunch from seeds and there is a reason why its called Blanket Flower. Before you know it, your ground is covered with these beautiful orange flowers. My bunch has been hit by frost several times but still keeps blooming. Its one of the few plants I have that blooms almost all year long. Butterflies and bees swarm this plant.
Oleander – This sun-loving plant can be seen all up and down highways here in Florida and in the deep south because its so hardy. Flowers most of the year and comes in several colors. This is one plant I finally had to take out of my yard though because it became so large. Plant this where you have plenty of room for it to grow and forget it. One bad side of this plant, it is poisonous to humans and pets if swallowed. When trimming the plant, wear gloves to keep the white milky sap from getting on your skin. It can be irritating.
Verbena – Easy plant to grow from seed and grows from Zones 3 – 10 and is considered deer and rabbit resistant. Great for ground cover, pots, or hanging baskets. Frost will burn this to the ground and if you live further south, it will come back the next year.  Colors galore and loves the heat.
Red Valerian – Also known as Jupiter's Beard, if you love the color red, this is a must plant for you. It's tough, durable, and thrives with little water, and butterfly's love it.
Related Posts:
Enjoy,
Tammy
* * * *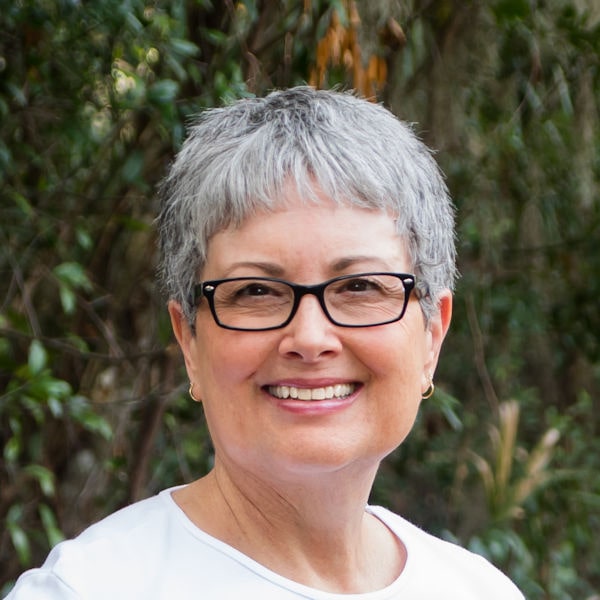 I'm just a country girl loving my geeky life with my wonderful husband, always taking pictures, getting my hands dirty in the garden, being crafty, exploring with travels and enjoying all this on a budget. But above all, living my faith as a child of God!
Read more about me and check out my media kit. Our Privacy Policy