Why I Took the Cell Phone Plunge
Anyone who knows me knows I am a gadget lover and heading to the point of a junkie too.  I love how our gadgets can make life so much easier and interesting, but I also like to sensible with spending money for these gadgets.  I buy refurbished and save up my survey credits to use for future purchases.
I fell in love with the future of computers when I was in college in the late 70's working on my Computer Science degree.  I was so intrigued at what I was reading about future devices, smaller computers and debit cards.  Yes debit cards.  The idea of not having to write a check again made my heart skip a beat.  I'm a geek and I love technology.  
But one thing I really didn't want or really have a need for was a cell phone.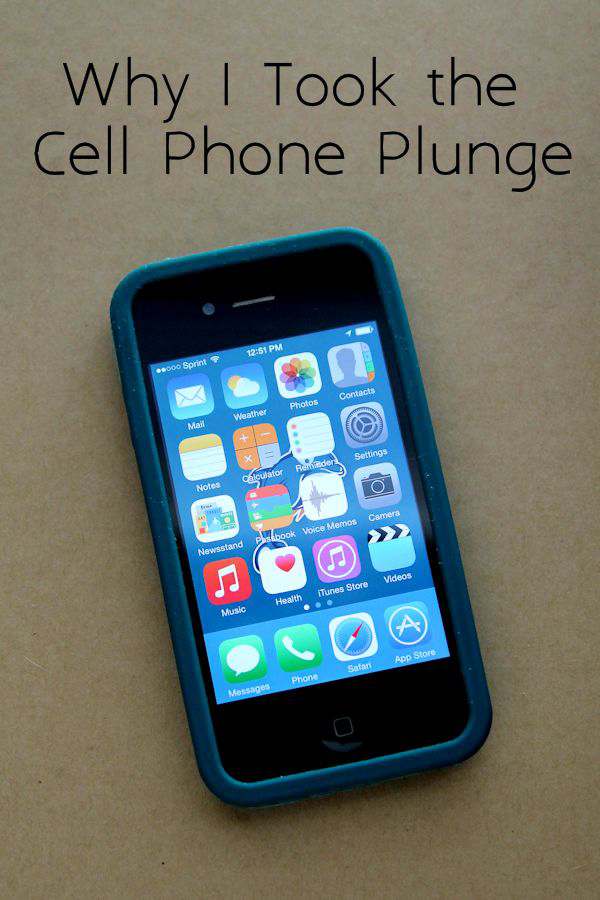 Until now.
I love everything about cell phones, except the huge bills which come with it and I basically refused to pay for that.  We do have a "pay as you go"  basic phone that we have had for years that we only spend $100 a year for service and basically keep it in the car while traveling for safety purposes.  Less than $10.00 a month for cell phone service was fine for us and worked great for so many years.
But, just like any other idea, times change and I had to make a decision because of these reasons:
My ipod was starting to fail on me and that gadget was what I used to text with for years as long as I was using wifi.  I loved that ipod.  
I was starting to lose out on sponsored posts because I couldn't post on Instagram without a cell phone.  
So, with any other expensive purchase in my life, I started doing lots of research.  I talked to my family and friends about their experiences with cell phones and I checked out the cost of different non-contract phone plans and refurbished smartphones.   
My Choice
Since there would only be one phone on the plan we decided to go with Ting Wireless cell phone service.  Why?  Because this service is another version of "pay as you go", but what I like about Ting is that you only pay for the service you use.  Talking, text and data are all separate, which I really love.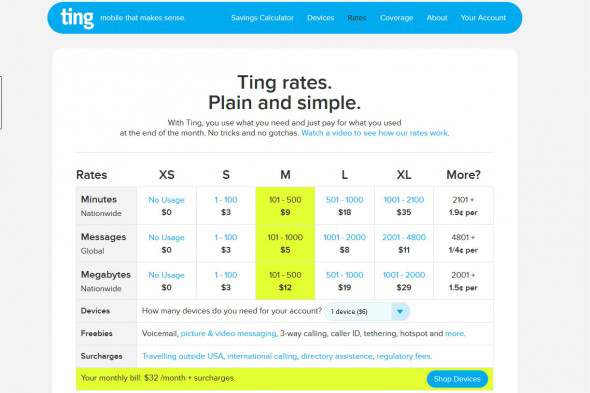 The basic plan costs $6.00 per phone every month and then you also pay for what ever service you use. The picture above shows you the different size rates packages.  Lets say you only use 400 calling minutes and 10 messages in one month, so you are only charged an extra $12.00 for a total of $18.00 for that month plus taxes.
One of the things I found out is if you have an iphone and anyone you imessage who has an iphone and is around wifi, your texts don't go against your bill!  Main reason I decided to go with an iphone since all my family and friends use iphones.  There have been months that I don't pay any texting costs because I only used wifi service.  
Also, I have my data turned off on the phone so I don't accidentally use that when I'm away from wifi.  My bills haven't topped $15.00 with taxes since I became a Ting service user.  I love how I can customize my own plan and not a flat rate of options I might not ever use.
I also figured that if in the future if I had to use a lot of minutes or messages, I'm still paying much less the majority of the time and saving more in the long run.
Ting Phones

Ting offers many types of phones for Android or Apple either new or refurbished.  I choose the later because Ting guarantees their phones will work when delivered or they will replace it.  You can go to Amazon or Ebay to get your phone, but you are at their mercy.  
Since Ting operates under Sprint network, make sure your device is programmed for Sprint.  Thank you to one of my readers Cindy for pointing out that its a really good idea to make sure Sprint has coverage in your area.  I did call Ting customer service to ask about my area and he did tell me it wasn't full coverage.  But so far, even with only 1 bar, I have been able to make calls with no problem.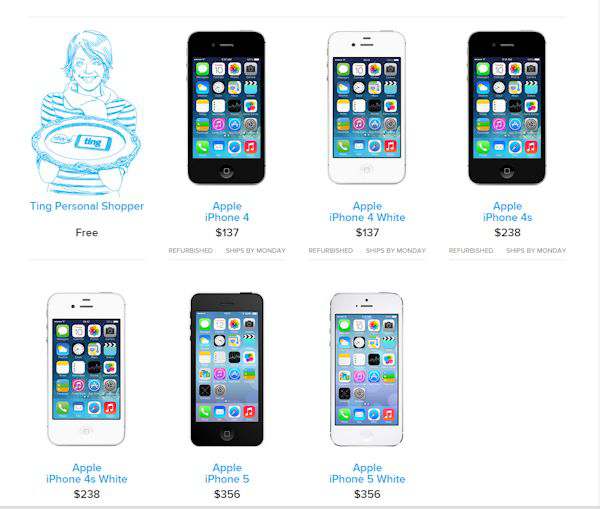 I choose a 4s because I wanted to make sure I could update to the newest OS system for a couple of apps I was going to need.  As you can see from the current picture above the refurbished ipone prices are a really good deal.  I was saving up for a new ipod anyway with all my survey credits and the iphone was running about the same price.  If you already have a Sprint phone, you can use it too.  
Even though buying a phone outright is an expense up front, you have to look at the money you will be saving by using the Ting service.  Plus, when you decide to upgrade to a newer phone, you can always trade your phone into Amazon Trade program.  Apple devices have great trade in value and I received $77.00 for my old ipod I sent to the trade in program and now have that credit with Amazon.  
If you prefer a non-smartphone, Ting has many of those options also.
After you receive your phone in the mail, set up and activation is really easy on their website and if you need to speak to customer service, they are just a phone call away.  I have spoke to them a couple of times to ask questions and was very pleased with how they handled my problem. 
Ting also has a great app to keep on your phone that will tell you how much service you have used during your month, your billing for each month and other items.  I love this app.  I look at it every few days to see how I am doing with my minutes and texts. You can download this app from your phone.
Bottom Line
I am really pleased with my decision of choosing Ting cell service.  I know I won't be able to use this service all the time or have unlimited usage to keep my bill down, but I know this is the right plan for my family.  I will only use it sparingly outside of wifi usage, under normal circumstances.  I love that I have limits to my cell phone usage and for those families who have decided that they have had enough with high cell phone bills, this may be your answer.  
I can use wifi for data usage all I want and not have to worry about it effecting my bill at all.  But if I need it, its there.  
Now I want to save you $25.00!
If you sign up with Ting Wireless you will receive $25.00 toward your future bill.  Just click on any of the Ting links provided in this post or the ads in the sidebar or at the bottom of any of my posts and it will take you to their website. Also, after you have signed up with Ting, tell your friends and family about Ting and you can further lower your bill.  If for any reason your credit doesn't show up, please call them and they will take care of that for you.  This promotion may be used at any time.
Do you think this type of cell phone service would work for you and or your family?
Enjoy,
Tammy
*    *    *    *
I have not received any compensation for this review.  The views and opinions expressed on this post are purely and entirely 100% my own.  I just love this product!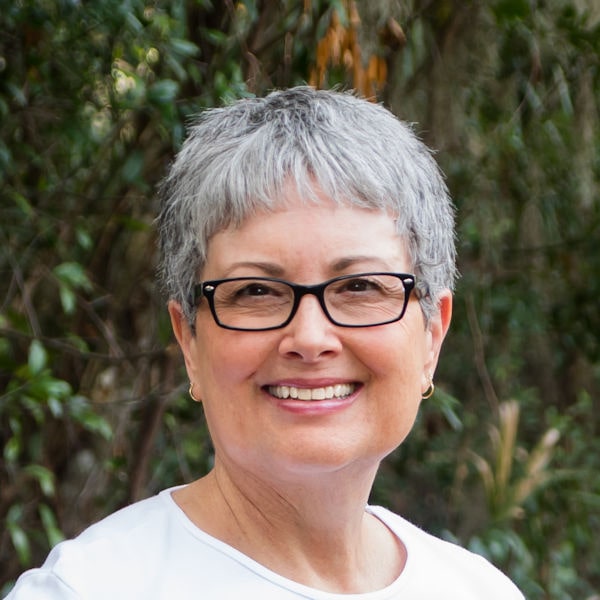 I'm just a country girl loving my geeky life with my wonderful husband, always taking pictures, getting my hands dirty in the garden, being crafty, exploring with travels and enjoying all this on a budget. But above all, living my faith as a child of God!
Read more about me and check out my media kit. Our Privacy Policy