This post may contain affiliate links that I receive commissions from purchases made. Click HERE for my disclosure statement. 
Learn how to make your own yogurt with the Instant Pot. It's easy, it's cheaper and it so creamy and healthy for you.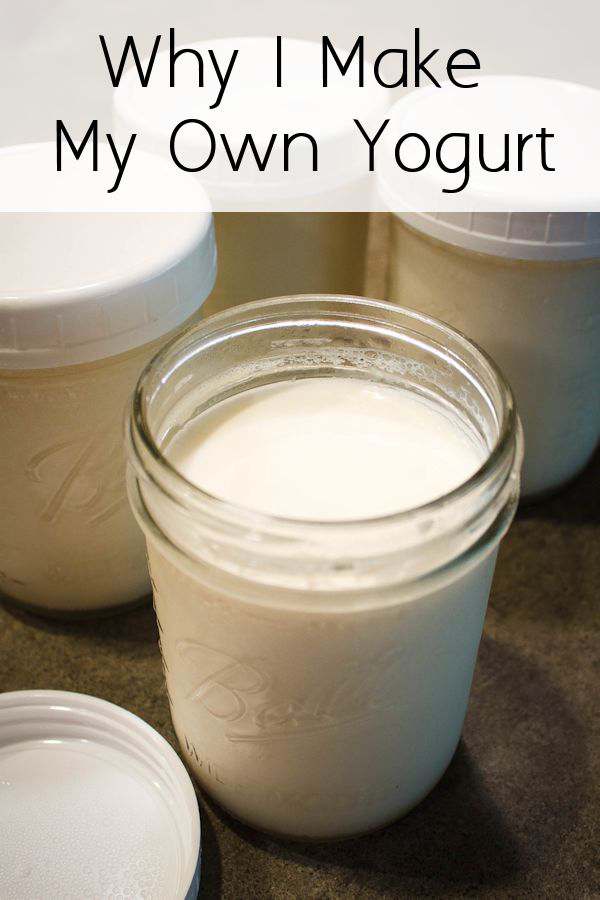 There are so many reasons why I make my own yogurt.  I've been making yogurt now for over a year and I have no reason to buy from the store now.  It really saves me so much money and its a great way for me to get the calcium I need since my system doesn't like calcium supplements.
What I use to make yogurt
Whole Milk
Yogurt starter or already made yogurt
I only use whole milk since it has many more vitamins in it, which my body needs. I know some people use 2% milk, but whole milk will make the yogurt much creamier and thicker.  I use either Yogurtmet or Cultures for Health yogurt starters. I have also used my own yogurt as a starter and you can use yogurt from the store but be sure it says Live Active Yogurt Cultures on the packaging.
UPDATE: I mainly use a small container of plain yogurt from the grocery store for my starter now. It seems to make a much thicker yogurt.
Yes, I use an electric pressure cooker to make my yogurt. I have tried using one pot on the stove, but I ended up using several pots in the process. One to cook in and one to cool down the jars before adding the culture.  I also had to use a cooler for the jars to sit in while the yogurt was incubating.
I wanted to use just one pot for the whole job and make clean up easier.
How I Make My Yogurt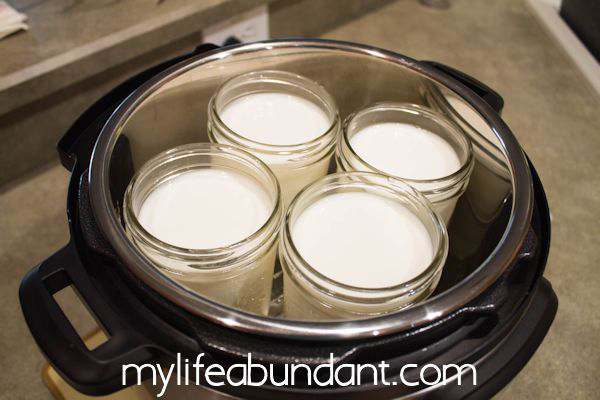 Put the steamer rack in the bottom of the Instant Pot and add 1 cup of water to help the milk steam.  Set in 4 clean Mason jars and add the milk to the bottom rim of the jars.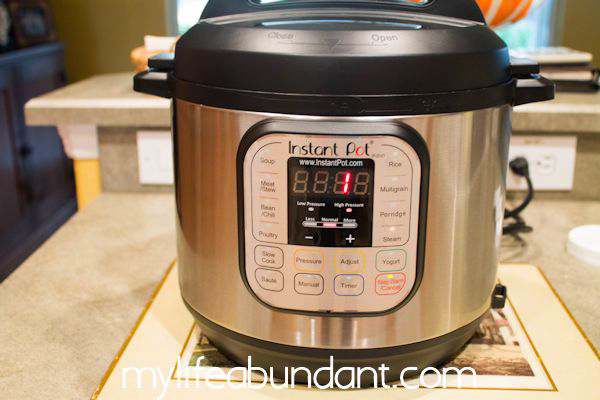 Twist the Instant Pot lid in place and make sure the vent on top of the unit is turned toward "sealing" and the unit is plugged in.  Push the Steam button and adjust the minutes to 1 minute.  It takes only a few minutes for it to run the steam cycle and do a natural release.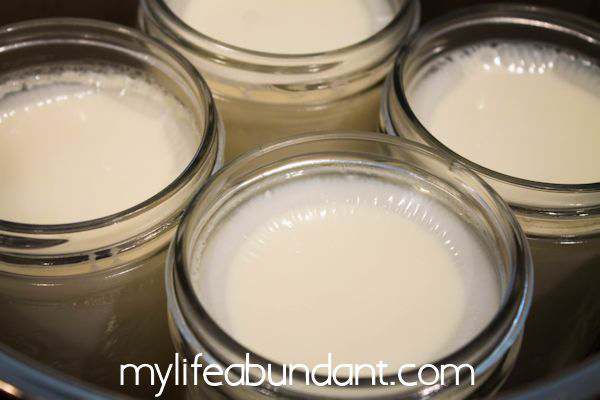 When the release is finished, I turn the IP off and take the lid off to start the cooling process. As time passes, you will see a skim on top of the milk.  That's very normal and all I do is take a spoon to skim it off and discard it.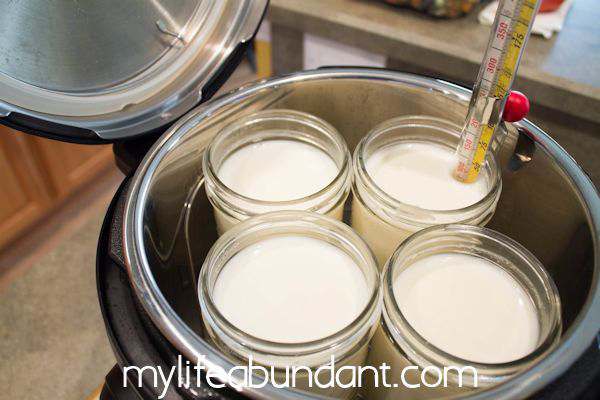 I usually set a timer for 30 minutes and check the temperature by adding a thermometer in the milk and wait for it to get to 120 degrees Fahrenheit or 50-55 degrees Celsius. My thermometer has a clip on the side to hold it to the jar. That temp is crucial for making thick yogurt and it will take several minutes to get to the right temp. I have found that 60 minutes will usually be long enough for the temp to get down to 120 degrees. Just don't walk away from it for a long period of time or set a timer you can hear. This is when I usually do some kitchen chores so I am close by.
I have ruined a few jars of yogurt because I didn't wait for the temp to get to 120 degrees and added the yogurt starter anyway.  All I ended up with was watery milk.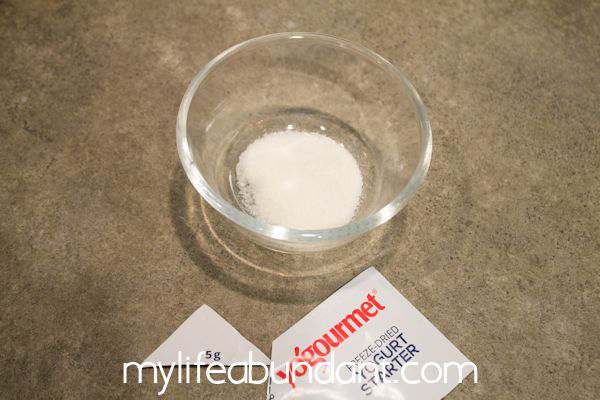 After you reach the correct temperature, divide the yogurt starter into 4's and add it to the milk and stir well. Follow the directions of the yogurt starter for how much to use in each batch of yogurt.  For my batch of 4-pint jars, it's one packet.  
If you are using purchased yogurt already made, just divide equally among each jar and stir well. Make sure to buy plain yogurt with live cultures in it or your homemade yogurt won't set. This is my preferred method now for a yogurt starter. You can also add a splash of vanilla to each jar if you enjoy that flavor. Mix each jar very well with a spoon.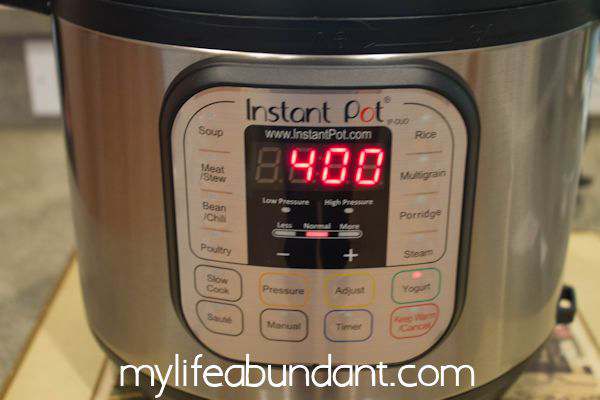 Twist the Instant Pot lid in place and make sure the vent on top of the unit is turned toward "sealing".  Plug the unit back in, and press the Yogurt button and set the time following your yogurt starters instructions.  It ranges from 4 – 6 hours.  If you are using real yogurt starter the time would be 6 hours.  Now you just wait until the time is up and your yogurt is done. The instant pot is not heating up in this process.  It's just keeping the yogurt at a level temperature while it incubates.  "Yogt" will appear on the display once incubation is complete and you will hear the beeps.
After the timer has gone off, remove the lid, place the lids on the jars and set in the fridge for a few hours to completely cool off and firm up more before you enjoy.  It will last about a month in the fridge.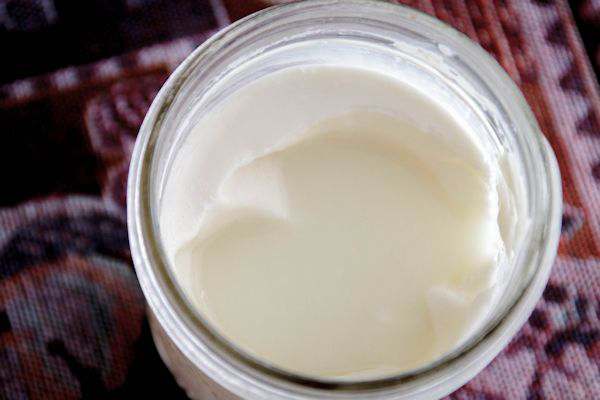 When you spoon out any of the yogurt, you will notice a watery substance when you open the jar later.  This is called "whey" and is normally drained from the yogurt you get from the store.  I just pour it off and spoon out what I want to eat.  Don't mix it in the yogurt or it will make it runny.  I have read articles on how to drain this off after you make your yogurt, but that was a step I didn't care to do and makes the process even longer.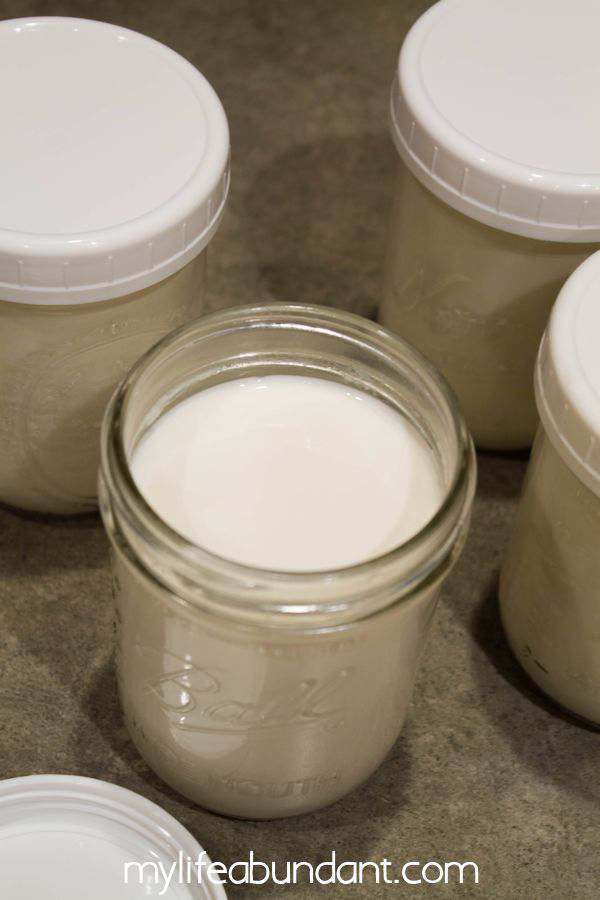 This method is the easiest of all the methods I have tried.  For 4 pints of yogurt, it costs me about $3.00 which is the price for a 1/2 gallon of milk and 1 container of plain yogurt.  If you use your own yogurt for starter, it's even cheaper.
One of the cons of making your own yogurt is it is a bit time-consuming.  The process from beginning to end takes about 8 hours.  But 4 – 6 hours of that time, the yogurt is just incubating and you can go on with your day.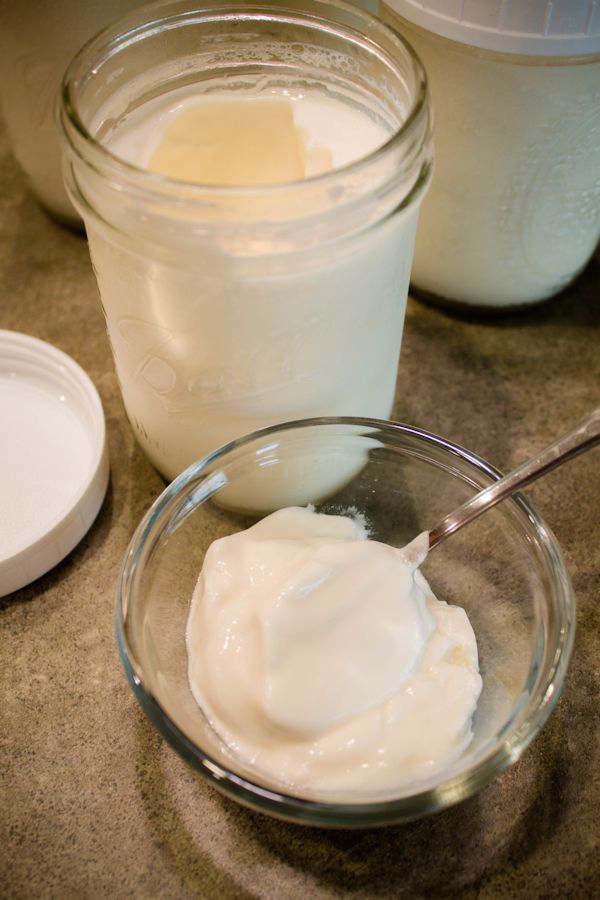 Why I Make My Own Yogurt?
It's cheaper
I know what's in my yogurt
I'm not throwing a bunch of plastic yogurt cartons in the trash
The Instant Pot method has much less cleanup
It tastes great
Don't Forget to Pin Me!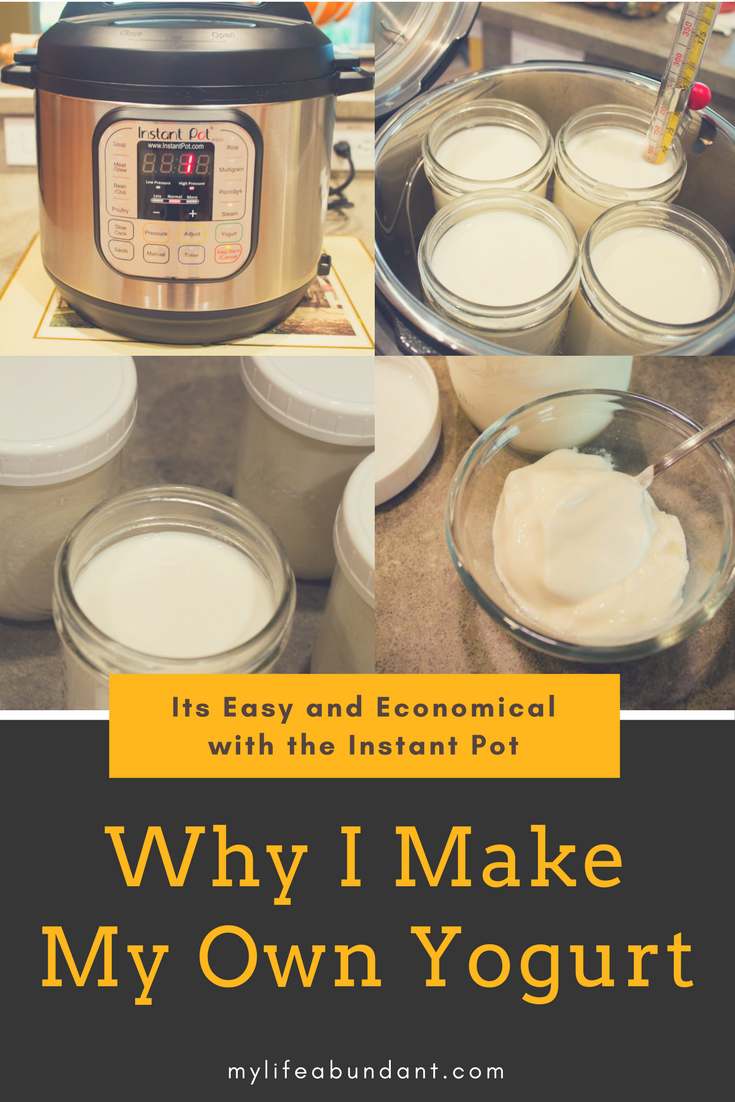 Enjoy,
Tammy
* * * *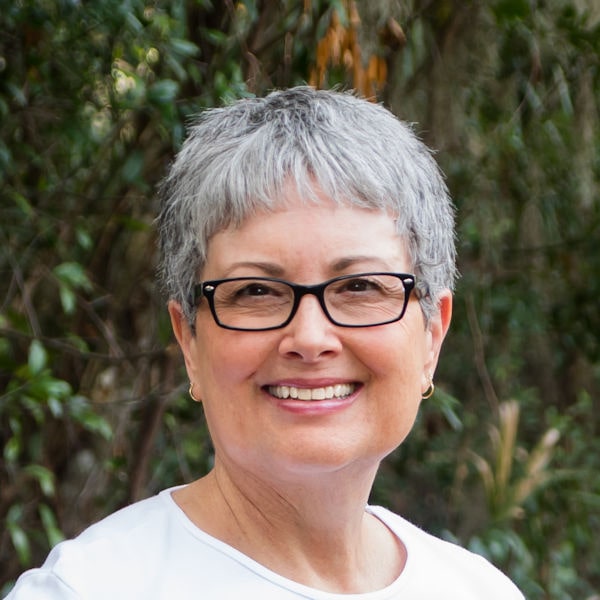 I'm just a country girl loving my geeky life with my wonderful husband, always taking pictures, getting my hands dirty in the garden, being crafty, exploring with travels and enjoying all this on a budget. But above all, living my faith as a child of God!
Read more about me and check out my media kit. Our Privacy Policy