Organizing An Office Closet
This post may contain affiliate links that I receive commissions from purchases made. Click HERE for my disclosure statement. 
Organize an office closet on a budget and still be pretty! Its easy to do and I will show you how in a few short steps.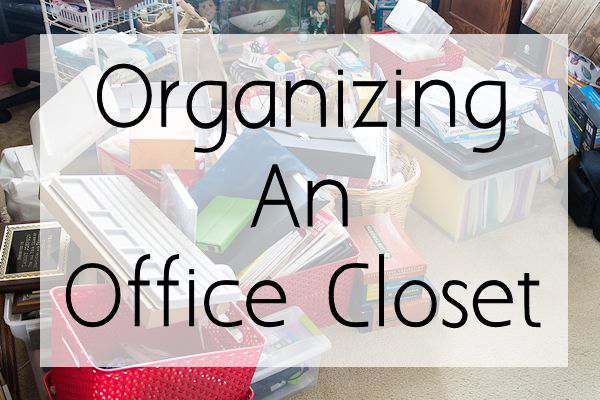 What does a girl do when she has too much time on her hands?
 She organizes her office closet.
I know most of you gals are saying, "What extra time?"  I don't know which is worse.  More time on your hands or not enough.  Idle hands they say.  I usually so serious cleaning when I have extra time.  I do believe that is the Navy blood in me.
My office is a total mess!!
I've kept too many things for far too long.  Ex:  Floppy disks and floppy drive.  I'm sure some of you younger gals are thinking, "Floppy disks?"  Oh, my.
First thing I needed to do was get my closet in order.  And I wanted to do this on a budget of basically nothing and use what I already had!  But I still wanted it to be pretty.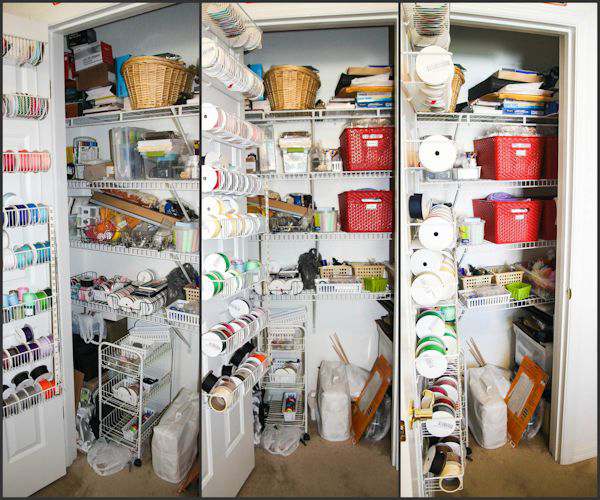 Here is a before picture from 3 different angles.  I just had things thrown in there and stacked and stacked on top of each other.  I recently sold so much of my bow business inventory and just kept what I would use now.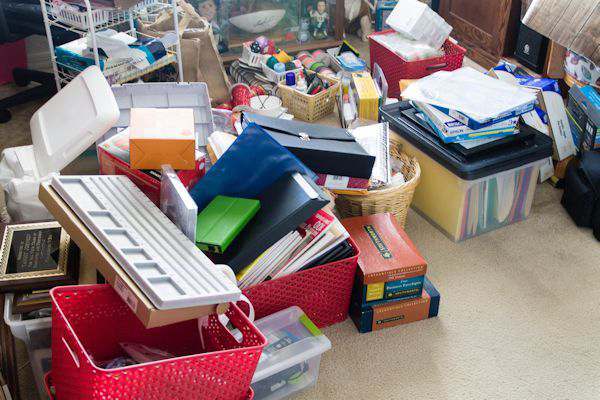 First thing I did was take EVERYTHING out of that closet.  There was so much to throw away it was unbelievable.  Mainly old boxes from electronics.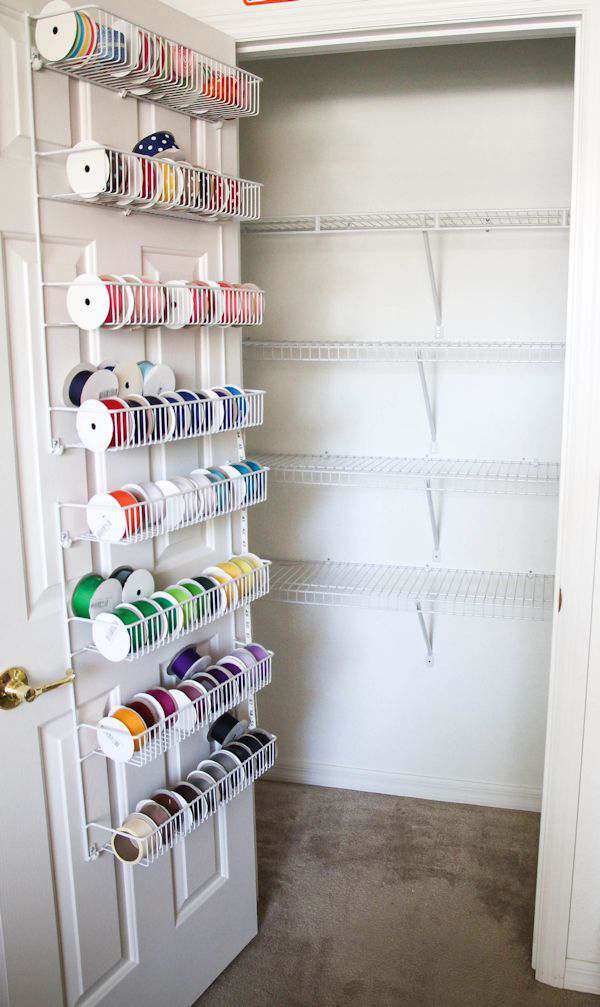 Now I was able to start off with a clean slate and also a chance to really vacuum the floor.  It hasn't been vacuumed since I moved here 10 years ago!!  The only thing I kept the same was all my 1 1/2 inch ribbon on the door which I use in my business.  That has worked well for years and no reason to change it.
After going through all the items, separating them into different groups, I needed to figure out where to lay all these items out in the closest.  I have an office, sewing and craft items.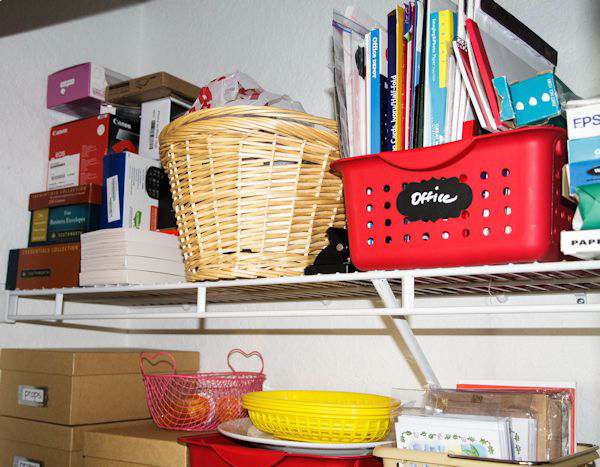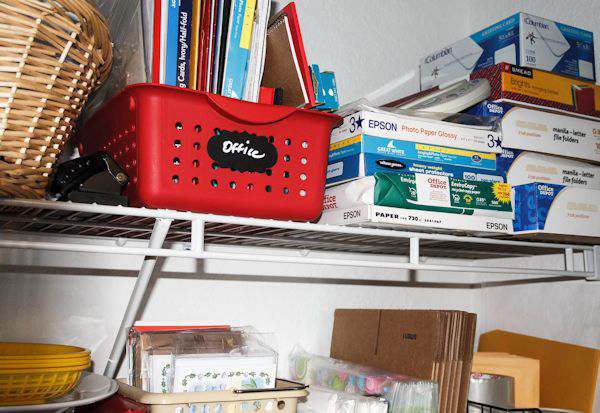 The top shelf still holds only boxes that I needed to keep for a year for electronics.  After that, they are in the trash.  The red basket I got at Dollar General Store (great price) and I added some chalk black labels using a chalk pen to write with. I also stacked all the files and paper items I didn't use all the time.  The woven basket holds items that I don't use often either.  It was my husband's mothers basket and has to be part of the office.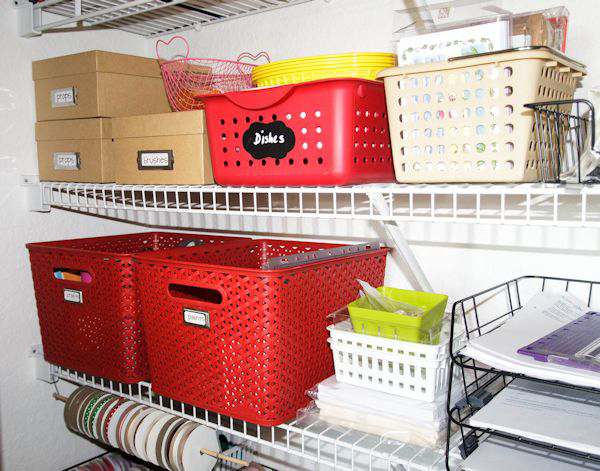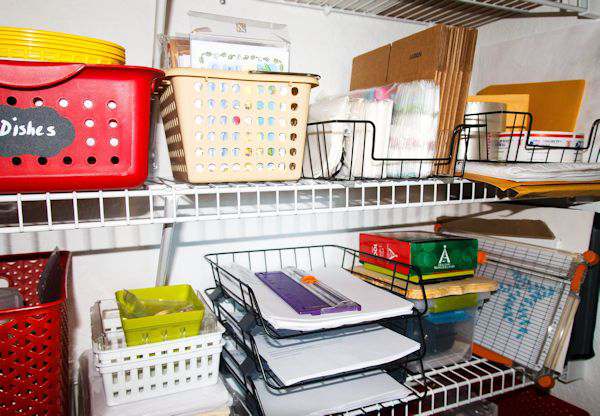 The two middle shelves on the left I had some photo boxes that you can get at JoAnn's, which go on sale all the time, and they hold all my photo props and craft brushes.  The red Y-Weave baskets were on clearance at Target and I just added some label holders and they hold my craft supplies.  The Dollar General Store red basket holds all the dishes I use when I take food pictures for my blog.  The items to the right are all my shipping supplies I need for my store.  The little white baskets you can get at Walmart or Dollar General Store.  The letter rack in the middle is where I store my income and expenses receipts from the blog and store. My label maker and accessories are stored in a plastic container also.  I adore that 12″ Fiskars paper cutter.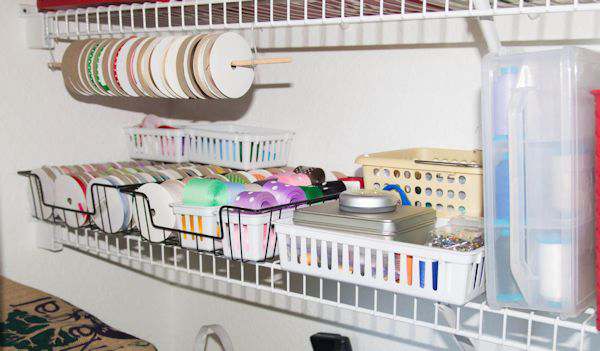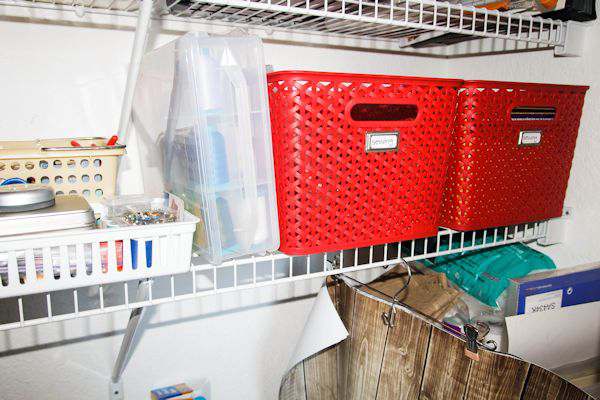 On the bottom shelf I store all the ribbon that's not on the door, and recently hubby made the neatest way for me to hang my loose 3/4″ ribbon.  All it took was a dowel and some thick wire we had in the garage.  Two more of the red baskets from Target hold all my sewing items. The smaller white basket holds sewing items I need to mend items.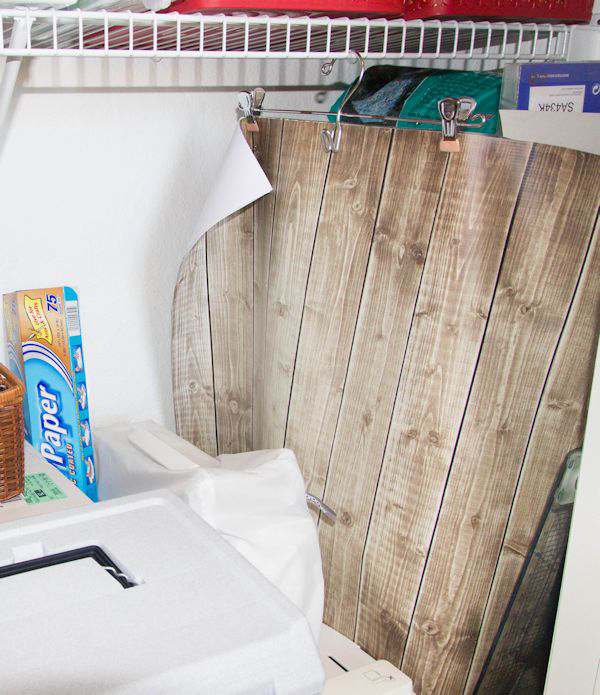 Remember the backgrounds I was telling you about in this post?  You see how I hang them up with just a pants hanger you can get anywhere or probably already have in your home.  It keeps them from getting bent or torn.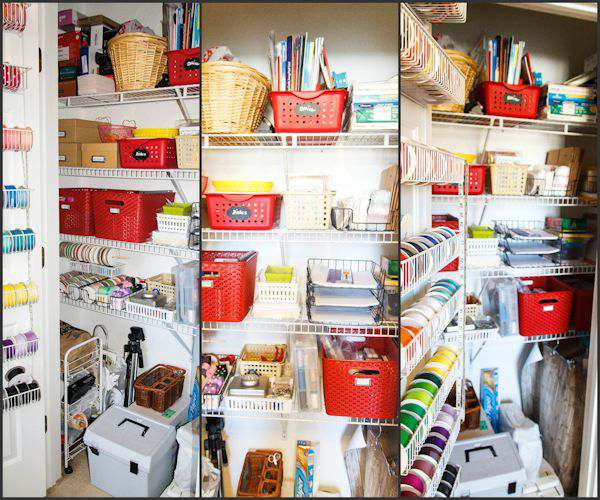 And here is the finished product.  My sewing machine and other heavy items are on the floor.  The gray file box now has all the files I need for my blog.  Its the perfect size for me.
I can't tell you how much I love my new closet arrangement!  Hubby even loves it now when he needs office supplies.  He now knows where to go to find it without having to dig for it.
Do you have some ideas for organizing your office closet?
Enjoy,
Tammy
*    *    *    *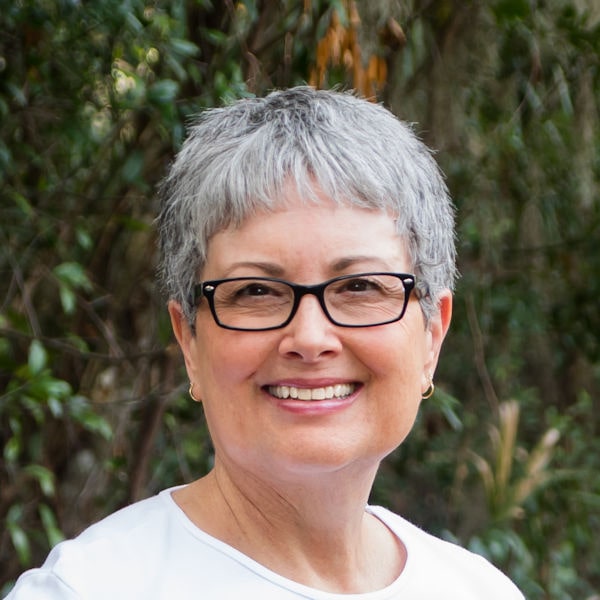 I'm just a country girl loving my geeky life with my wonderful husband, always taking pictures, getting my hands dirty in the garden, being crafty, exploring with travels and enjoying all this on a budget. But above all, living my faith as a child of God!
Read more about me and check out my media kit. Our Privacy Policy