Take A Garden Tour and Learn
This post may contain affiliate links that I receive commissions from purchases made. Click HERE for my disclosure statement. 
Want to learn about what grows in your area, take a local garden tour to see all the different plants, veggies and flowers that do well.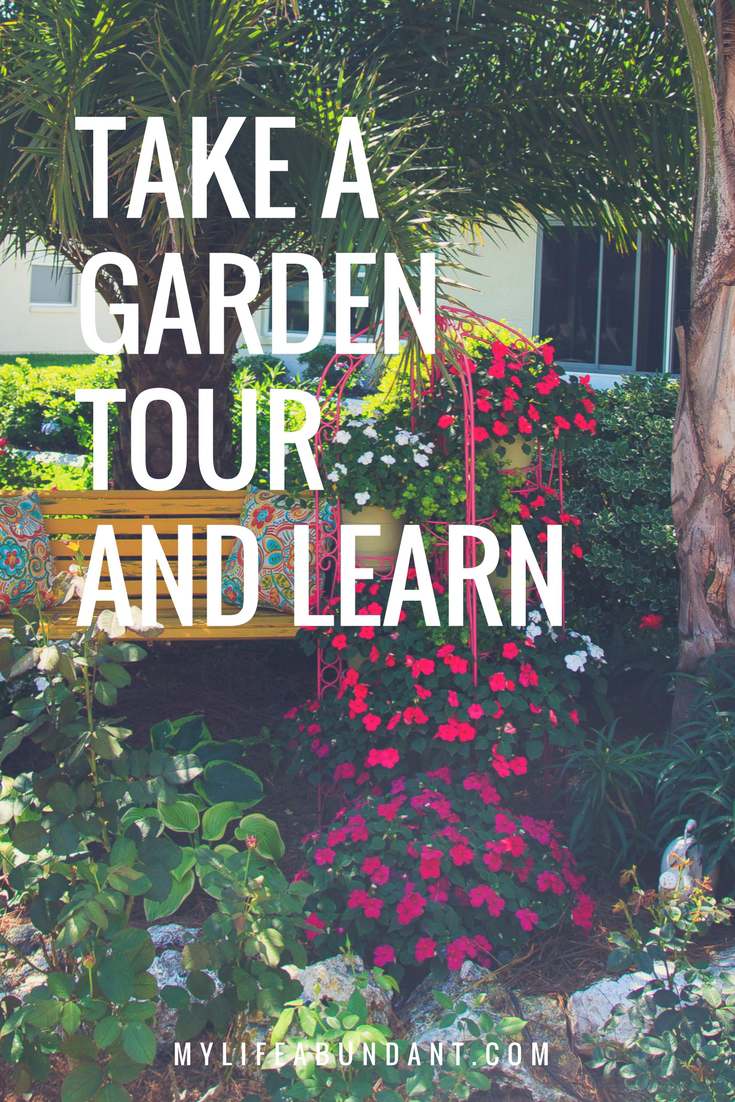 Before I get to my recent garden tour, I wanted to update you on my garden. Using the square foot gardening system has really made a difference in my garden this year and I can't wait to give you an update.  I've already had a couple of minor failures but those were me not thinking what would happen.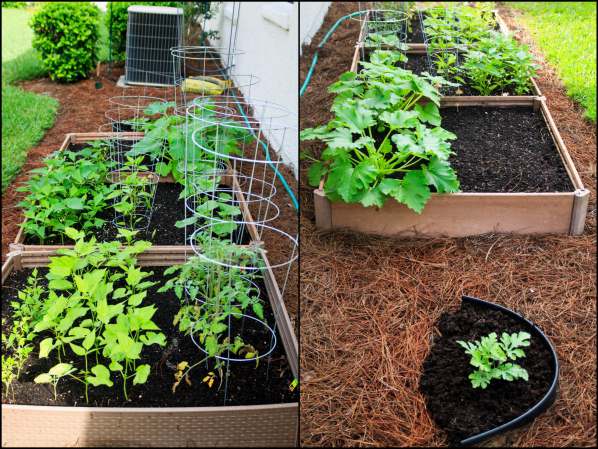 The lettuce grew and we enjoyed a good month of that.  I'm sorry I didn't get a picture of how well it grew.  One thing about lettuce is the longer its in the garden, the more bitter tasting the leaves get.  If you really like the lettuce you grow, just let it bolt or go to seed and you can have another great crop next year. I know I will be planting a different version of lettuce next year and putting my spinach with it too.  The spinach grew well in the pot, but it needed more sunshine.
I finally put the pine straw down around the house and what a difference that makes.  Especially controlling weeds.  The left picture shows my green beans growing well.  Remember I said I had a couple of failures already?  About a month ago, we were painting the house.  But, before we could paint, the house needed to be pressure washed.  So, we put plastic over the garden to keep the soap and bleach from hitting the leaves.  All I had in the garden was green beans and a couple of tomato plants.  The cucumbers and squash were still seeds in the ground.  The plastic was just on the garden for maybe an hour but within that time the sun baked the green beans and I lost a lot of them.  So, I just planted some new seeds and all was well.
The squash and zucchini are growing well with many blooms already.  I'm hoping the hybrid seeds will help with any diseases that hit my plants last year.  The cucumbers, bell peppers and tomatoes are all in cages now.  It can get a bit windy here in the summer and I wanted to make sure they were on steady ground.  The blank space is where the lettuce was growing.  I have some marigold seeds there to help with keeping away bugs.
My baby watermelon plants are growing well too.  If you grow watermelon, it's much better to grow them from seed straight in the ground.  That also goes for zucchini, squash, and cucumbers.  They really don't like to be transplanted and all their seeds grow very well and pretty fast.
I am still hand watering with the hose every morning (the best time to water a garden) but hope next year I can put that on a timer.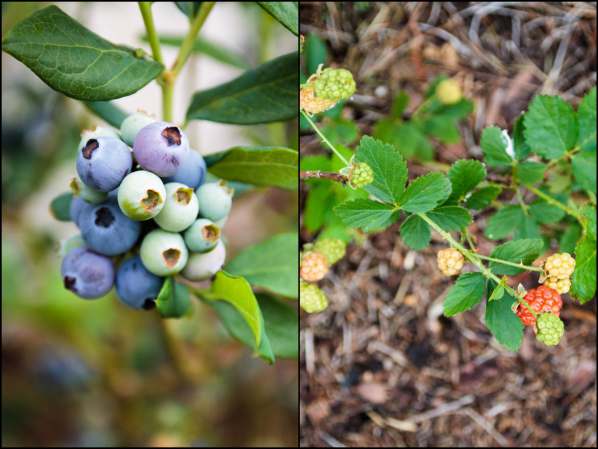 I cannot tell you how proud I am of my blueberry bushes this year.  I have already picked 4 quarts and I think I might get about another pint and that will be it for the season.  We have already enjoyed blueberry pancakes and a couple of other recipes with these wonderful berries.  If you plan to grow your own blueberries, get two different varieties to plant next to each other.  It will help make better tasting berries.  I do have 2 plants and wish I had space for more.  The one which produced most of the berries is about 5 years old and the other one is about 3 years old.  I will post later on what to do after the berries are all picked and how to take care of them for the rest of the year.
The heritage blackberry bush I started from a cutting is producing a few berries this year.  I planted it in the ground last year from a pot and it will have to be cut and kept small or will grow out of control.
One other thing I enjoyed in April was our very first Backyard Beauties Tour in our community.  I am a member of our garden club and this was by far my favorite tour we have sponsored.  We toured 6 homes and I was so impressed with what people were able to do with small areas.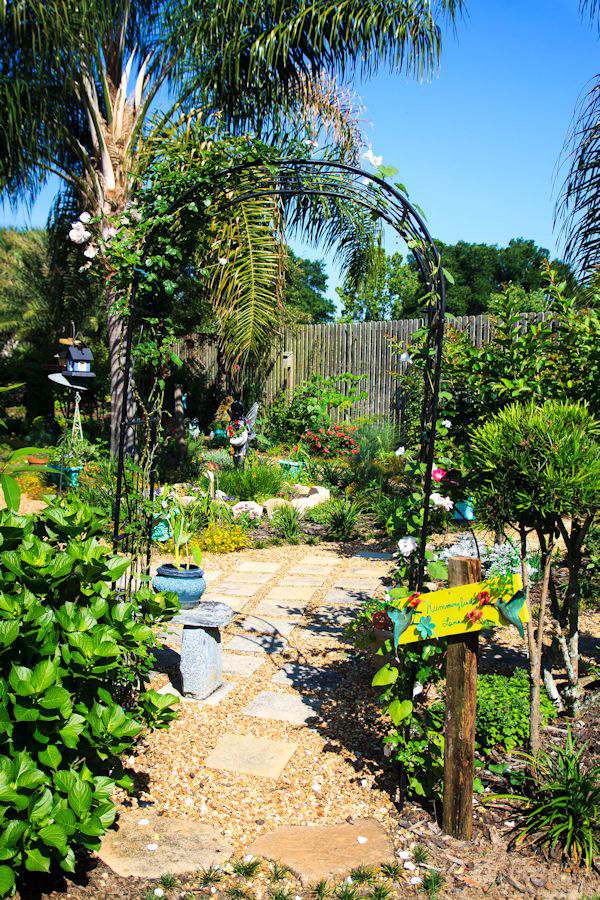 I fell in love with the small backyard the moment I walked under the arbor.  There is no grass.  All plants, which pretty much take care of themselves and reseed bird feeders and being up against the fence, it's very private.  There is a walkway which goes throughout the area making it easy to weed and plant.  Since I live in Florida, we only have a handful of trees to choose from and most people have palms.  Live oaks make wonderful trees in the south.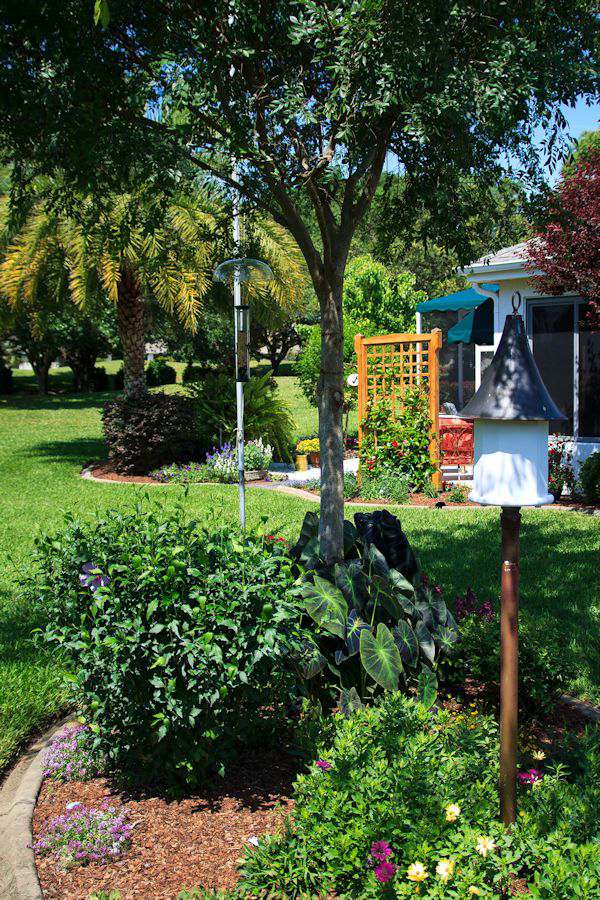 This backyard is a pie shape and she has many vignettes all around the back.  Just a beautiful example of what can be planted in different areas.  I loved how she would put the same colors in one area.  The area here was mainly purple blooming plants or had purple in the leaves.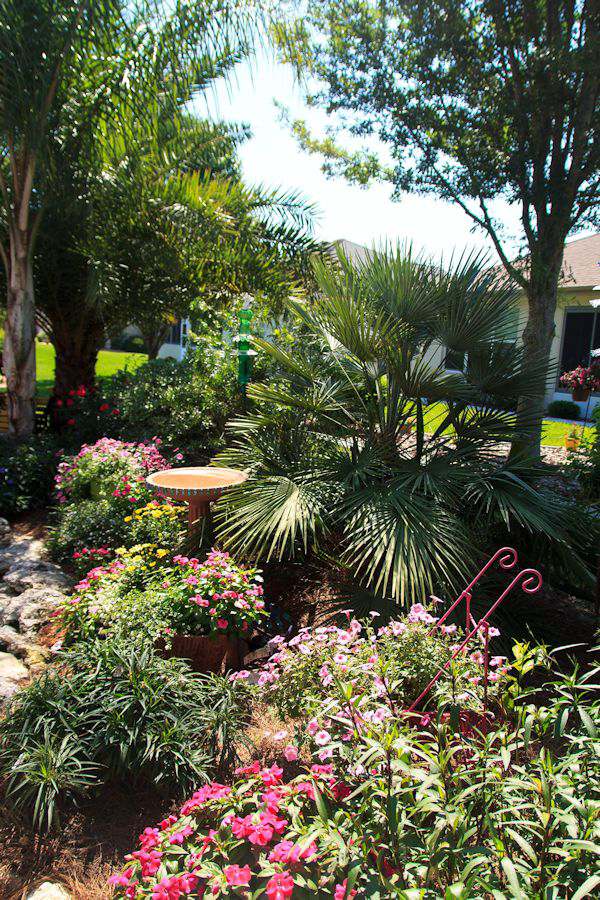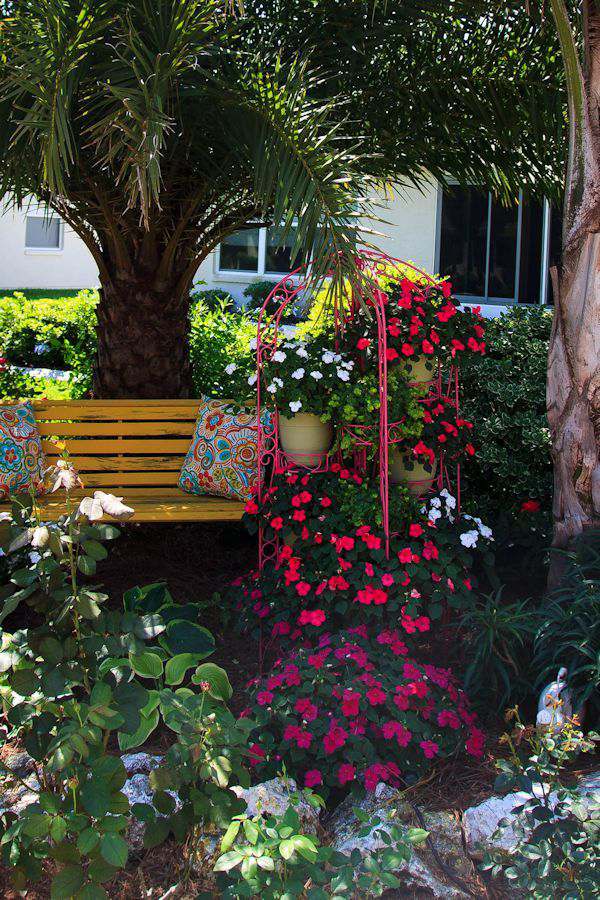 This lovely backyard was really small and since it backed up to the house behind it, they decided to make a small wall of limestone and just add tons of annuals and color around their stone patio.  Again, no grass but so lovely.  I could sit out on this patio and enjoy the morning.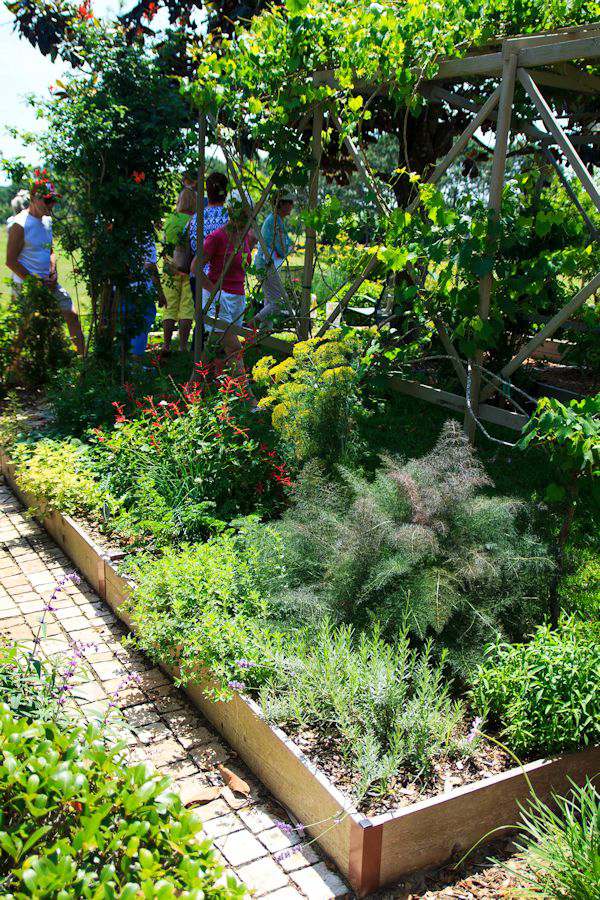 One of the older homes in the community belongs to a Master Gardener and oh boy what a garden he has.  He has made good use out of every inch of space he has.  His garden is on all raised beds.  Look at those herbs.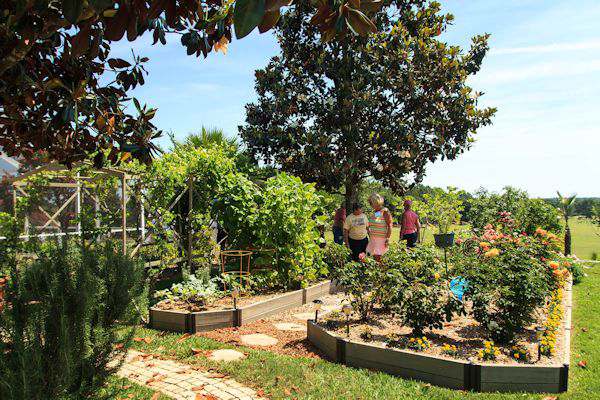 He also has one raised bed just for his roses.  Roses are rather difficult to grow here in Florida, except for the Knock Out variety.  They were beautiful, healthy and blooming.  This is just one side of his home.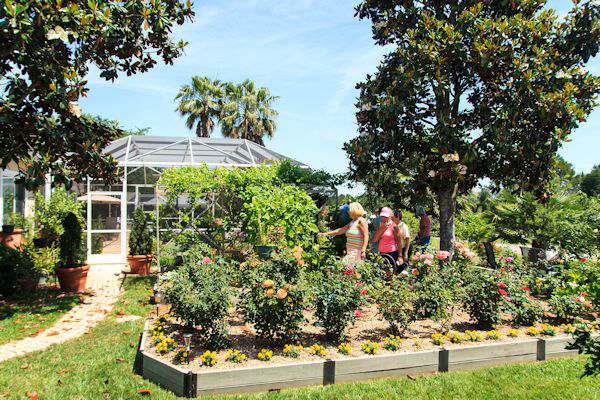 For those of you who have never been to Florida or know anything about the homes, see the cage looking area in the background of the picture above.  Those are called Bird Cages and they were invented because gators would find their way into homeowner's pools.  They are just huge screened enclosed areas you put over the pool.  No more gator problems and no more bugs.  Which we have more than we need down here. Right now its Love Bug season and you have to experience them just one time.  The further south you go, the worse it gets.
Its so much fun to look to see how creative people can be with their yards and I hope we have this tour again in the future.
Get your hands dirty,
Tammy
*    *    *    *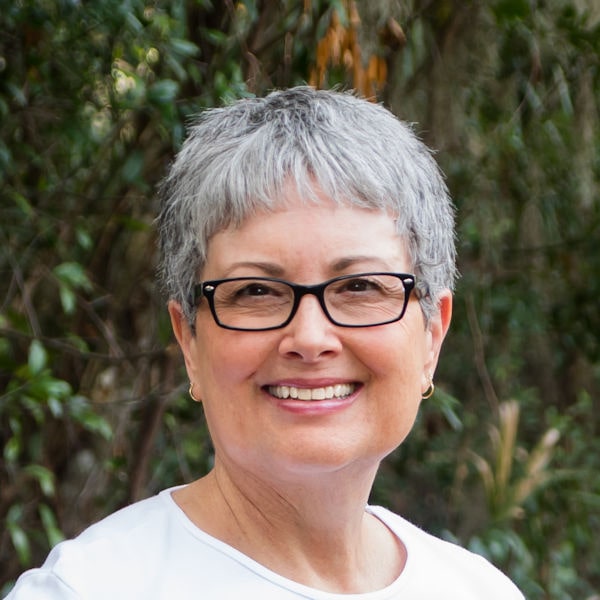 I'm just a country girl loving my geeky life with my wonderful husband, always taking pictures, getting my hands dirty in the garden, being crafty, exploring with travels and enjoying all this on a budget. But above all, living my faith as a child of God!
Read more about me and check out my media kit. Our Privacy Policy