This post may have links where I am an affiliate. Click HERE for my disclosure statement. 
This is a Sponsored post written by me on behalf of Fresh From Florida. All opinions are 100% mine.
It's January and the weather couldn't be nicer here in Central Florida.  Average temps are around 70 and that means I can garden virtually all year long.  Right now I have a large pot on my porch with lettuce growing and in about 30 days I will be able to start harvesting for fresh salads.  I am also ready to plant some spinach seeds in my small garden. I will have more on that in a future garden post.
While the weather is harsh, cold and snowy back home in Missouri, I can enjoy so much fresh produce here in Florida.  I love the Fresh Produce Market right down the street every weekend and this time of the year I can get some really nice tomatoes, blueberries, strawberries, broccoli, cauliflower, etc.
The Fresh From Florida website has so many yummy recipes to use with fresh produce,  Please check out the recipes they have for appetizers, entrees, desserts, sides to use with fresh produce.  I love being able to eat organic,  healthier food and there is nothing better than freshly grown produce to enhance the flavors.  I know I can taste the difference between "brought in" tomatoes from different states than a freshly picked tomato right in my garden.
I know I will try  Florida Corn, Tomato and Avocado Salsa recipe for our annual Super Bowl party coming up.  Fresh salsa made with fresh produce.  I know that will be a huge hit at the party.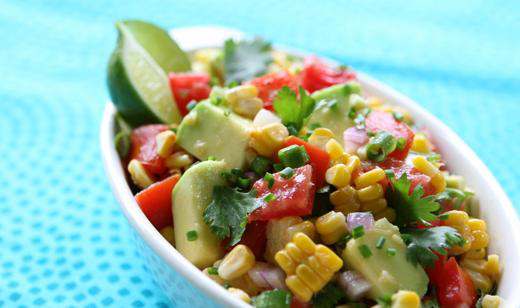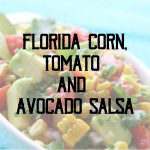 Florida Corn, Tomato and Avocado Salsa
Ingredients
4

ears corn

roasted and kernels removed from the cob

2

large tomatoes

diced

1

large avocado

peeled, seeded and diced

1/2

cup

red onion

chopped fine

1/2

cup

bell pepper

chopped fine

1/4

cup

fresh cilantro

hand torn

1

lime

juiced (plus more if desired)

1

teaspoon

powdered cumin

your favorite hot sauce

for heat

sea salt to taste

fresh ground pepper to taste
Instructions
In a medium-sized mixing bowl, combine all ingredients. Stir to combine. Taste and adjust seasoning with salt, pepper, and hot sauce.

Serve with chips of your choice.
Easy to make (most time spent on chopping up the veggies) recipe, flavorful ingredients and so good.
Be sure to like Fresh from Florida on Facebook and Twitter to read more recipes in the future.
What are your favorite recipes to make with fresh produce?
Enjoy,
Tammy
4 ears corn, roasted and kernels removed from the cob
2 large tomatoes, diced
1 large avocado, peeled, seeded and diced
1/2 cup red onion, chopped fine
1/2 cup bell pepper, chopped fine
1/4 cup fresh cilantro, hand torn
1 lime, juiced (plus more if desired)
1 teaspoon powdered cumin
your favorite hot sauce (for heat)
sea salt to taste
fresh ground pepper to taste
– See more at: http://www.freshfromflorida.com/Recipes/Starters/Florida-Corn-Tomato-and-Avocado-Salsa#sthash.CfaUPocc.dpuf
Florida Corn, Tomato and Avocado Salsa
Florida Corn, Tomato and Avocado Salsa