This post may contain affiliate links that I receive commissions from purchases made. Click HERE for my disclosure statement. 
Airboating in Florida is a great way to see what the wetlands are like. So many endangered species to enjoy along the way.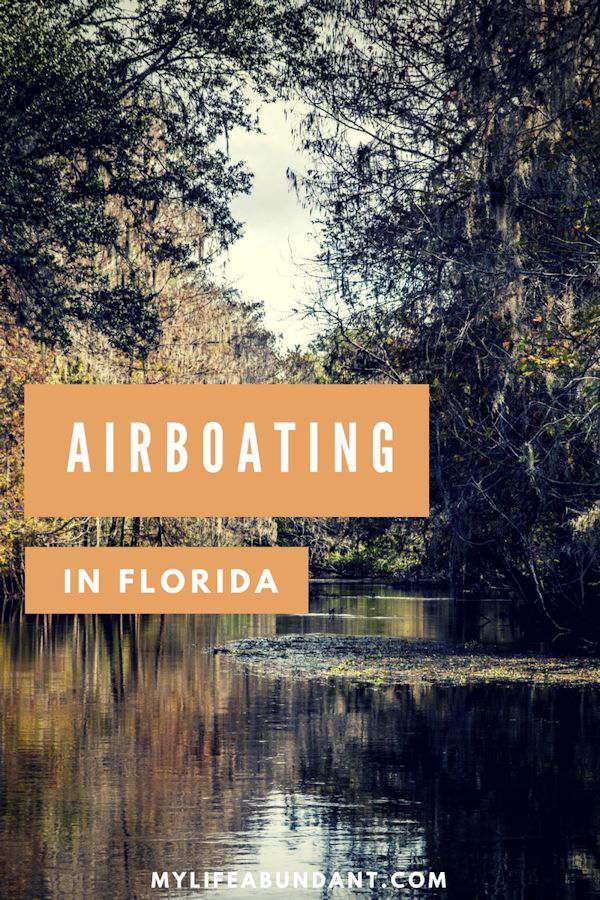 Florida is such a beautiful and interesting state to see. There is so much to do and visit. Especially attractions most would not think about doing. Like Airboating! If you would love to see Florida the way it really is, airboating is the easiest way to go.
And it's fun and exciting!
About 20% of all the wetlands in the US are found in Florida. You don't have to go too far to see some kind of water. Either it's a lake, swamp, or holding pond. And because we have more than normal rainfall from June through November, the wetlands stay wet.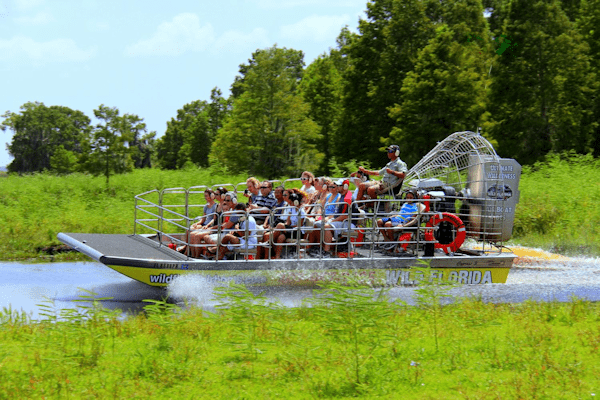 One of the best ways to see all the beauty of the wetlands is by boat. To even fish in Florida, you either need to stand on a dock or have a boat. It's not a good idea to stand on the edge of the lakes or you may encounter a gator.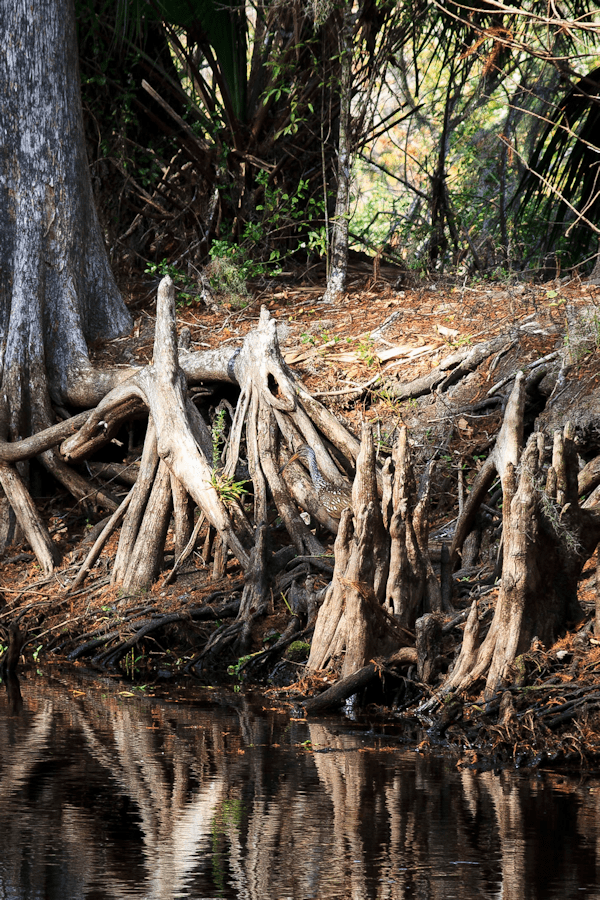 Our boat ride was in December, normally when the water is low and there isn't a lot of green, the beauty is still so worth the trip. If you look closely in the picture above you will see one of the loudest birds in the country called a Limpkin. Not very attractive but makes up in its piercing cries. Their diet consists of eating snails. I could use those birds at my house.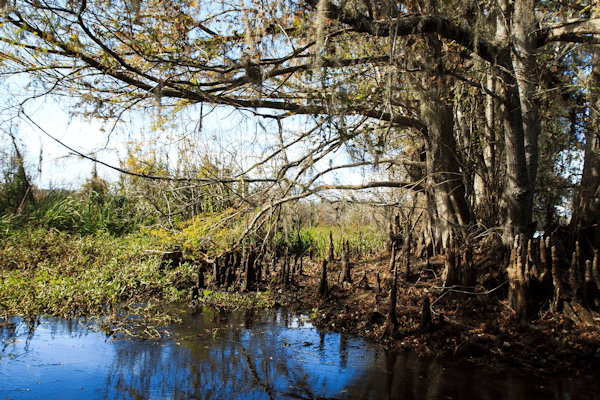 Another one of the wetlands beauties is the Bald Cypress tree and "knees" which come up from the ground around them. Studies say the "knees" are what help the tree soak up oxygen and keep the tree stable in the water. Such an interesting sight to see. Bald Cypress trees can live hundreds of years here in Florida. The Senator, a bald cypress that grew near Longwood in Seminole County until it was tragically burned in 2012 and was estimated to be about 3,500 years old.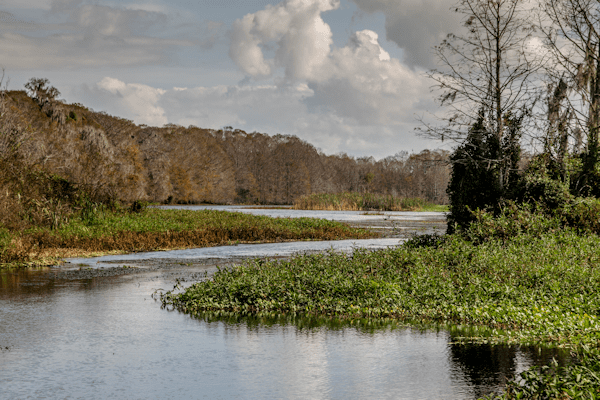 Most wetlands are covered by growth and a great play area for gators to hide and watch and wait.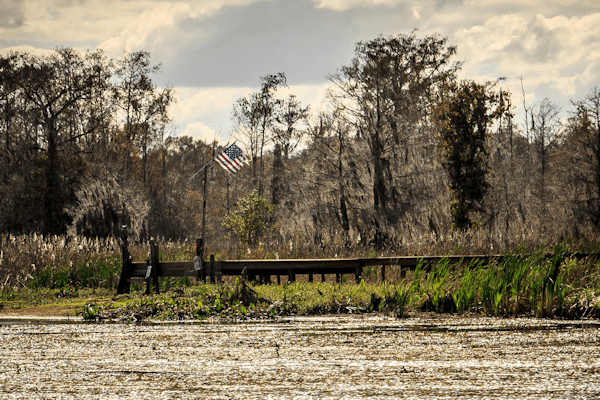 You never know what you will see floating down the river….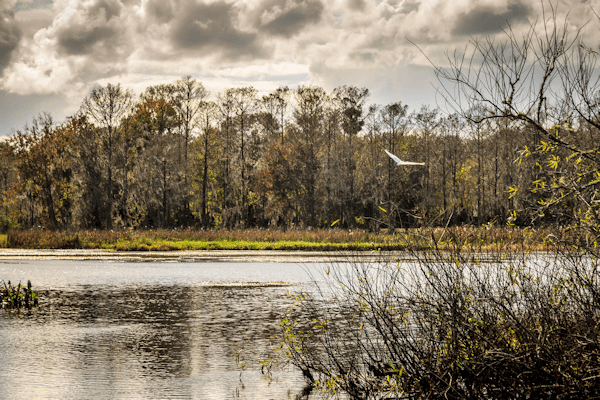 or what creatures will be lurking around? We didn't see any gators that day. Our tour was around noon and they are more likely spotted early in the morning or right before the sun goes down. More than one-third of the country's threatened and endangered species live in wetlands.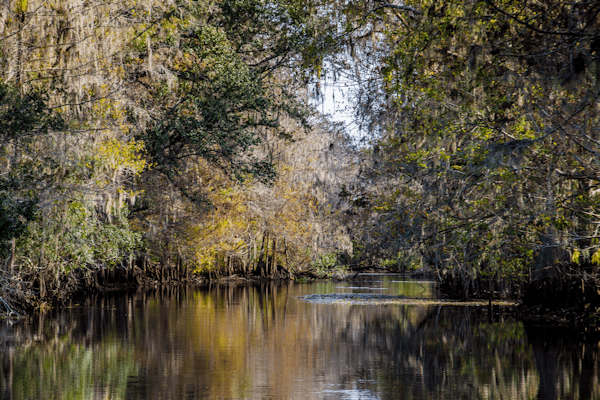 Our boat ride was down the Withlacoochee River with Wild Bills Airboat Rides. The river is close to our home and easy to get to. There are many airboat vendors around the Central Florida area and south and very easy to find. But if you are in Central Florida, I highly recommend Wild Bills. You can also hold a live gator at the end of the ride.
Wild Florida Airboats is another great company to try. They have a gator and wildlife park or ride a ranch buggy to enjoy too.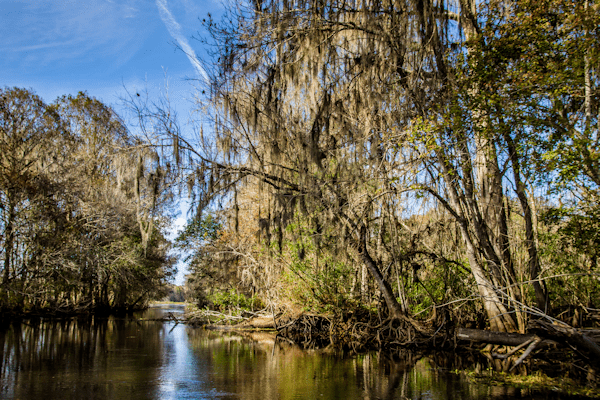 There have been several movies made in this area.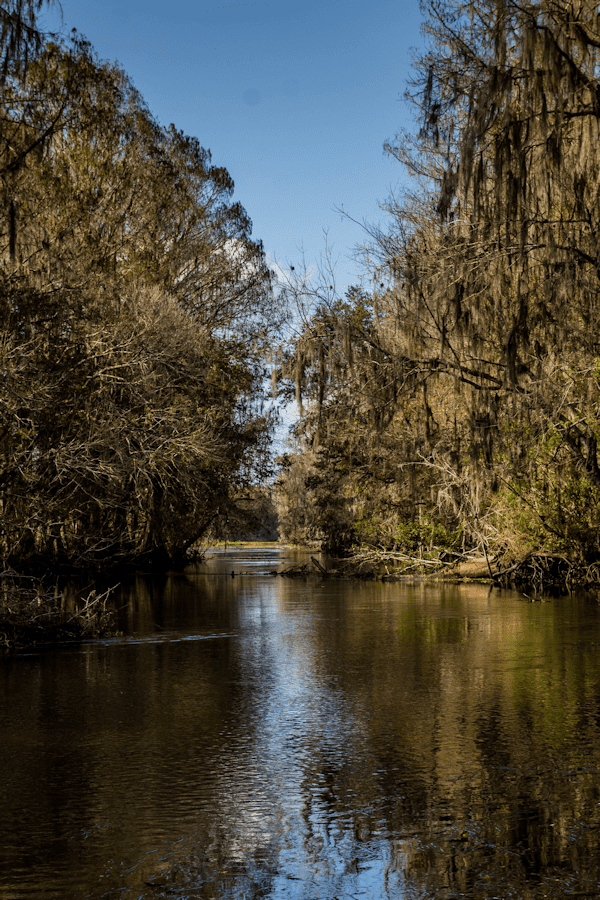 Some scenes from the Tarzan films were shot in this area back in the 1930s. Filming in this area had to be difficult and dangerous, back in the day.
If you want to have fun and FAST ride on an airboat and see what Florida wetlands are all about, just do a quick Google search for airboat rides and enjoy! To learn more about the wetlands, check HERE.
Related Posts:
Enjoy,
Tammy
* * * *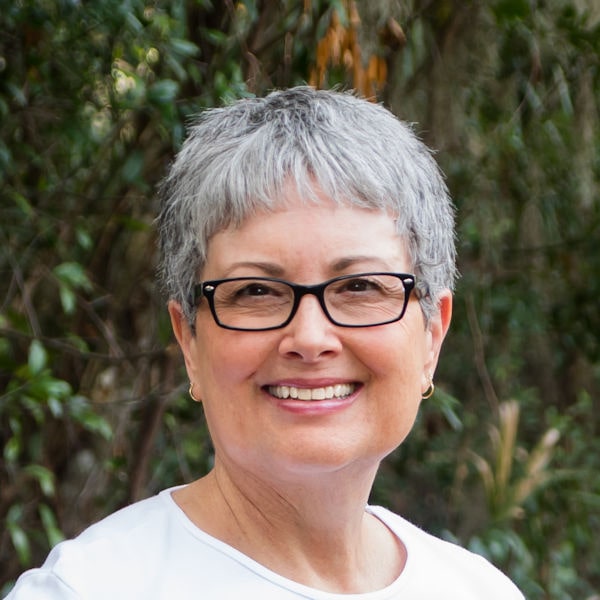 I'm just a country girl loving my geeky life with my wonderful husband, always taking pictures, getting my hands dirty in the garden, being crafty, exploring with travels and enjoying all this on a budget. But above all, living my faith as a child of God!
Read more about me and check out my media kit. Our Privacy Policy