Instagram Swipe-Up Feature Without Having 10K Followers
This post may contain affiliate links that I receive commissions from purchases made. Click HERE for my disclosure statement. 
You don't have to have 10,000 Instagram followers to use the Swipe-Up feature. Learn how easy it is with a few steps.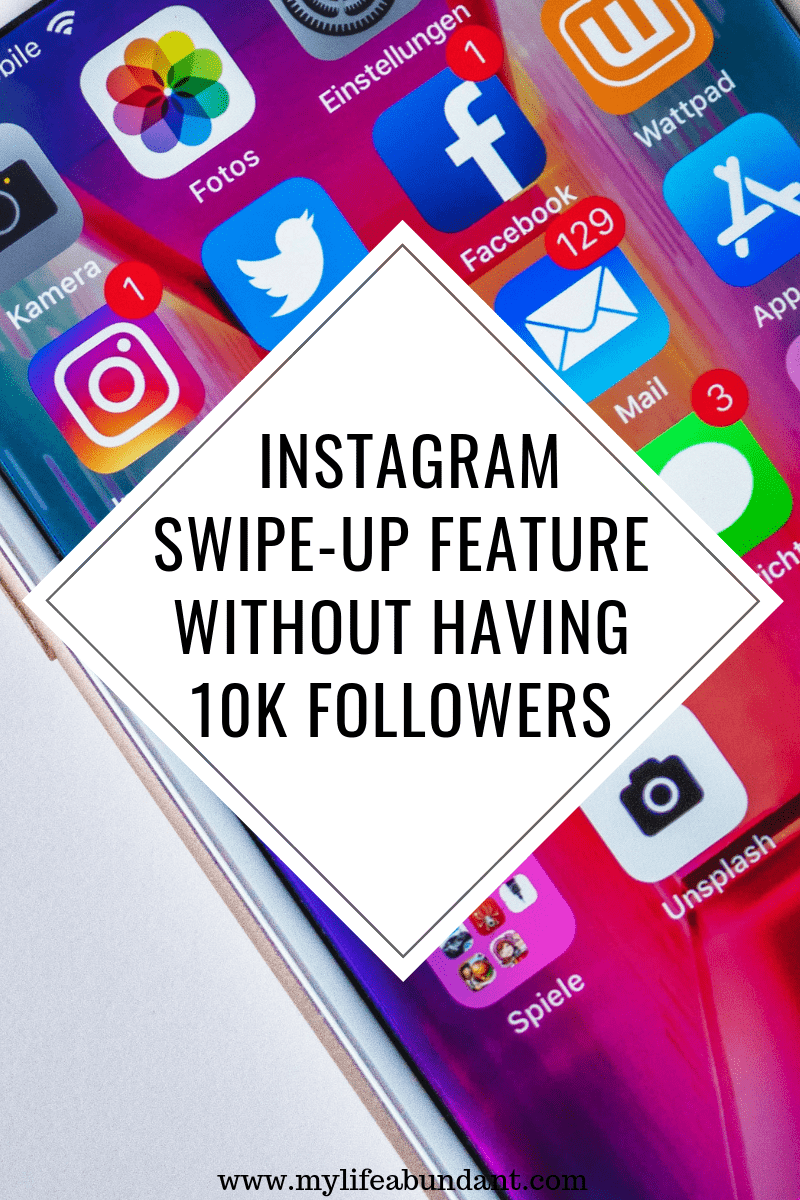 If you use Instagram, you know the benefits of finally reaching 10,000 followers and that the Swipe-Up feature is only available to those who have 10,000 users.  That goal can really change the game for anyone looking for more engagement with their website, YouTube or eCommerce shop. Almost 80% of Instagram users will check out stories first.
But who has time to wait several months or years to reach that goal? I know I don't. 
But now there is a way to bypass the 10,000 followers by using IGTV. In order to do so, you must switch to a business account if you don't already have one.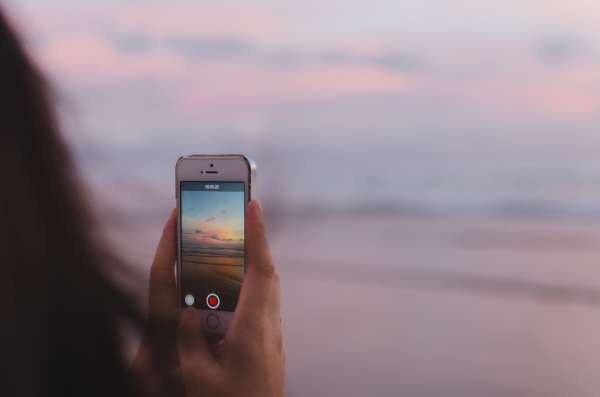 Follow these easy steps:
1. Create a 1-minute video through apps or software.

I personally use Filmora by Wondershare for my video editing software. It's so easy to use and once you make a template you like, just keep using it over and over by changing out your background and text. Another advantage of using Filmora is you can choose the Portrait aspect 9:16 to make sure your video will work in IGTV. 
I will use a picture from the post I want to promote for the background by going to Canva and using the Instagram Story template to make sure the aspect is correct. 
Add your background picture to the video timeline in Filmora and drag it to make it 1-minute long. Remember, the video must be at least 1 minute long. I have also used several pictures to make a video. Then add text and anything else creative you may want to add.
Upload your video to your phone.
If you make your own videos on your phone, you are already set.
2. Add video to IGTV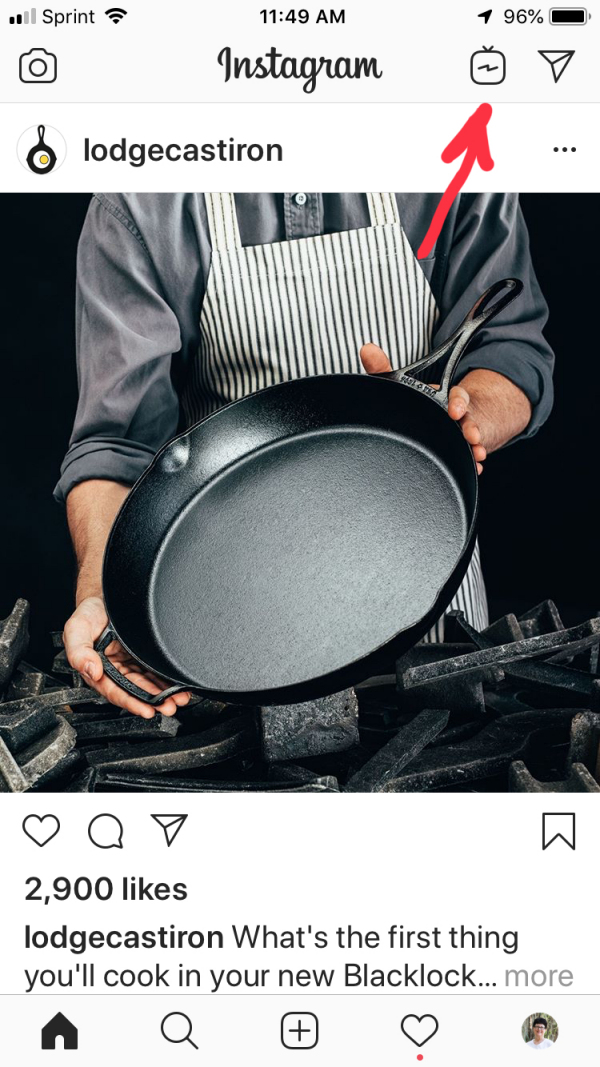 UPDATE: Instagram doesn't offer the symbol above in IG. You now must have the IGTV app, but the steps below are the same.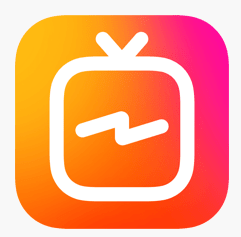 Open your IGTV app and click on the + sign and choose the video you want to use from your video gallery. The reason for the arrow pointing down icon (in picture below) is because your link will show below that. Make sure its to your liking and click NEXT. Chose a cover image and click NEXT.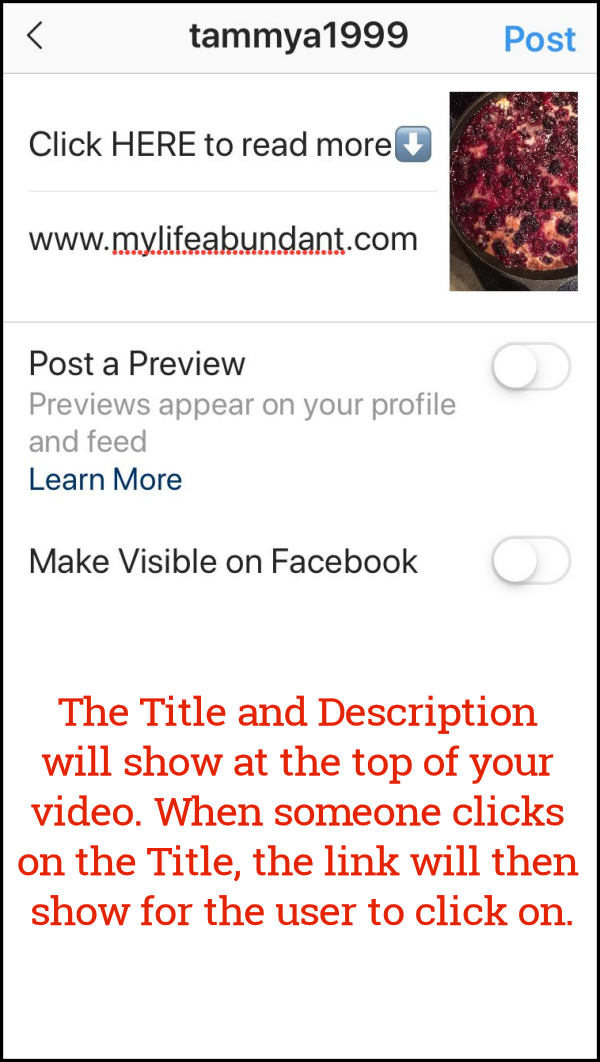 In the TITLE area put something like "Click HERE to read more".  I usually add an "arrow pointing down" emoji at the end. In the DESCRIPTION area put the link to your blog post or item you are selling.
Click POST and you now have a video on IGTV with a link in it.
3. Create an Instagram Story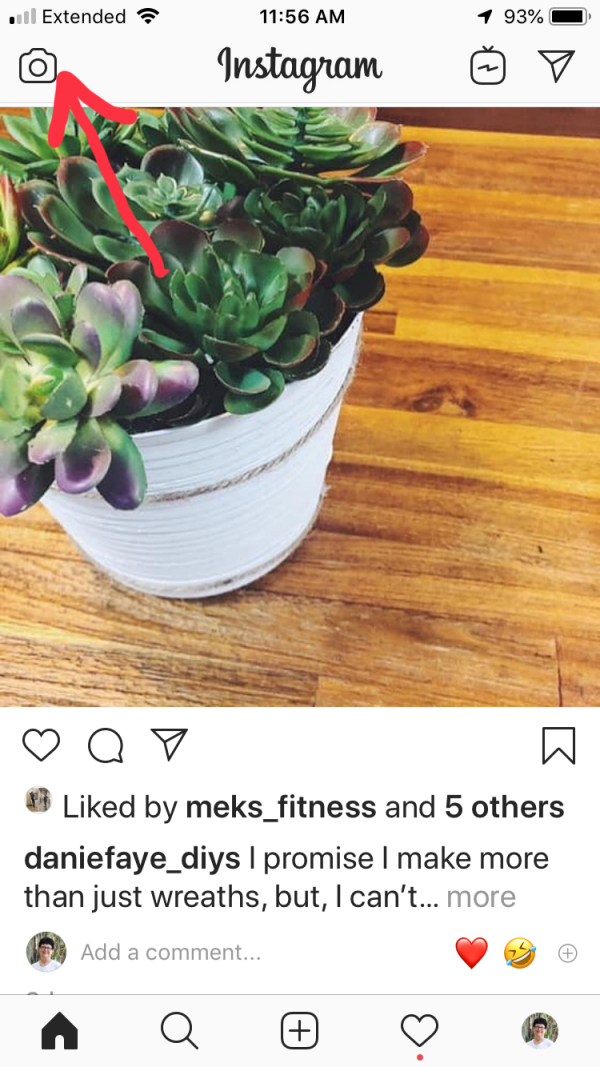 Click on the CAMERA icon at the top left to start your Instagram Story. Chose the background picture you want to use for your Instagram Story. If you have made Instagram Stories before then you are familiar with the process. I will use a background picture that reflects what my video is about. EX: IG video is recipe related, I will use a cooking-related picture for my Instagram Story photo. A Boomerang or short video would work well here too.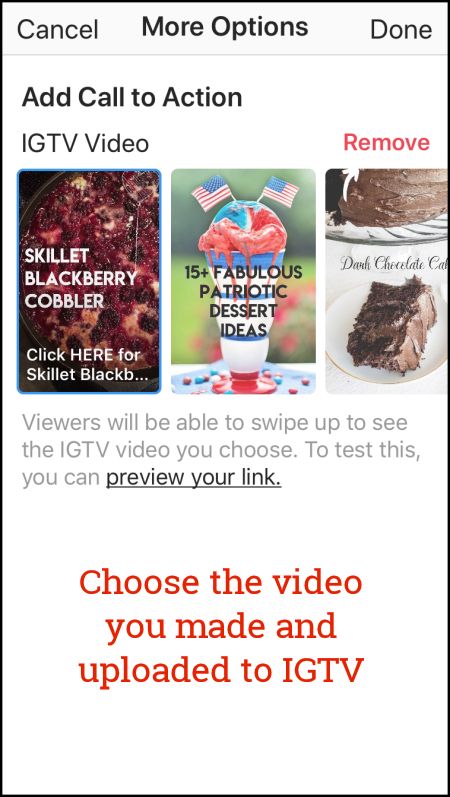 Click on the CHAIN LINK at the top and click on the +IGTV Video. You will be taken to your IGTV library where you will choose the video you want to use in the story you are featuring. Click DONE.
Now you will be taken back to the IG story background picture you choose and from here add title text, hashtags and anything else you would like to make it yours. I usually add text something like "Swipe Up to see my latest recipe video" and add a cute Swipe Up sticker or arrows at the bottom. Click DONE!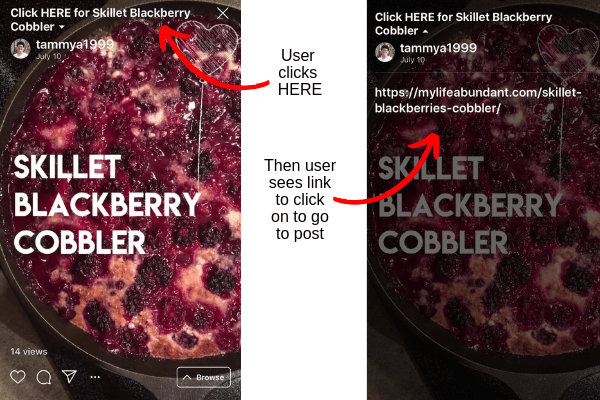 When a viewer swipes up the video will show where the user can click HERE and the link you added in the description of your IGTV video will show, which will take them to your blog post or shopping item.
TIP: The only way you can view how the Swipe Up works is through another account. I have a private dummy account I will use to make sure all is good or have someone look at your story to see how it looks.
That's it! There are a few more steps involved than having 10,000 followers, but once you have done it a few times, it becomes old habit. 
Let me know how you have used this method and if you have any questions.
Enjoy,
Tammy
* * * *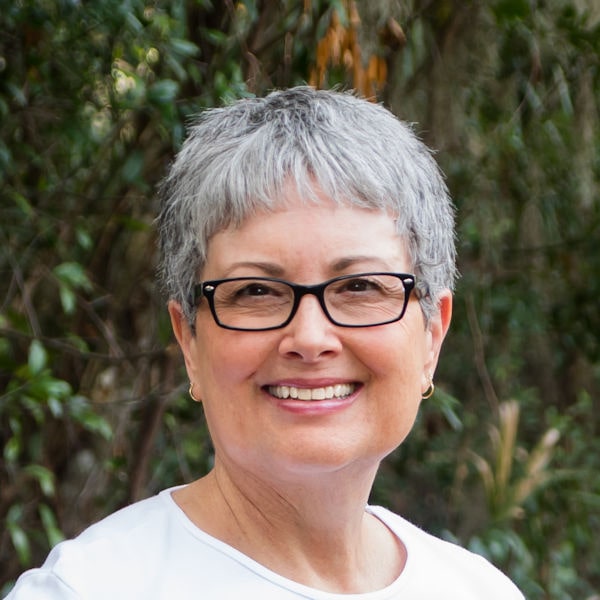 I'm just a country girl loving my geeky life with my wonderful husband, always taking pictures, getting my hands dirty in the garden, being crafty, exploring with travels and enjoying all this on a budget. But above all, living my faith as a child of God!
Read more about me and check out my media kit. Our Privacy Policy