Exploring Callaway Gardens
This post may contain affiliate links that I receive commissions from purchases made. Click HERE for my disclosure statement. 
Callaway Gardens is more than just beautiful gardens and a perfect place for families to enjoy all year long.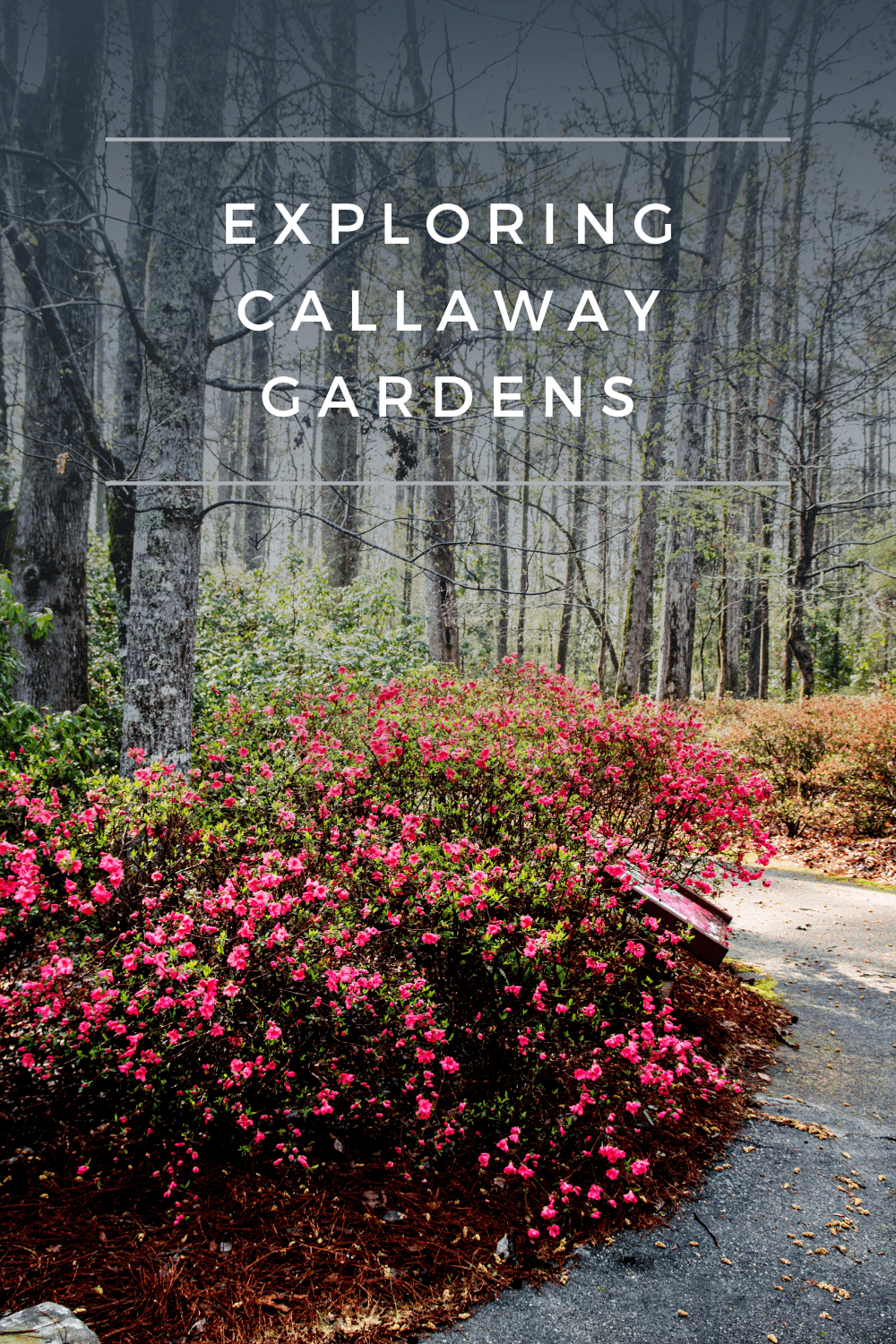 One of the first places I went to in Georgia, when I moved there, was the Callaway Gardens. Mr. G knew how interested I was in gardening, so he thought this would be the perfect place for me to enjoy. He wasn't wrong and I couldn't explore enough. 
Mr. G was born and raised not too far from the Callaway Gardens and went there often as a young boy with his family. It was a fun place to visit all year long where he could swim and enjoy many family reunions and picnics.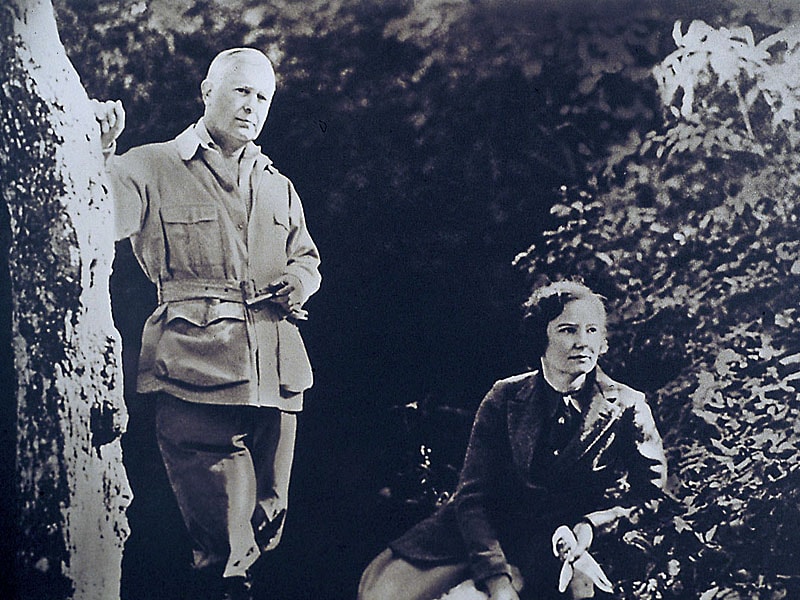 History
The Callaway Resort & Gardens started as a place for Cason and Virginia Callaway to go and get away from it all. They both loved horticulture, loved to picnic and after Mr. Callaway discovered the Plumleaf Azalea, a rare flower, he purchased 2500 acres in 1930 to preserve for gardens. The Callaways eventually would own 40,000 acres in the area.
After several years of creating the gardens, building the lake and boathouse, the golf course, club house and other areas, the Callaways were ready to open to the public in May 1952. More than 6 decades have passed since the Callaways dream of a retreat where many can come and enjoy nature came to life.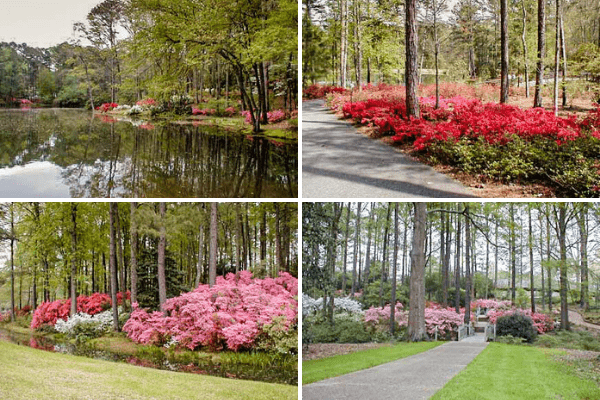 Places to Explore
Even though spring is the best time to visit Calaway Gardens, there is so much to do and exerience all year long.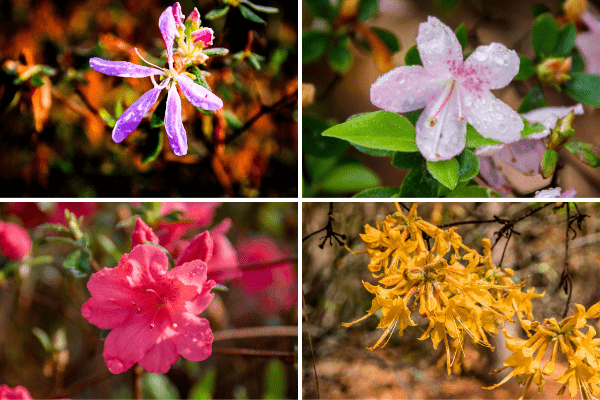 Overlook Azalea Garden & Trails – My favorite part of the gardens are enjoying the 20,000 azalea plants through out this area. There are over 700 varieties of azaleas which have been blooming for over 60 years. I must say, I have never seen such beauty in my life when they are in full bloom. Red, white, purple, pink and orange color is every where. You can drive, walk or ride your bike through the many different trails. The azaleas, depending on the variety, bloom from March through April. Be sure to check out the Live Azalea cam for blooming updates.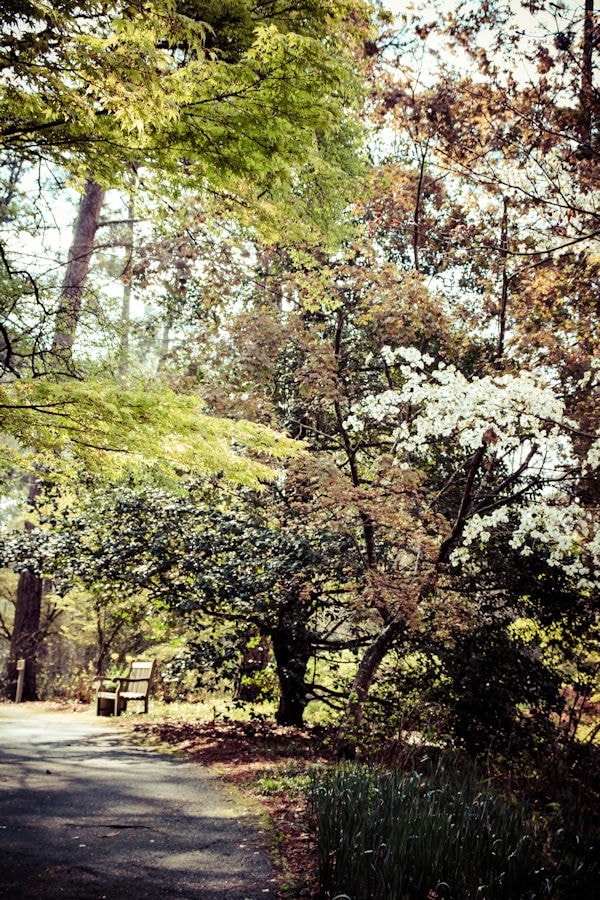 There are also many blooms of Dogwoods, Crabapples, Daffodils, Tulips, and more to enjoy.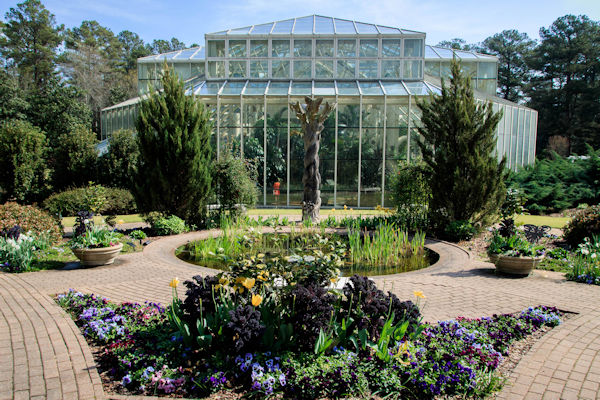 Cecil B. Day Butterfly Center – If you enjoy butterflies and interacting with them, the glass enclosed butterfly center is the place to visit. North America's largest tropical butterfly conservatory has over 1000 butterflies flying freely around to enjoy. I love just sitting on one of the benches and watching them fly around. You may be fortunate enough to have one land on you.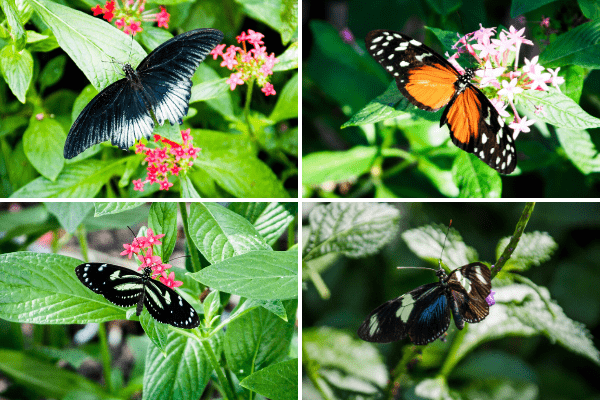 After visiting the conservatory a few times, I've noticed the butterflies are more active on a warm sunny day. Be sure to bring your camera because they love to pose for pictures and will let you get really close to them.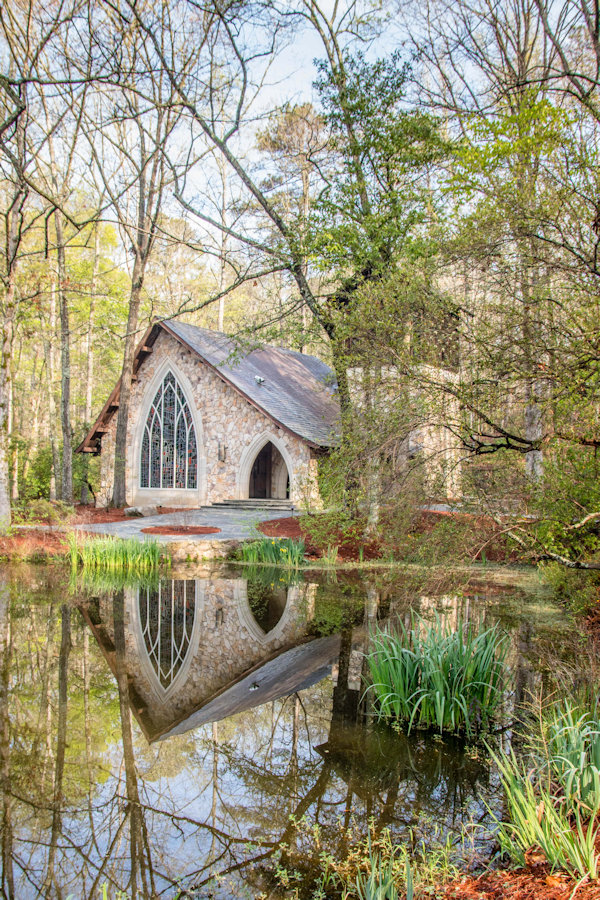 Ida Cason Callaway Memorial Chapel – This chapel holds a special place in my heart becasue the day after Mr. G and I became engaged, he took me to the gardens and we had our picture made in front of the chapel. Surrounded by the forest, the chapel was built in memory to Mr. Callaway's mother, Ida. Materials from the area were used to build the chapel. Weddings, Sunday services and weekend organ concerts are held there.
Also Visit –  the Birds of Prey, Callaway Discovery Center, Callaway Brothers Azalea Bowl, Pioneer Log Cabin, Meadowlark Garden and the Thornhill Hydrangea Garden. Since hydrangeas bloom later in spring, I hope someday to see that garden. Robin Lake Beach, the largest man-made white sand beach, which was a favorite place Mr. G and his family would go to in the summer when he was younger.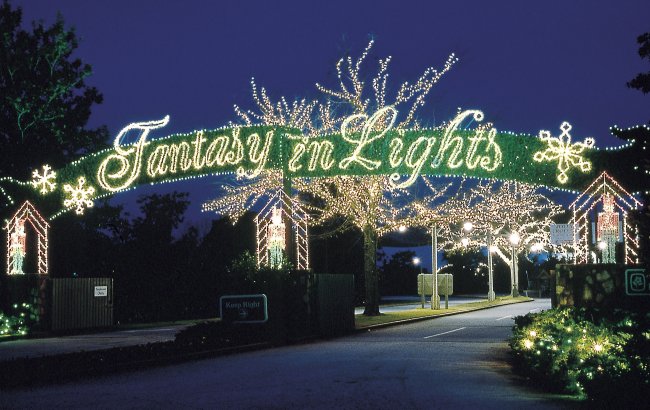 Fantasy of Lights – Another one of our favorite things to do at the gardens during Christmas time is see the Fantasy in Lights display. It has been named one of the top 10 light displays in the world and with over 8 million lights twinkling in the night, it never dissapoints. You can drive or use the trolley to view the displays. Stop and enjoy hot chocolate at the end of the trail and don't forget that Santa is always there to welcome the little ones. it's a good idea to purchase your tickets in advance online.
Golfing – Since I'm not a golfer, I can't say much about Callaways courses, but I have heard from those who have used them, that they are top notch. There is the Mountain View Course and the Lake View Course which are both 18 hole courses.
Accomodations – There are several places to stay at Callaway and we have stayed at the Lodge & Spa facility, which we both enjoyed. There are also cottages, villas and the Mountain Creek Inn. As a guest, you receive a free pass to the gardens. There are also several restuarants to choose from.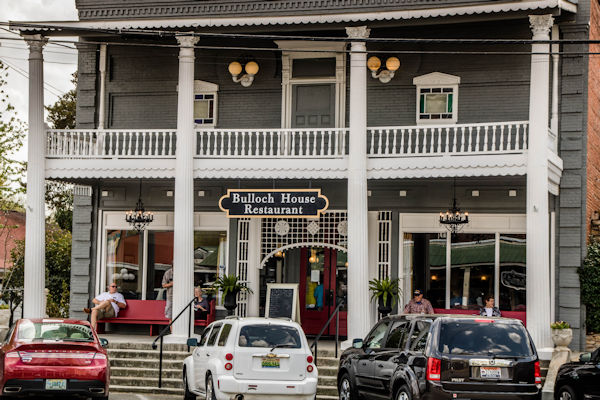 Our favorite place to dine, while in the Callaway Gardens area, is going to the Bulloch House Restuarant in Warm Springs, GA. Just a few miles from the gardens. If you love homemade southern cusiine, this is the pace to stop and enjoy. Some of the best Fried Green Tomatoes I have ever eaten are made there.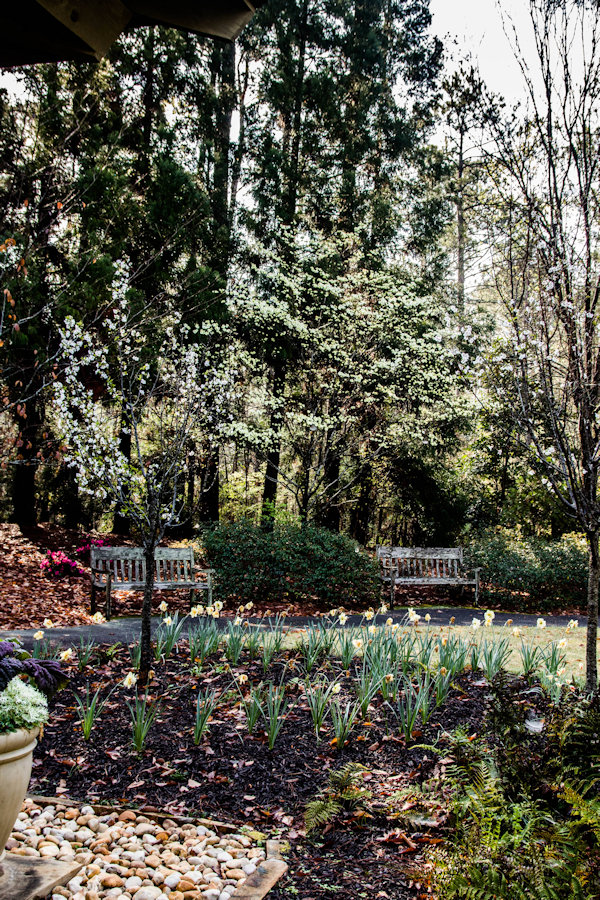 Location
Callaway Resort & Gardens is located in Pine Mountain, Georgia about 60 minutes southwest of Atlanta. Depending on what you plan to visit at Callaway Gardens, there are several entrances to use:
The main entrance is located at 17617 U.S. Highway 27 Pine Mountain, GA 31822.  
The Gardens entrance is located just South of 17800 US Hwy 27 Pine Mountain GA 31822.
The Beach entrance is located just North of  17800 US Hwy 27 Pine Mountain GA 31822. Use this entrance if you are wanting to visit Fantasy in Lights.
If you do plan to visit for the spring blooming season, March and April is the best time but be sure to follow the Callaway Resort & Gardens website for so much more information and blooming plant updates.
Related Posts:
Enjoy,
Tammy
* * * *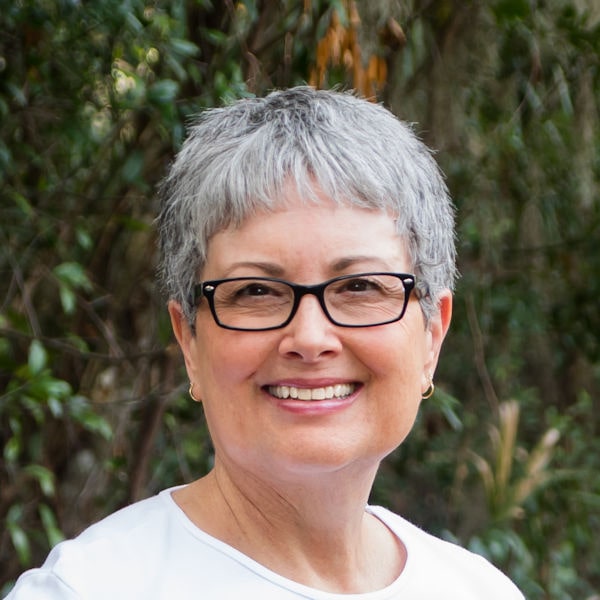 I'm just a country girl loving my geeky life with my wonderful husband, always taking pictures, getting my hands dirty in the garden, being crafty, exploring with travels and enjoying all this on a budget. But above all, living my faith as a child of God!
Read more about me and check out my media kit. Our Privacy Policy