Welcome back to another week of The Ultimate Party
BLOGGERS!!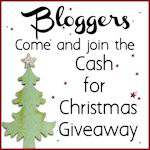 Looking for a way to boost links and views at your blog? Come and sign up with our Cash for Christmas giveaway. You can read all about it HERE.
A few of us have gotten together to have a Thanksgiving blog hop and would love for you to join in with your favorite Thanksgiving posts. Come on by and show us what you have and I have a couple of Thanksgiving printables too.
Are you looking for a yummy treat for your Halloween party or Fall Harvest get together? How about a Horrange Shake that tastes better than an orange cream popsicle! Just 3 ingredients and you are ready to serve.