Welcome back to another week of The Ultimate Party
Happy Halloween!! I hope everyone's little spooks and goblins are ready for some fun tonight! Enjoy and be safe on this spooky of a night.
BLOGGERS!!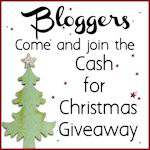 Looking for a way to boost links and views at your blog? Here is your last chance to come and sign up with our Cash for Christmas giveaway. You can read all about it HERE.
After a year of trying to keep organized and not being able to find a blog planner that fits everything I needed, I decided to make my own and I want to share it with all of you!
You can read more about it HERE and download the file there. Print out what pages you need, make your notebook and have fun!