Welcome back to another week of The Ultimate Party
BLOGGERS!!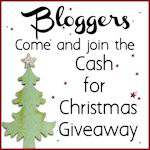 Looking for a way to boost links and views at your blog? Come and sign up with our Cash for Christmas giveaway. You can read all about it HERE.
Even though I am NOT a spider fan, this Halloween craft is just too cute. It looks so real!! You can find the instructions for this cute DIY Spider at Eilleenas website.