Welcome back to another day of LOVE!
This post may have links where I am an affiliate. Click HERE for my disclosure statement. 
Focus on The Love from Jesus!
Today's post will be by my better half, Mr. G, the love of my life.  He truly knows where love comes from and where we need to keep our focus on.  I hope you enjoy.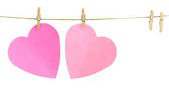 "Always focus on the love from Jesus"
This is somewhat of a repeat of last month's post but oh so important.  How can you ever talk about LOVE without God being at the center?
God is love and we can only truly love with God's help.
Matthew 6:33 – But seek ye first the kingdom of God, and his righteousness; and all these things shall be added unto you.
Especially when times are tough, our focus should be on something or someone that is stable. I'm reminded of the story of the sailor that was riding some turbulent waves and was becoming seasick. The captain of the ship told him to place his focus on the horizon, not the waves.
It's the same with our relationships. If things start to get a little bumpy, check to see where your focus is. It might just need a little tweaking!
Whoever does not love does not know God, because God is love – 1 John 4:8
Enjoy the love,
Grandpa
Be sure to check out all 14 Days of Love