Blog Prompt – Let me know what special thing you did for Mothers Day.
I got to check off one of the things on my Bucket List to do before I leave this great world of ours. I went today and saw my favorite professional bowler. HE IS SO HOT!!!!!!!! Now I know some of you are thinking, "How can you get excited about seeing a professional bowler." Well, I've bowled almost 30 years of my life and of course, watched it on TV all the time.  It was a thrill to see a lot of these bowlers that I watched on TV all those years.  And yes, Brian Voss was the hottie of the PBA, but he is also a great bowler and I loved his approach.  And he's a Georgia boy too!!  Pure southern sugar, as far as I'm concerned.
But I got his picture, I was right there where he was bowling and we had our picture together …….aaaaaannnnnnnddddd he put his hand on my shoulder!! *fans self*
Yes, I am a bowling groupie. *LOL* I will have a layout soon to show off my pictures.  But I will give you a peek at our picture together.  Oh yea.  My mom went too!!!  Almost forgot this was a Mother's Day outing.  I think she was more excited about him than me.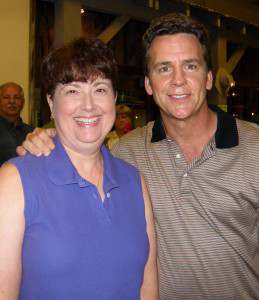 Brian Voss and me.  Do I look like I'm a little girl just giggling!!  Actually I was telling my mom, "Mom, just push the button all the way down."  And trying to keep a smile.  She had to take like 3 different pictures before the flash went off. (Notice the hand on my shoulder?  Yup, we were up close and personal for sure)
My mom and Brian.  She was more composed.
Happy Mothers Day everyone,

I'm just a country girl loving my geeky life with my wonderful husband, always taking pictures, getting my hands dirty in the garden, being crafty, exploring with travels and enjoying all this on a budget. But above all, living my faith as a child of God!
Read more about me and check out my media kit. Our Privacy Policy