Blog Prompt: What is your favorite fall memory?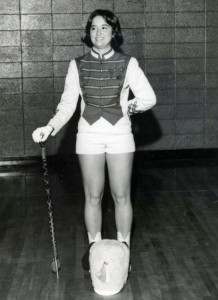 It's football season!  I always love this time of year. 
When I was in high school, I was in the marching band and this was always a busy time of the year for us.  Marching contests, Homecoming and half-time shows.  I was the drum major for 3 years in high school and I loved my outfit.  We worked hard as a marching band.  All those early morning and evening practices, so we could get our show just right.
The year after I graduated, the marching band received new uniforms.  I went back to the school and asked the director if I could have my old uniform and was told the old uniforms were all burned!!!!!!!  That just broke my heart.  I had a lot of fun times wearing that uniform and wanted to just have it.  Now what in the world would I do with it.  Who knows.
My son also inherited my joy for the marching band and was part of his high school and college's marching bands.  I loved going to all his half time shows, except for the one when it was below zero with hurricane force winds.  I don't know how he marched all those years carrying that huge sousaphone, but he did and did it very well.  Now that he is teaching in high school music, he helps other schools with their marching programs.  His school is too small for football.
This layout was made with Clever Crow Designs Vintage Football kit and shows my son during one of his half time shows at the college he attended.  I always loved singing their fight song.
I'm just a country girl loving my geeky life with my wonderful husband, always taking pictures, getting my hands dirty in the garden, being crafty, exploring with travels and enjoying all this on a budget. But above all, living my faith as a child of God!
Read more about me and check out my media kit. Our Privacy Policy