Easy way to make tasty and tender ribs.
My hubby and I have tried so many different ways to cook ribs and have basically failed each time.  We could never get them to be tender.  We tried putting them in the smoker, on the grill, baking in the oven and still not tender or tasty.
By accident, one day when we tried cooking them in the oven for a few hours with no luck and the idea came up about just putting them in the crockpot to finish cooking. What could it hurt, right?
Sometimes accidents are the answer!! I would like to share with you the easiest and most tasty way to cook Crock Pot BBQ Ribs that we have come up with.
We start with Baby Back ribs from Sam's club. The package holds two long slabs of ribs. We "try" and I use that word loosely, to remove the membrane on the back of the ribs. Sometimes it comes off easily, sometimes it's not worth the time. I have read many articles where cooks swear by the membrane not being on the ribs. Frankly, I haven't been able to tell any difference in taste. Just a preference.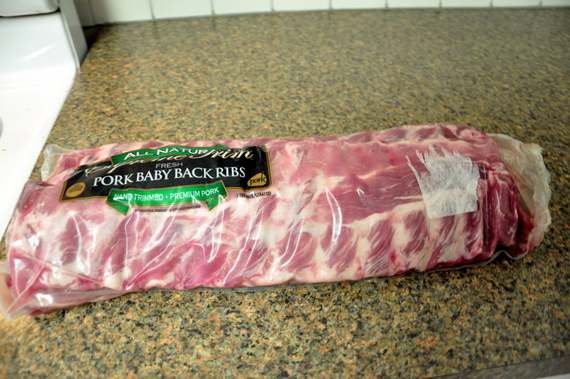 Because of the size of our crockpot, we cut each slab into 3 equal parts. That will give us 6 sections in total. Depending on the size of your crockpot, will depend on how you cut them up.
Next, you would rub each section of rib with your favorite rub. We use a basic Memphis Rub. But this is completely up to your taste. Wrap each section in clear wrap and let sit in your fridge overnight.
Memphis Rub
2 tablespoons garlic powder
2 tablespoons onion powder
2 tablespoons black pepper
1 tablespoons salt
2 tablespoons chili powder
2 tablespoons cumin powder
2 tablespoons brown sugar
3 to 4 tablespoons paprika
2 teaspoons cayenne pepper
The recipe will usually cover all the ribs, but if you have any leftover, just put in a tight container for next time.
The next day, I spray the inside of my crockpot well and place 3 of the sections on top of each other in the crockpot.  Set on low and cook for 3 hours.  You won't need to put any liquid in the bottom at all.  The ribs will make their own.  After the 1st 3 hours is over, I pull the bottom section of ribs out and lay it on the top.  So now the middle section is on the bottom.  When that 3 hours is over, repeat the process which will make the last section on the bottom.  It's an 8 to 9 hour process, but really you don't have to watch them until the last 2-3 hours.

In the last 3 hours you will have to check on them because depending on the heat of your crockpot, it might not take a complete 3 hours to have them as tender as you like. Depending on if you like the wet or dry version is how quickly you stop cooking them.  If you like the dry version, cook them for up to 3 more hours and right before they start falling off the bone, take them out.

We like the wet version, so instead of cooking them the final 3 hours, we only cook them for about 2 hours.  Take all the ribs out,  put them on the grill with our favorite BBQ sauce for the last hour.  I love how the grill puts that extra taste on them with the BBQ sauce.

Don't they look yummy!!
Most of the time, we only cook the ribs for 3 hours, 3 hours and then 2 hours and freeze.  That way when we heat them up for about an hour after they have thawed,  for the last hour of cooking.  This can be done for either dry or wet ribs.
There are so many different flavors you can use for rubs and BBQ sauce to make this recipe your own.
Enjoy ribs the easy way,
Tammy
 *    *    *    *

I'm just a country girl loving my geeky life with my wonderful husband, always taking pictures, getting my hands dirty in the garden, being crafty, exploring with travels and enjoying all this on a budget. But above all, living my faith as a child of God!
Read more about me and check out my media kit. Our Privacy Policy