This post may contain affiliate links.
Some Fantabulous bloggers have gone together to do a Fourth of July Blog Hop!     The hosts of this blog hop have their posts linked up to the beginning of the linky at the bottom of this post.   You can link up your own July 4th posts below, and we will pin many of them to our Pintabulous Mom's Fourth of July  Pinterest Board.  
 *    *    *    *
Fresh fruit is every where right now and what better way to use up a lot of it is to bake a Patriotic Crumble. Its such an easy recipe and everyone loves it.  To make it patriotic, just use red and blue fruit and serve over vanilla ice cream.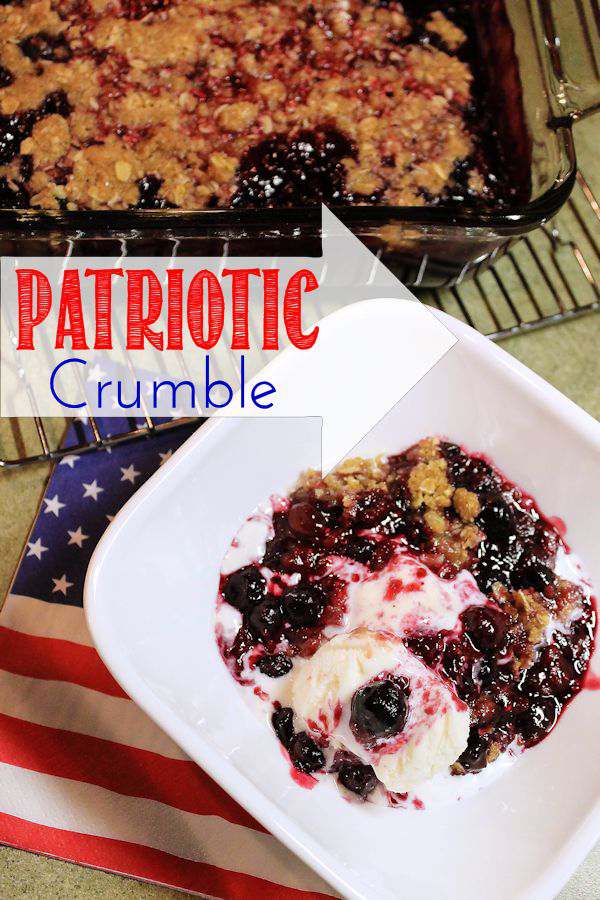 I used raspberries and blueberries, but I have used peaches and blueberries or what ever fruit you have works well in this crumble bake.  I have used frozen and fresh with no problems.  The first time I made this I was afraid my hubby wouldn't like it because of all the fruit, but he loved it.  Could have been because I served it with ice cream.   Nothing better then cold vanilla ice cream served with warm fruit.
The crumble topping works best if you use a pastry tool and not your fingers.  Tried that once but my warm fingers melted the butter too much and I had a mess.  Do make sure the butter is ice cold because it crumbles better while making the topping. 
Patriotic Crumble
Ingredients
FILLING
3 cups of blueberries
3 cups of raspberries
Juice of half a lemon
¼ tsp vanilla extract
½ cup sugar
¼ cup flour
CRUMBLE TOPPING
½ cup flour
½ cup quick cook oats
¼ cup brown sugar
¼ cup sugar
½ tsp ground cinnamon
pinch of salt
6 tbsp cold butter, cut into small cubes
Instructions
Preheat oven to 375 degrees.
Mix filling ingredients and pour into a 8 x 8 glass dish. In another bowl, combine all the ingredients for the topping. Using a pastry tool, cut the butter into the mixture until it becomes crumbly.
Sprinkle the crumble mixture over the fruit filling and bake for about 40 minutes or until the top is golden brown. Let cool and serve over vanilla ice cream.
Notes
Any fruit fresh or frozen could be used in the recipe.
*    *    *    *
You can go to the following blogs to see their Fourth of July posts and to link up your own posts:
Creative K Kids, My Life Abundant, Sight and Sound Reading, KidPep, Meatloaf and Melodrama, and Rock-a-Bye Parents.
You can also follow our Fourth of July Board HERE to see all the  posts that are linked up below plus some other great Fourth of July posts that we find!
We would love it if you grabbed our button so that others can find this linky, but you don't  have to!